Black Clover is a Japanese manga series written and illustrated by Yūki Tabata. The manga was first adapted into an original video animation produced by Xebec Zwei, released in 2017. An anime television series adaptation produced by Pierrot aired in Japan on TV Tokyo from October 2017 to March 2021. An anime film has been announced. In total 170 episodes of Black Clover were aired. With a total of 17 reported filler episodes, Black Clover has a very low filler percentage of 10%. Here we made a Black Clover Filler List by episode, so you can watch only the main story of Black Clover just like Hunter x Hunter (2011) Filler List and Inuyasha Filler List.
Black Clover Storyline
In a world full of magic, Asta an orphan who is overly loud and energetic possesses none whatsoever. Despite this, he dreams of becoming the Wizard King, a title bestowed upon the strongest mage in the Clover Kingdom. Possessing the same aspiration, Asta's childhood friend and rival Yuno has been blessed with the ability to control powerful wind magic. Even with this overwhelming gap between them, hoping to somehow awaken his magical abilities and catch up to Yuno, Asta trains his body relentlessly every day.
In the Clover Kingdom, once a person turns 15 years old, it is time for them to receive their Grimoire, an item allowing its wielder to use their magic to its full capacity. At the ceremony, Yuno obtains a Grimoire with a legendary four-leaf clover, indicating the exceptional strength of its wielder, while Asta pointlessly waits for his. Feeling dejected, yet unwilling to give up, Asta sees Yuno caught by a mage who is trying to steal Yuno's special Grimoire. Despite being completely overpowered by Yuno's captor, Asta's will to keep fighting rewards him with his very own Grimoire one with an unheard-of black five-leaf clover.
Black Clover Filler List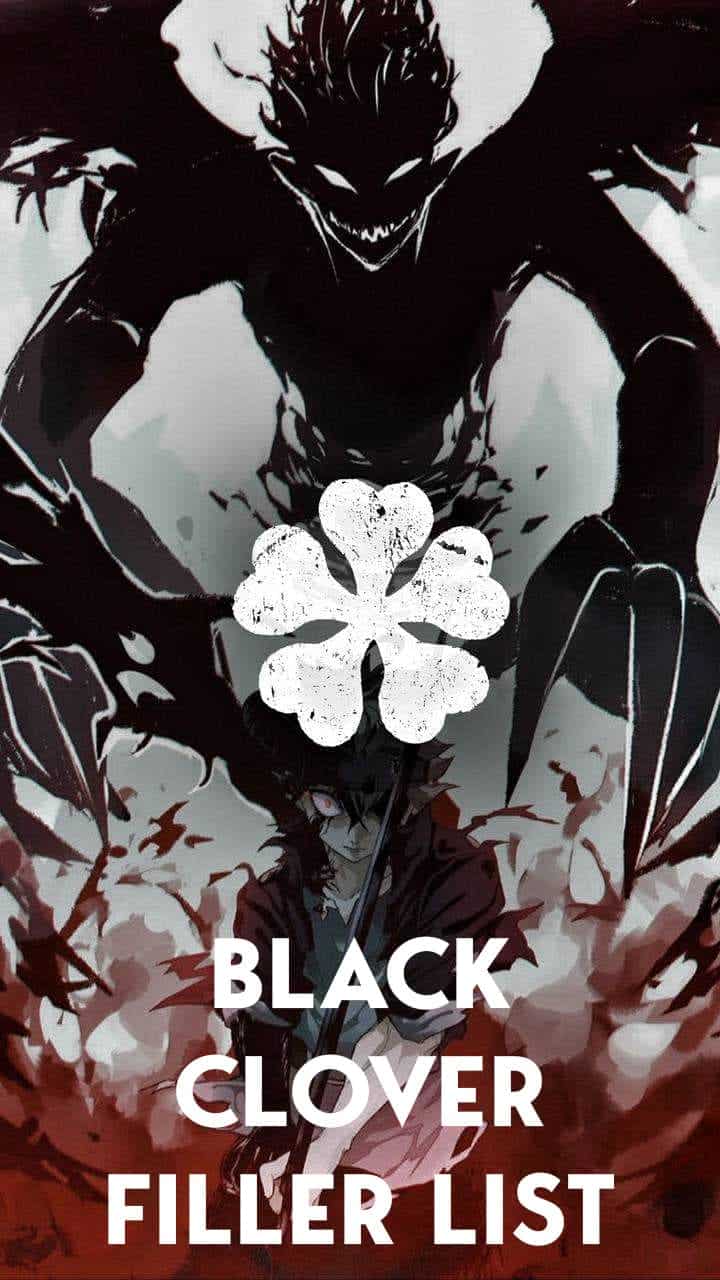 | | |
| --- | --- |
| FILLER | Not adapted from the manga, so it does not follow the original story. |
| MOSTLY FILLER | Not adapted from the manga, but it has snippet of original story. |
| CANON | These episode are adapted 100% of the manga that follows story. |
| MOSTLY CANON | Episode was adapted from the manga, but has filler snippets. |
Canon:
1, 4-7, 10-12, 14-28, 31-54, 57-65, 67, 70-81, 83-101, 103-122, 126-129
Mixed Canon/Filler Episodes
:
2, 8-9, 30, 69, 102
Filler Episodes
:
29, 66, 68, 82, 123-125, 131, 134-135
Anime Exclusive:
3, 13, 55-56, 130, 132-133, 136-155
Black Clover Filler List by Episode
| Sr.# | Episode Name | Episode Type |
| --- | --- | --- |
| 1 | Asta and Yuno | CANON |
| 2 | A Young Man's Vow | MOSTLY CANON |
| 3 | To the Royal Capital! | MOSTLY FILLER |
| 4 | The Magic Knights Entrance Exam | CANON |
| 5 | The Road to the Wizard King | CANON |
| 6 | The Black Bulls | CANON |
| 7 | Another New Member | CANON |
| 8 | Go! Go! My First Mission | MOSTLY CANON |
| 9 | Beasts | MOSTLY CANON |
| 10 | Guardians | CANON |
| 11 | What Happened One Day in the Castle Town | CANON |
| 12 | The Wizard King Saw | CANON |
| 13 | The Wizard King Saw, Continued | MOSTLY FILLER |
| 14 | Dungeon | CANON |
| 15 | The Diamond Mage | CANON |
| 16 | Friends | CANON |
| 17 | Destroyer | CANON |
| 18 | Memories of You | CANON |
| 19 | Destruction and Salvation | CANON |
| 20 | Assembly at the Royal Capital | CANON |
| 21 | Capital Riot | CANON |
| 22 | Wild Magic Dance | CANON |
| 23 | The King of the Crimson Lions | CANON |
| 24 | Blackout | CANON |
| 25 | Adversity | CANON |
| 26 | Wounded Beasts | CANON |
| 27 | Light | CANON |
| 28 | The One I've Set My Heart On | CANON |
| 29 | Path | FILLER |
| 30 | The Mirror Mage | MOSTLY CANON |
| 31 | Pursuit over the Snow | CANON |
| 32 | Three-Leaf Sprouts | CANON |
| 33 | To Help Somebody, Someday | CANON |
| 34 | Light Magic vs. Dark Magic | CANON |
| 35 | The Light of Judgement | CANON |
| 36 | Three Eyes | CANON |
| 37 | The One with No Magic | CANON |
| 38 | The Magic Knight Captains Conference | CANON |
| 39 | Three-Leaf Salute | CANON |
| 40 | A Black Beach Story | CANON |
| 41 | The Water Girl Grows Up | CANON |
| 42 | The Underwater Temple | CANON |
| 43 | Temple Battle Royale | CANON |
| 44 | The Pointlessly Direct Fireball and the Wild Lightning | CANON |
| 45 | The Guy Who Doesn't Know When to Quit | CANON |
| 46 | Awakening | CANON |
| 47 | The Only Weapon | CANON |
| 48 | Despair vs. Hope | CANON |
| 49 | Beyond Limits | CANON |
| 50 | End of the Battle, End of Despair | CANON |
| 51 | Proof of Rightness | CANON |
| 52 | Whoever's Strongest Wins | CANON |
| 53 | Behind the Mask | CANON |
| 54 | Never Again | CANON |
| 55 | The Man Named Fanzell | MOSTLY FILLER |
| 56 | The Man Named Fanzell Continued | MOSTLY FILLER |
| 57 | Infiltration | CANON |
| 58 | The Battlefield Decision | CANON |
| 59 | Flames of Hatred | CANON |
| 60 | Defectors' Atonement | CANON |
| 61 | The Promised World | CANON |
| 62 | Bettering One Another | CANON |
| 63 | Not in the Slightest | CANON |
| 64 | The Red Thread of Fate | CANON |
| 65 | I'm Home | CANON |
| 66 | The Secret of the Eye of the Midnight Sun | FILLER |
| 67 | A Fun Festival Double Date | CANON |
| 68 | Battle to the Death?! Yami vs. Jack | FILLER |
| 69 | The Briar Maiden's Melancholy | MOSTLY CANON |
| 70 | Two New Stars | CANON |
| 71 | The Uncrowned, Undefeated Lioness | CANON |
| 72 | Saint Elmo's Fire | CANON |
| 73 | The Royal Knights Selection Test | CANON |
| 74 | Flower of Resolution | CANON |
| 75 | Fierce Battle | CANON |
| 76 | Mage X | CANON |
| 77 | Bad Blood | CANON |
| 78 | Peasant Trap | CANON |
| 79 | Mister Delinquent vs. Muscle Brains | CANON |
| 80 | Special Little Brother vs. Failed Big Brother | CANON |
| 81 | The Life of a Certain Man | CANON |
| 82 | Clover Clips: The Nightmarish Charmy Special! | FILLER |
| 83 | Burn It into You | CANON |
| 84 | The Victors | CANON |
| 85 | Together in the Bath | CANON |
| 86 | Yami and Vangeance | CANON |
| 87 | Formation of the Royal Knights | CANON |
| 88 | Storming the Eye of the Midnight Sun's Hideout!!! | CANON |
| 89 | The Black Bull Hideout | CANON |
| 90 | Crazy Magic Battle | CANON |
| 91 | Mereoleona vs. Rhya the Disloyal | CANON |
| 92 | The Wizard King vs. the Leader of the Eye of the Midnight Sun | CANON |
| 93 | Julius Novachrono | CANON |
| 94 | New Future | CANON |
| 95 | Reincarnation | CANON |
| 96 | The Black Bulls Captain vs. the Crimson Wild Rose | CANON |
| 97 | Overwhelming Disadvantage | CANON |
| 98 | The Sleeping Lion | CANON |
| 99 | The Desperate Path Toward Survival | CANON |
| 100 | We Won't Lose to You | CANON |
| 101 | The Lives of the Village in the Sticks | CANON |
| 102 | Two Miracles | MOSTLY CANON |
| 103 | Release from Misfortune | CANON |
| 104 | Lightning of Rage vs. Friends | CANON |
| 105 | Smiles, Tears | CANON |
| 106 | Path of Revenge, Path of Atonement | CANON |
| 107 | The Battle for Clover Castle | CANON |
| 108 | Battlefield Dancer | CANON |
| 109 | Spatial Mage Brothers | CANON |
| 110 | The Raging Bull Joins the Showdown!! | CANON |
| 111 | The Eyes in the Mirror | CANON |
| 112 | Humans Who Can Be Trusted | CANON |
| 113 | Storming the Shadow Palace | CANON |
| 114 | The Final Invaders | CANON |
| 115 | Mastermind | CANON |
| 116 | The Ultimate Natural Enemy | CANON |
| 117 | Breaking the Seal | CANON |
| 118 | A Reunion Across Time and Space | CANON |
| 119 | The Final Attack | CANON |
| 120 | Dawn | CANON |
| 121 | Three Problems | CANON |
| 122 | As Pitch Black as It Gets | CANON |
| 123 | Nero Reminisces… Part One | FILLER |
| 124 | Nero Reminisces… Part Two | FILLER |
| 125 | Return | FILLER |
| 126 | The Blue Rose's Confession | CANON |
| 127 | Clues | CANON |
| 128 | To the Heart Kingdom! | CANON |
| 129 | The Devil Megicula | CANON |
| 130 | The New Magic Knight Squad Captains' Meeting | MOSTLY FILLER |
| 131 | A New Resolve | MOSTLY FILLER |
| 132 | The Lion Awakens | MOSTLY FILLER |
| 133 | The Lion Awakens, Continued | MOSTLY FILLER |
| 134 | Those Who Have Been Gathered | FILLER |
| 135 | The One Who Has My Heart, My Mind, and Soul | FILLER |
| 136 | A Black Deep-Sea Story | CANON |
| 137 | Charmy's Century of Hunger | CANON |
| 138 | In Zara's Footsteps | CANON |
| 139 | A Witch's Homecoming | CANONCANON |
| 140 | A Favor for Julius | CANON |
| 141 | The Golden Family | CANON |
| 142 | Those Remaining | CANON |
| 143 | Uneven Scales | CANON |
| 144 | Those Who Wish to Destroy Devils | CANON |
| 145 | Recapture | CANON |
| 146 | Those Who Worship Devils | CANON |
| 147 | Death | CANON |
| 148 | Become the Light That Illuminates the Darkness | CANON |
| 149 | Two Things to Look for | CANON |
| 150 | The Challenge of the Maidens | CANON |
| 151 | Clash! Battle of the Magic Knight Captains! | CANON |
| 152 | To Tomorrow! | CANON |
| 153 | The Chosen Ones | CANON |
| 154 | Vice-Captain Langris Vaude | CANON |
| 155 | The 5 Spirit Guardians | CANON |
| 156 | Awakening Power | CANON |
| 157 | The Five-Leaf Clover | CANON |
| 158 | The Beginning of Hope and Despair | CANON |
| 159 | Quiet Lakes and Forest Shadows | MOSTLY FILLER |
| 160 | The Messenger from the Spade Kingdom | MOSTLY FILLER |
| 161 | Zeno's Power | CANON |
| 162 | The Great War Breaks Out | CANON |
| 163 | Dante vs. The Captain of the Black Bulls Squad | CANON |
| 164 | Battlefield: Heart Kingdom | CANON |
| 165 | Water Crusade | CANON |
| 166 | Captain Yami Sukehiro" | CANON |
| 167 | Black Oath | CANON |
| 168 | Stirrings of the Strongest | MOSTLY CANON |
| 169 | The Devil-Binding Ritual | CANON |
| 170 | Faraway Future | CANON |