Just because an anime has already started doesn't mean that new promotional material will not be released. For example for Fire Force Season 2, for which a new visual has now been published. A new visual was released today on the official website of the anime adaptation of "Fire Force" to get fans of the series in the mood for the "Operation Nether Investigation" arc. In addition, two new characters were introduced.
Fire Force Season 2 is under the new direction of director Tatsumi Minakawa (episode director for episode 12 of the first season) again at Studio David Production ("Jojo's Bizarre Adventure", "Cells at Work"), after Yuki Yase ("Hidamari Sketch x Honeycomb") staged the first season. The first season started on July 03, 2020, on Japanese television.
Two new characters have also been announced:
Yuuki Ono (Isami in "Food Wars!", Kogarashi in "Yuuna's Haunted House") speaks Takagi Oze, Maki's big brother and detective in the Tokyo Army
Kousuke Toriumi (Shuu in "Diabolik Lovers", Kiba in "Naruto") speaks Hajiki, the first platoon leader of Spezialwache 2
Fire Force Season 2 Visual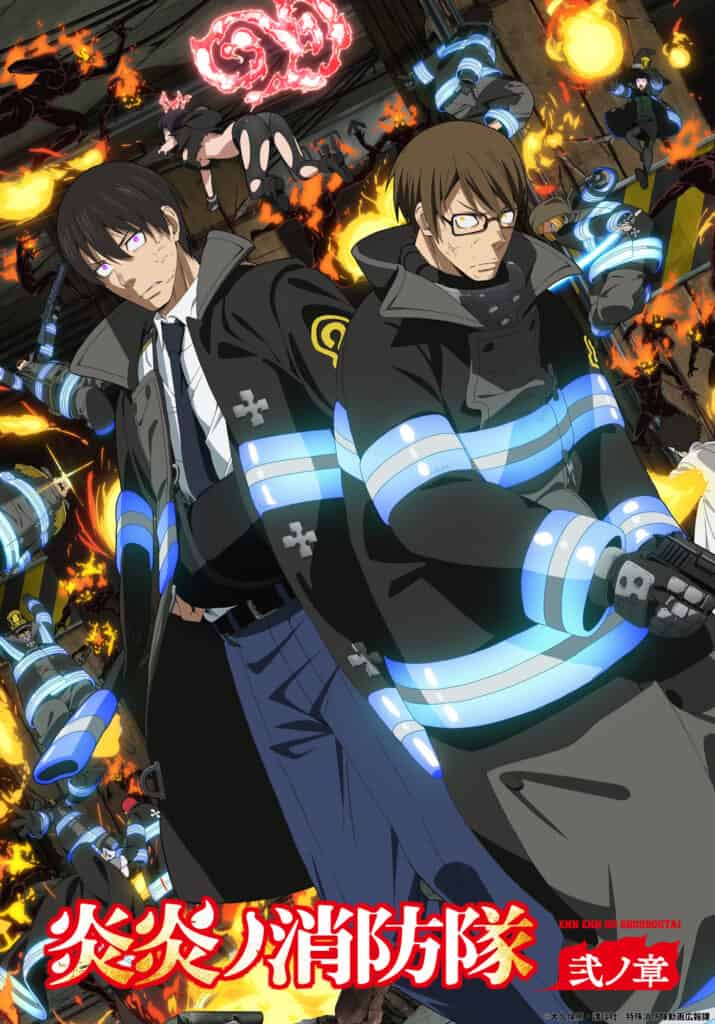 New Characters
Cast
| | |
| --- | --- |
| Character | Voice Actor |
| Iris | Mao Ichimichi |
| Shinra Kusakabe | Gakuto Kajiwara |
| Tamaki Kotatsu | Aoi Yuuki |
| Maki Oze | Saeko Kamijou |
| Arthur Boyle | Yuusuke Kobayashi |
| Akitaru Oubi | Kazuya Nakai |
| Takehisa Hinawa | Kenichi Suzumura |
Production Team
| | |
| --- | --- |
| Director | Tatsumi Minakawa |
| Series Composition | Gakuto Haishima |
| Sound Director | Jin Aketagawa |
| Character Design | Hideyuki Morioka |
| Theme Song | Aimer, Cider Girl |
Fire Force Action
Shinra Kusakabe is new to the eighth special unit of the fire department, which is fighting a strange phenomenon in which people suddenly go up in flames and become flaming beings. Shinra, who lost his family in a fire twelve years ago, does everything possible to become a hero to protect others. Even his first assignment shows him what it means to do this job!