As part of an online event for the anime adaptation of "KonoSuba" (jap.: "Kono Subarashii Sekai ni Shukufuku wo!"), it was announced that a new anime project (Konosuba Season 3) is currently in the works.
This anime series is full of so many fun characters and the voice acting is excellent and do not forget about the love tension between Kazuma and Megumin that is the life of the show.
Konosuba Season 3 Release Date
There are many light novels for Konosuba (Official website) that can tell you the further story of Konosuba but most of us are going to wait for the sequel because of its amazing animations and voice acting.
The two seasons of "KonoSuba", each comprising ten episodes and an OVA, were directed by Takaomi Kanasaki ("Princess Connect! Re:Dive") at Studio DEEN. The broadcast took place in winter 2016 and in winter 2017. A sequel film by J.C.Staff, entitled "KonoSuba: Legend of Crimson", was released in Japanese cinemas in August 2019.
The release date for the KonoSuba Season 3 anime was pushed a little further over the horizon thanks to the KonoSuba movie, KonoSuba: God's Blessing on This Wonderful World! Crimson Legend.
According to the Kadokawa producer Junichiro Tamura, there are high chances you will get to see Konosuba season 3 soon. Still, even if there is talk about creating the third season the KonoSuba director is busy with other projects in 2020 and 2021. But the release date is not finalized yet.
We need to be a bit more patient for season 3 since the official release date hasn't been announced yet.
During a Reddit Ask Me Anything Kadokawa producer Junichiro Tamura seemed to give hope for the third season of KonoSuba: God's Blessing on This Wonderful World!
Now, Tamura joined the Reddit AMA primarily to discuss The Rising Of The Shield Hero anime, which is his latest project. So, when he was asked about the chances for KonoSuba Season 3, anime fans were probably slightly surprised by his response.
"KonoSuba Season 3 has a good chance if the movie does well," Tamura replied. In another KonoSuba S3-related question, he explained that the decision-making process for another season of any show "mostly depends on the popularity of the show."
To put these responses into perspective, Tamura was also asked about No Game No Life Season 2.
Visual of Konosuba Season 3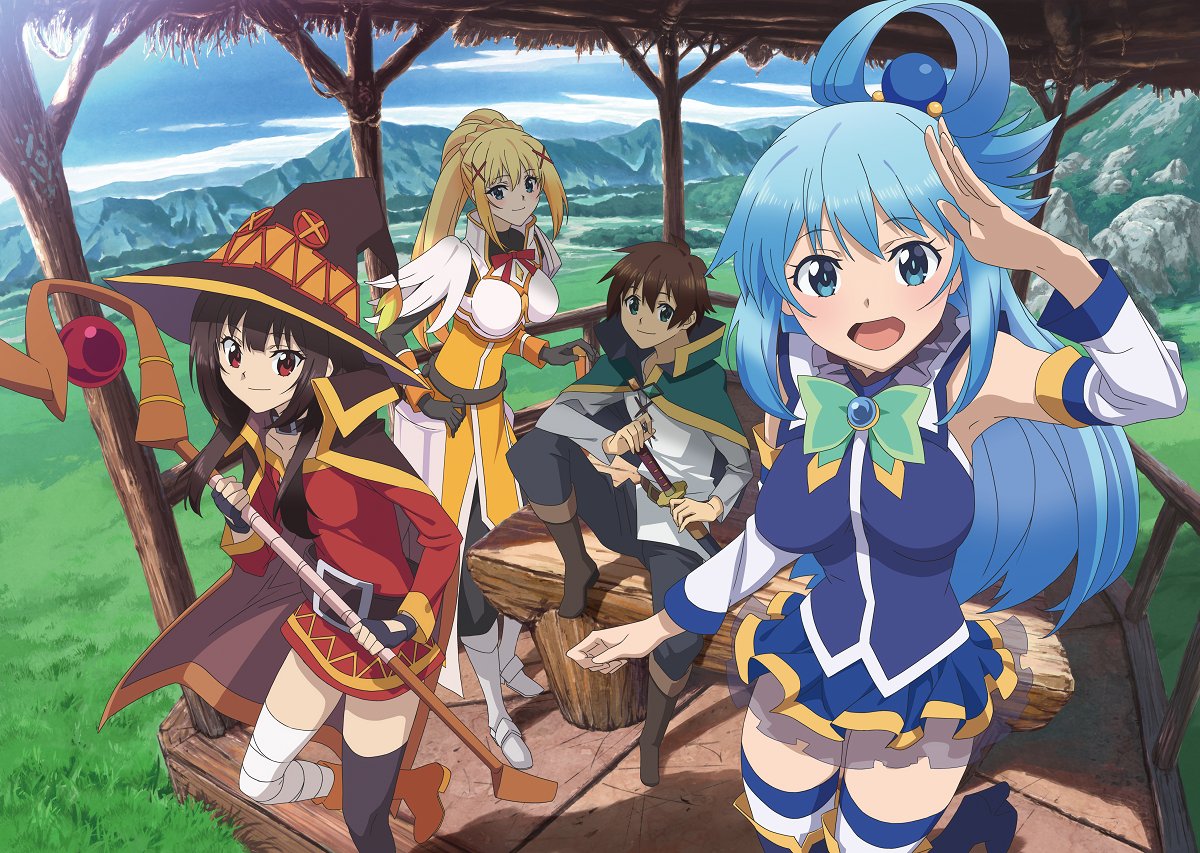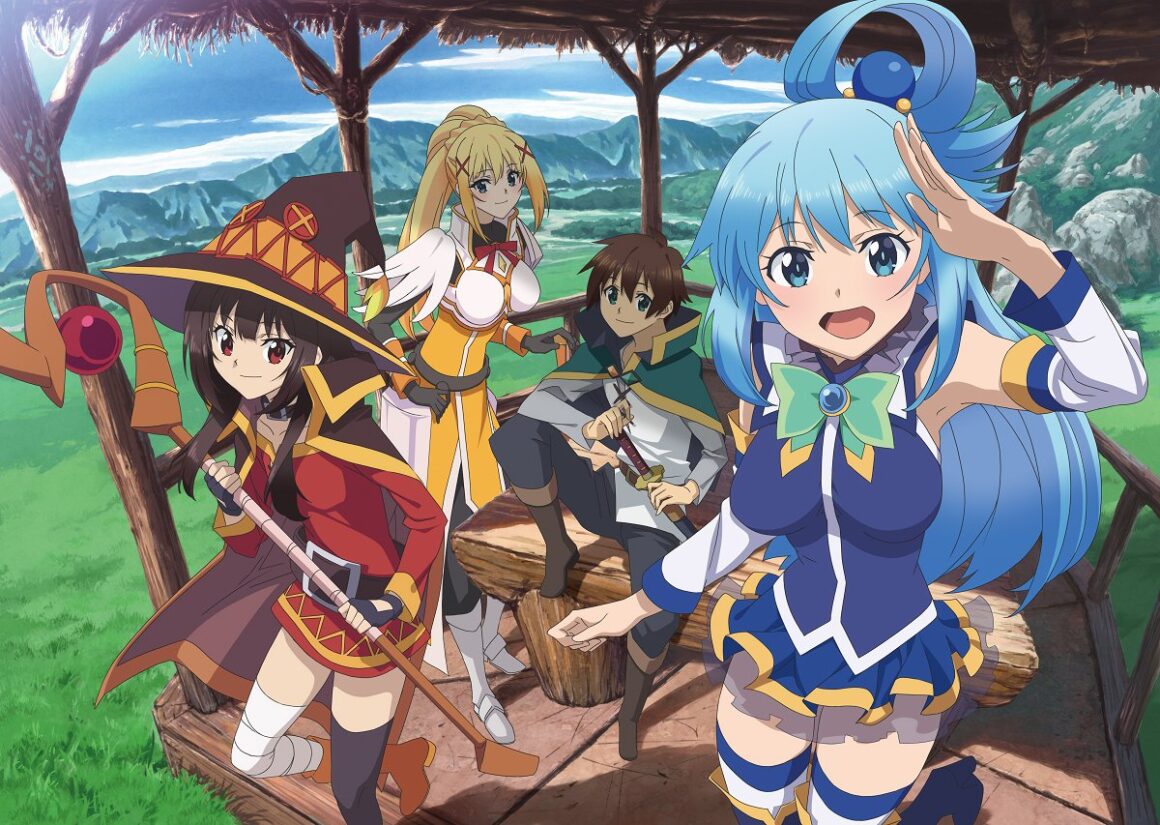 Characters, Cast & Staff of Konosuba Season 3
I. Character & Cast
| | |
| --- | --- |
| Character | Cast |
| Kazuma | Jun Fukushima |
| Aqua | Amamiya Ten |
| Megumin | Rie Takahashi |
| Dakness | Ai Kayano |
| Yun Yun | Aki Toyosaki |
Satou Kazuma: is the main protagonist of the KonoSuba series. He was reincarnated into the Fantasy World after dying. He was originally a student from Japan who always skipped out of school in favor of lazing around at home playing video games. Eventually, he died in an accident and was sent to the fantasy world alongside the Goddess of Water Aqua in order to defeat the Demon King, who sought to oppress the free peoples of the fantasy world.
Aqua: is one of the three main deuteragonists in the KonoSuba series. Prior to life in the Fantasy World, she was a goddess of water who guided humans to the afterlife; within, she is worshipped by the Axis Order.
Megumin: is an Arch Wizard of the Crimson Demon Clan in the Fantasy World, and is the first person to join Kazuma's party. She is one of the main characters of the KonoSuba series.
Dustiness Ford Lalatina: usually known as Darkness, is one of the three main female protagonists of the KonoSuba series. She is a crusader with masochistic tendencies who joins Kazuma's party.
Eris: is the goddess of Fortune and Aqua's junior in the fantasy world, as well as a main supporting character in the Konosuba series. While disguised as Chris, she is a thief and a good friend of Darkness and Kazuma.
Yunyun: is a character of the KonoSuba series. She is a member and future chief of the Crimson Demon Clan, as well as a friend and self-proclaimed rival to Megumin.
Wiz: is an important supporting character in the KonoSuba series. She is a lich who is the owner of a "famous" Magic Item Shop in Axel and used to be referred to as the Ice Witch when she was an adventurer fighting against the Demon King. Wiz is one of the only characters in Konosuba to have her honorable actions be taken quite seriously in the entire series and one of the only characters considered by Kazuma to be an actual good person.
II. Staff
| | |
| --- | --- |
| Original | Natsume Akatsuki |
| Original Illustration | Kurone Mishima |
| Supervision | Kanyasaki Takaomi |
| Character Design | Koichi Kikuta |
| Animation Production | J.C.STAFF |
Where To Watch Konosuba
Watch Konosuba On:
Konosuba Factor 1: Popularity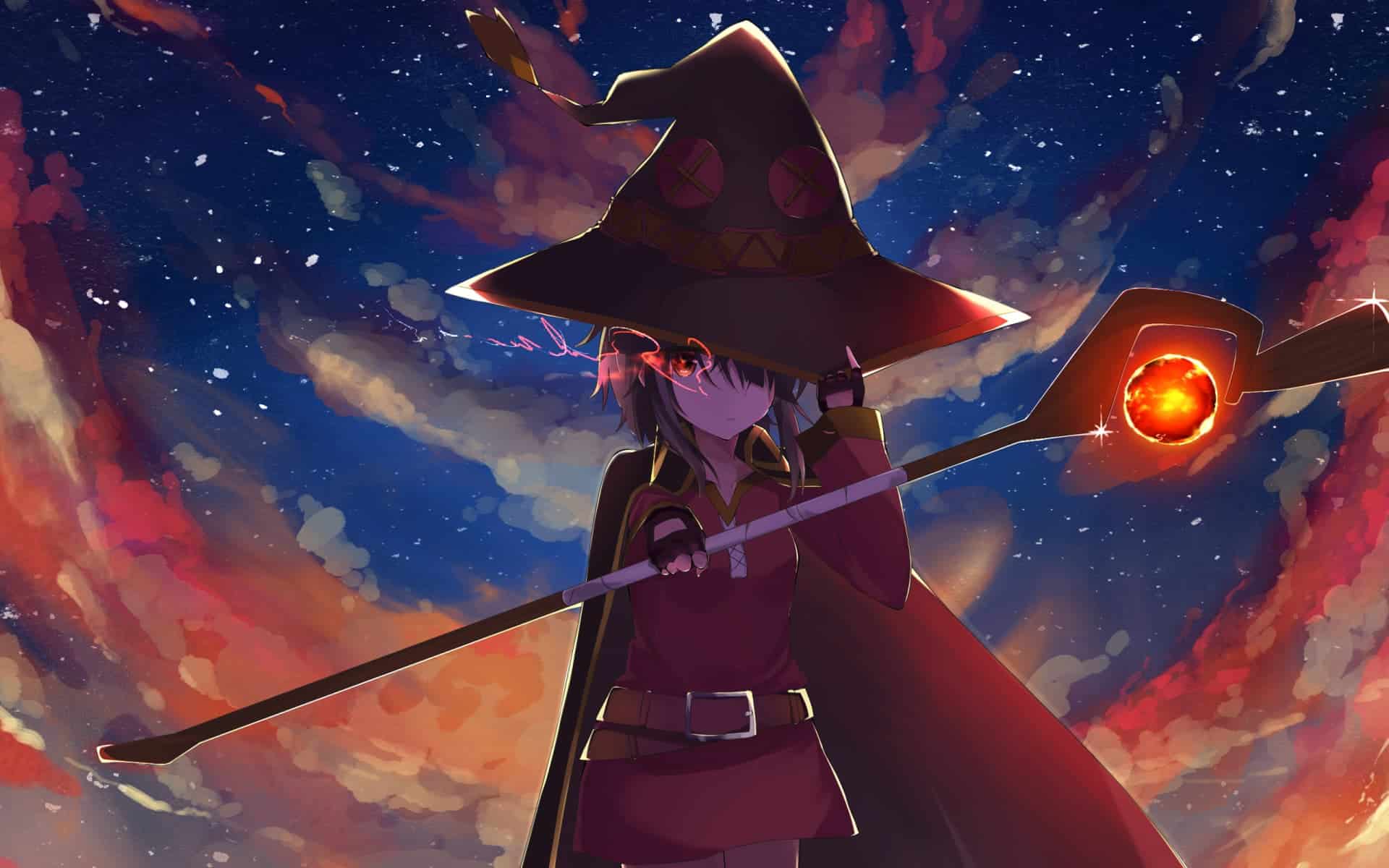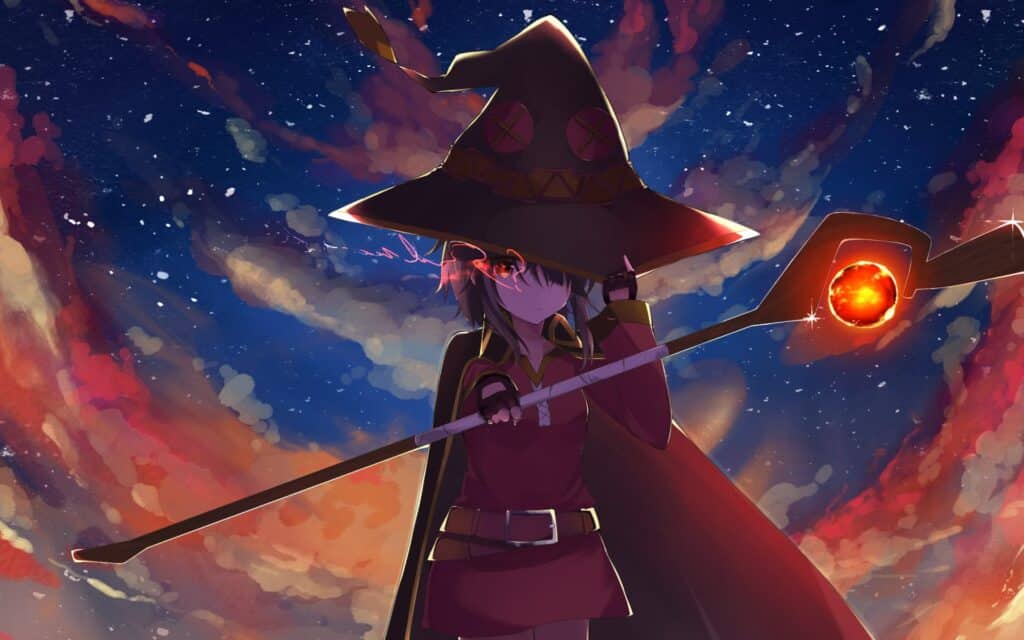 Konosuba's popularity was at its peak in 2020's and it is still going super strong. It is evident by the number of searches for both its series and the movie that people are dying to watch the next season. Usually searches for the sequel are less than the first season but it is the exact opposite in this case.
Their social media is also overflowing with new followers. Their latest light volume 17 is still extremely popular and getting multiple downloads daily.
After their movie, Konosuba's merchandise has also seen a great hike in the sales. They keep adding new products in their merchandise every month which also acts as a positive reason for their popularity.
Konosuba Factor 2: Source Material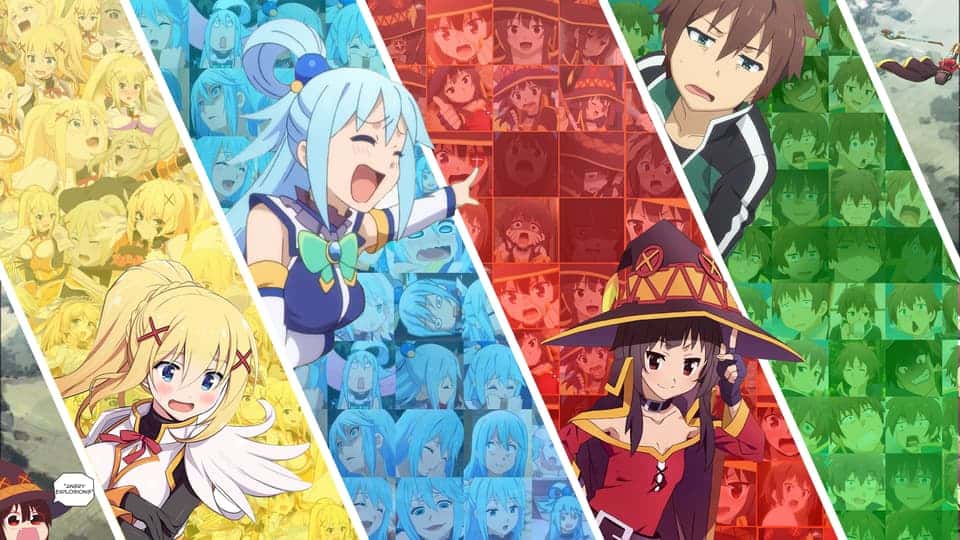 Most anime series are just variations of different source materials such as manga, mobile games, visual novels, or light novels. Konosuba is adapted from light novels. There are currently 17 volumes of Konosuba's last one being published in May 2020.
They also keep adding spin-offs such as Megumin and Yunyun's time as students two years before the main series to give it a new life and to maintain the interest of their viewers.
If we will go by the current status of light novels, we should say that there is a 1% chance that there will be no sequel as the light novels have already ended. But as only volume 1 and 2 was used for the first season, 3rd, and 4th in the second season and 5th volume was totally adapted in the movie, there are still strong chances of Season 3 coming out soon.
Konosuba Factor 3: Sales and Profit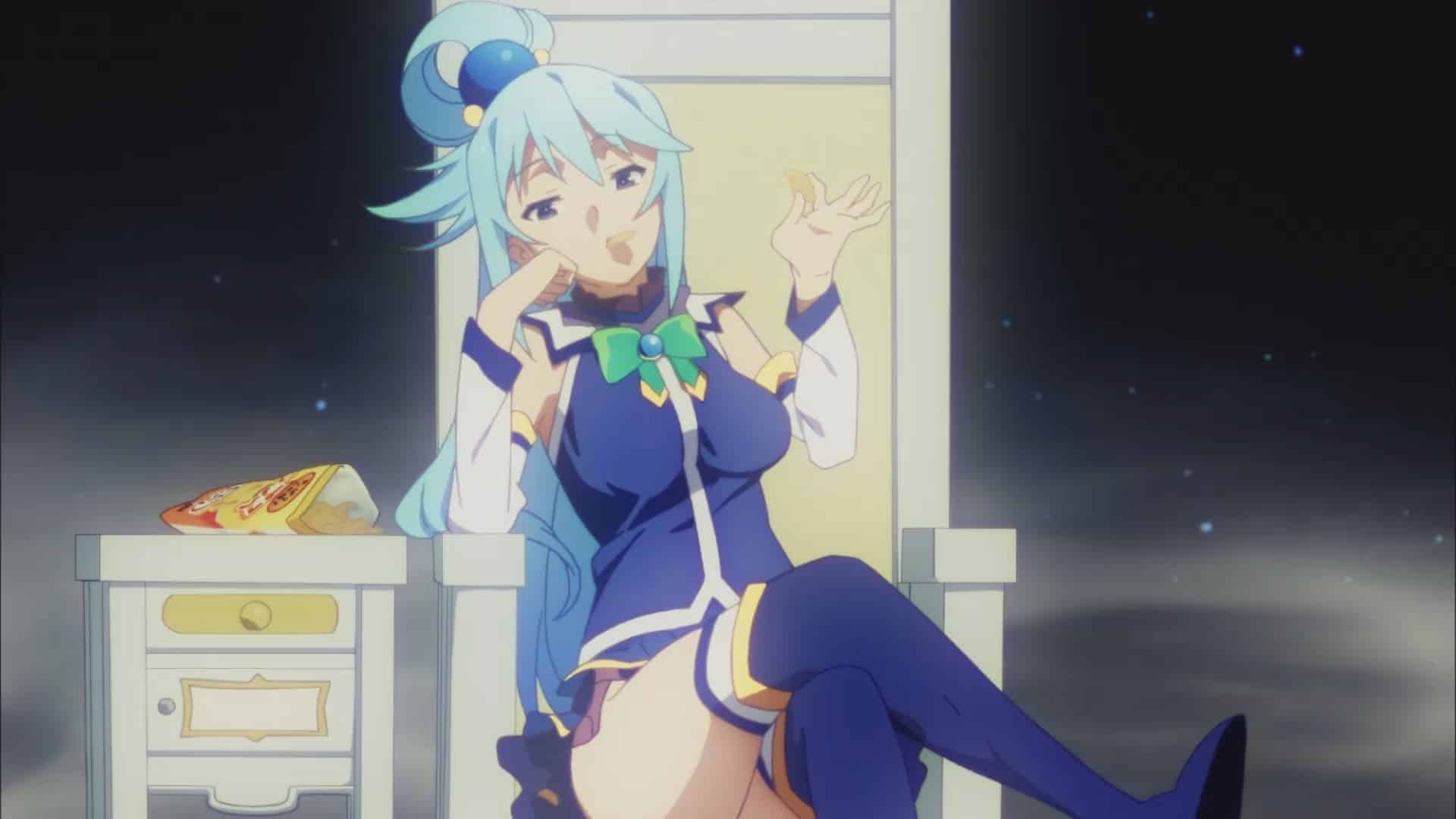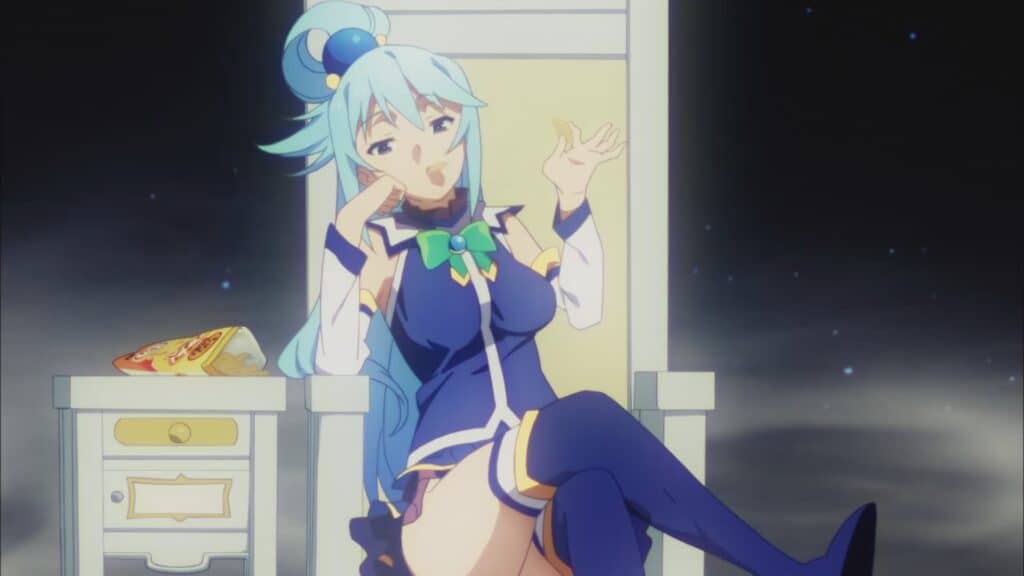 Each and everything related to Konosuba makes a ton of money, be it their merchandise, movie, game, and even light novels. Although we have noticed a little drop in Blu-ray sales, but it really does not matter in 2020.
Konosuba compared to other one core anime series is very inexpensive and earns a lot of profit, there is no reason money-wise season 3 would not be aired.
Conclusion
After going through all the minor details, the only conclusion we get can to is that there are 99% chances that Konosuba season 3 will be out soon. Assuming that the July 2021 announcement was about the third season, We cannot exactly say about the month of the year it is going to be released, maybe in 2022.
The only thing we can do right now is to wait and support the series to the fullest!
If you've any other questions in your mind regarding Konosuba season 3, do let us know in the comments section below.