The Mushoku Tensei Season 2 anime will have Rudy (Rudeus Greyrat) finally attending school at the Ranoa University of Magic. But when will Jobless Reincarnation Season 2 come out? Mushoku Tensei: Jobless Reincarnation (Mushoku Tensei: Isekai Ittara Honki Dasu) is a Japanese light novel series by Rifujin na Magonote about a jobless and hopeless man who reincarnates in a fantasy world while keeping his memories, determined to live his new life without regrets.
Even before the start of the broadcast of the series "Mushoku Tensei: Jobless Reincarnation", it was announced that the Isekai anime would consist of two halves with 11 and 12 episodes respectively. With the end of yesterday's eleventh episode, this was confirmed once again.
Will there be a Mushoku tensei Season 2?
Official website of the anime adaptation of Mushoku Tensei: Jobless Reincarnation" announced that it will consist of 23 episodes. Previously, it was confirmed that the anime will be broadcast as a split-cour. Studio Bind has been officially renewed for Mushoku Tensei Season 2.
About the Studio
The production of the fantasy anime series will be handled by a new studio known as 'Studio Bind,' a subsidiary of the renowned studio 'White Fox,' known for animating Re: Zero and Steins Gate.
Mushoku Tensei director talks about problems of adaptation
Even before Okamoto began his work on the anime in Studio Bind, several studios had already tried to adapt Mushoku Tensei. However, all these plans failed. After reading the template, the director thought he knew the reasons for it:
The story is too vulgar.
The content of the Light Novel is incredibly difficult to transfer into the structure of a TV anime.
The Japanese anime scene is oversaturated with the Isekai reincarnation genre.
For him, the second point was a challenge at the time, as he wondered how much the anime of history could show. If he had only been able to implement the beginning of the story, the "developments and impressive qualities" would have fallen by the wayside. In addition, the plot has a high tempo and many scene changes, which is why, according to Okamoto, it is time to design all the different designs that are needed for it. So he expected a lot of problems, but when the production started, they even exceeded his ideas. For this reason, he found it difficult to participate as a director on the TV series.
Mushoku Tensei Season 2 Release Date
"Mushoku Tensei" started on Japanese television in January 2021. The production is being produced by Studio Bind, in which Manabu Okamoto ("Gamers!") is the director. Funimation offers the series with English and Japanese language versions on demand.
The Livestream took place on June 27, 2021 at 20:00 Japanese time (13:00 European time) on YouTube and NicoNico. The three voice actors Yumi Uchiyama (Rudeus Greyrat), Ai Kakuma (Eris Boreas Greyrat) and Daisuke Namikawa (Ruijerd Supardia) were announced as guests of honour, who talked about the second half of the series.
According to current planning, the new episodes will start on Japanese television in October 3, 2021. On the official website of the anime adaptation of Mushoku Tensei: Jobless Reincarnation a trailer was released, which offers you first insights into the second half. You can watch the video later in this article.
Mushoku Tensei Season 2 Visual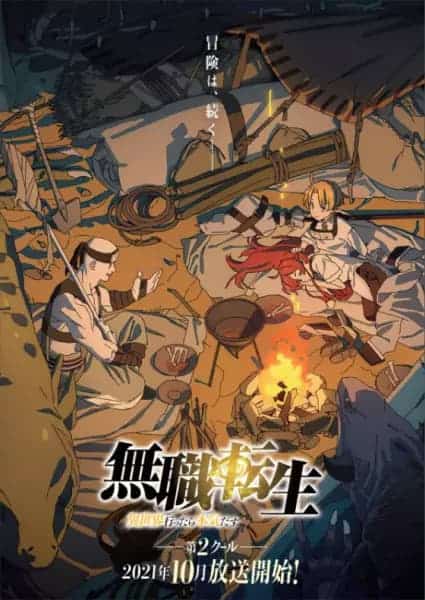 Mushoku Tensei Season 2 Trailer
Characters, Cast and Staff of Mushoku Tensei Season 2
I. Characters and Cast
| Character | Cast |
| --- | --- |
| Rudeus Graylat | Uchiyama Yumi |
| Roxy Migurdia | Yoshimi Ohara |
| Ellis Boreas Greyrat | Ai Kakuma |
| Sylphiet | Ai Chino |
| Paul Graylat | Tomoyuki Morikawa |
| Zenith Grayrat | Hisako Kanemoto |
| Lilla | Lynn |
II. Production Team
| | |
| --- | --- |
| Director | Okamoto Manabu |
| Color Design | Makiko Doi |
| Character Design | Kazutaka Sugiyama |
| Music | Yoshimasa Fujisawa |
| Studio | Studio Bind |
Endcard for Mushoku Tensei Season 2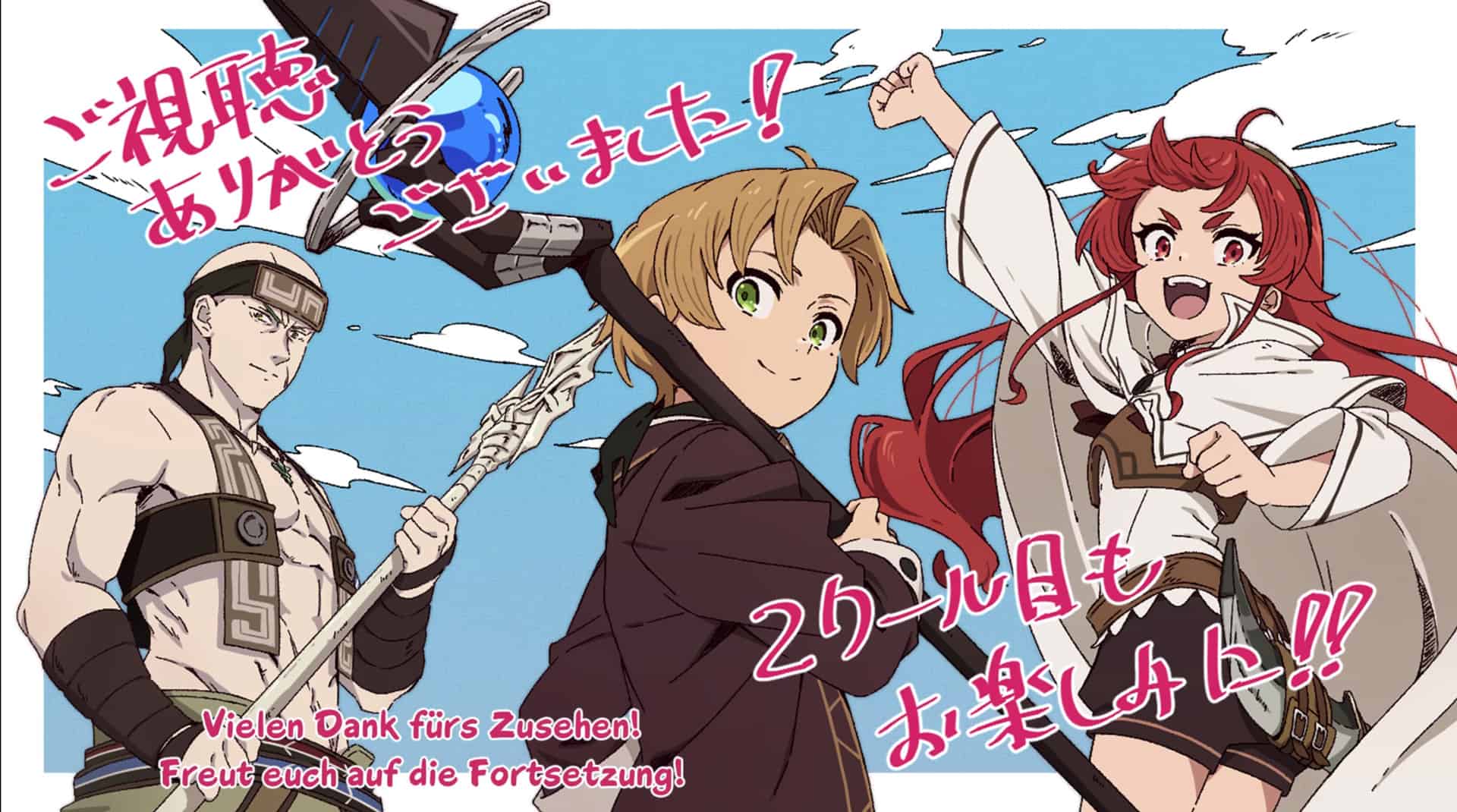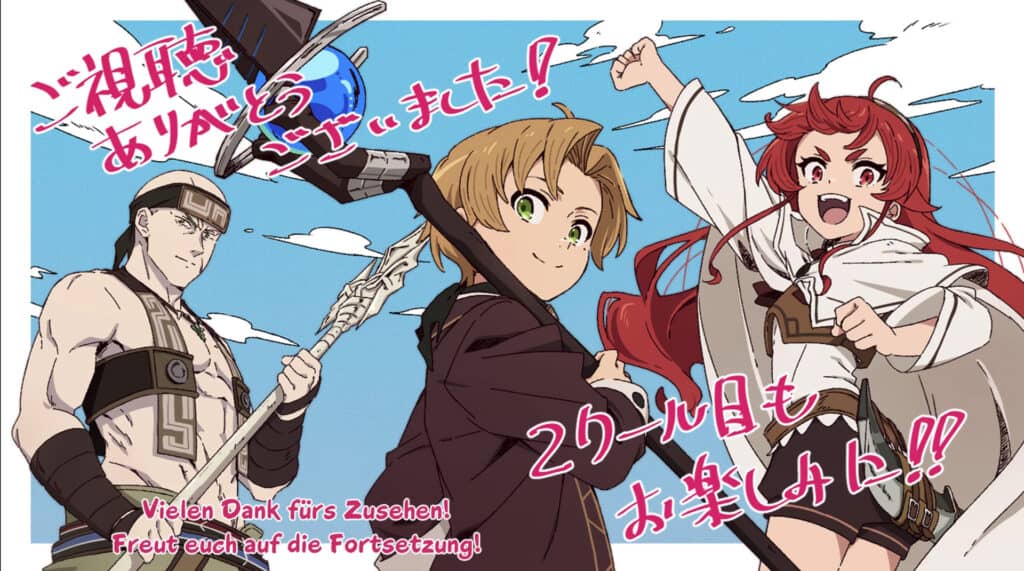 Mushoku Tensei Action
"In this world, I do everything differently!"
A 34-year-old retired and unemployed bachelor is run over by a truck shortly after the death of his parents and the forced eviction of his parents' home. But when he wakes up in a baby's body and realizes that he is in a mysterious world full of swordfighting and sorcery, he hardly trusts his eyes.
Rudeus, as he is now known, swears to see his new life as a second chance. He makes friends and gets to know all kinds of people, experiences unimaginable adventures and relentless struggles. A gripping fantasy story about a complete new beginning!