In the latest issue of "Weekly Shonen Jump" magazine, new character designs and speakers for the upcoming second season of the anime series "Dr. STONE ", which you can find below in the article.
The Second Season Starts in January 2021
The second season is entitled "Dr. STONE: Stone Wars" and will be simulcast on Crunchyroll from January 2021. The opening song with the title "Rakuen" is contributed by the Japanese rock band Fujifabric, while the ending song "Koe?" Comes from HATENA.
The 24-part first season was directed by Shinya Iino in the studio TMS Entertainment (Spirit Chronicles, Dr. Stone, ReLIFE, Kamisama Kiss, Rent-A-Girlfriend, Megalo Box and Rent-a-Girlfriend). Yuichiro Kido wrote the script, while Yuuko Iwasa contributed to the character design. The music was composed by Tatsuya Kato, Hiroaki Tsutsumi, and Yukihiro Kanesaka. Crunchyroll already offers all 24 episodes with English and Japanese voice output on demand.
Character Designs For Dr. STONE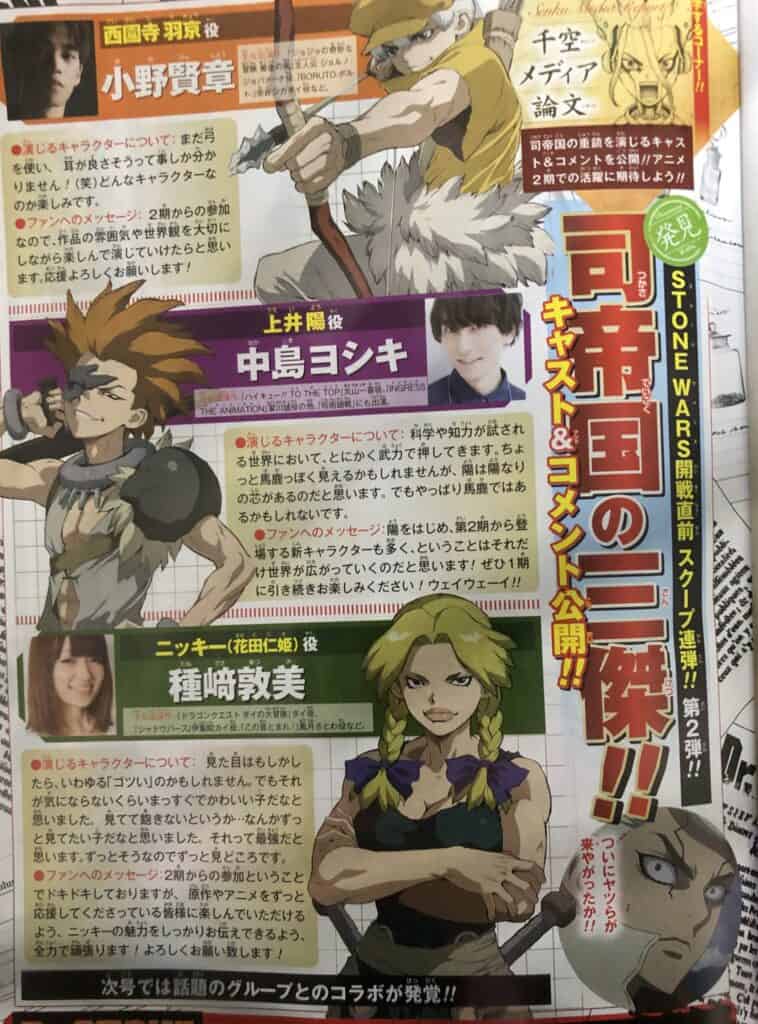 Character Cast
| | |
| --- | --- |
| Character | Voice actor |
| Ukyo Saionji | Kensho Ono (Ryūnosuke Akutagawa, Bungo Stray Dogs) |
| Yo Uei | Yoshiki Nakajima (SYoshifumi Nitta, Hinamatsuri) |
| Nikki Hanada | Atsumi Tanezaki (Tome Kurata, Mob Psycho 100) |
Action
Thousands of years after mankind was petrified by a mysterious phenomenon, the exceptionally intelligent and science-loving Senku Ishigami awakens from his sleep. With nothing but stones and a collapsed civilization around him, Senku decides to use science to rebuild the world. Together with his muscled childhood friend Taiju Oki, who woke up at the same time, they want to rebuild society from nothing …
More than two million years of scientific history, from the Stone Age to the present, are united in this unprecedented adventure story that is now beginning!