It gets boring when you have to watch filler episodes that don't have anything to do with the main story. So, We have shared the Fairy Tail Filler List.
Fairy Tail adapted from the manga written by Hiro Mashima of the same name. Fairy Tail released in Japan on October 12, 2009, and ran for 328 episodes until September 29, 2019 with having 65-70 filler episodes making them about 19%.
Some fans love them; others feel they're a waste of time. If you want to watch Fairy Tail without fillers but are curious to know what they're really about, follow the guide below and decide which fillers are worth your time!
The manga has been adapted into an anime series produced by A-1 Pictures ("Sword Art Online, Your Lie In April"), Dentsu Inc., Satelight ("Hellsing, Log Horizon"), Bridge, and CloverWorks ("Black Clover") which was broadcast in Japan on TV Tokyo from October 2009 to March 2013.
Just follow along with us as we guide you through the list of filler and canon episodes in Fairy Tail just like Bleach Filler List and Naruto Shippuden Filler List.
Fairy Tail Story
A young celestial mage, Lucy Heartfilia, runs away from home and travels to the land of Fiore to join the magical Fairy Tail Guild. Along the way, she meets Natsu Dragneel, a teenage boy looking for his foster parent, a dragon named Igneel, with his best friend, Happy the cat. Shortly after their meeting, Lucy is abducted by Bora of Prominence, who was posing as Salamander of Fairy Tail, to be sold as a slave.
Natsu rescues her and reveals that he is the real Salamander of Fairy Tail and has the skills of a Dragon Slayer, ancient fire magic. He offers her membership into the guild, which she gladly accepts, along with Erza Scarlet Armoured maiden, Gray Fullbuster Ice Maker, and Happy become a team performing various missions offered to the Fairy Tail guild.
| | |
| --- | --- |
| FILLER | Not adapted from the manga, so it does not follow the original story. |
| MOSTLY FILLER | Not adapted from the manga, but it has snippet of original story. |
| CANON | These episode are adapted 100% of the manga that follows story. |
| MOSTLY CANON | Episode was adapted from the manga, but has filler snippets. |
Fairy Tail Arc List
1. Macao Arc: 1-2
2. Daybreak Arc: 3-4
3. Lullaby Arc: 5-10 (EP 9 FILLER)
4. Galuna Island Arc: 11-20 (EP 19 FILLER)
5. Phantom Lord Arc: 21-29
6. Loke Arc: 30-32
7. Tower Of Heaven Arc: 33-40
8. Battle Of FairyTail Arc: 41-51 (EPs 49-50 FILLER)
9. Oracion Seis Arc: 52-68
10. Daphne Arc: 67-75 (EPs 70-75 FILLER)
11. Edolas Arc: 76-95
12. Tenrou Island Arc: 96-122
13. X791 Arc: 123-124
14. Key of the Starry Sky Arc: 125-150 (FILLER Arc.) (EP 126: The Truly Evil Jiggle Butt Gang!)
15. Grand Magic Games Arc: 151-203 (EP 201. MOSTLY CANON)
16. Eclipse Celestial Spirits Arc: 232-254 (FILLER Arc)
17. Sun Village Arc: 251-259
18. Tartaros Arc: 260-290 (EP 271 FILLER)
19. FairyTail Zero Arc: 291-300 (EP 293 FILLER)
20. Avatar Arc: 301-302
Not Aired Yet
21. Alvarez Empire Arc: unknown.
22. 100 Years Quest arc
Where To Watch Fairy Tail
Watch Fairy Tail on:
Fairy Tail Filler List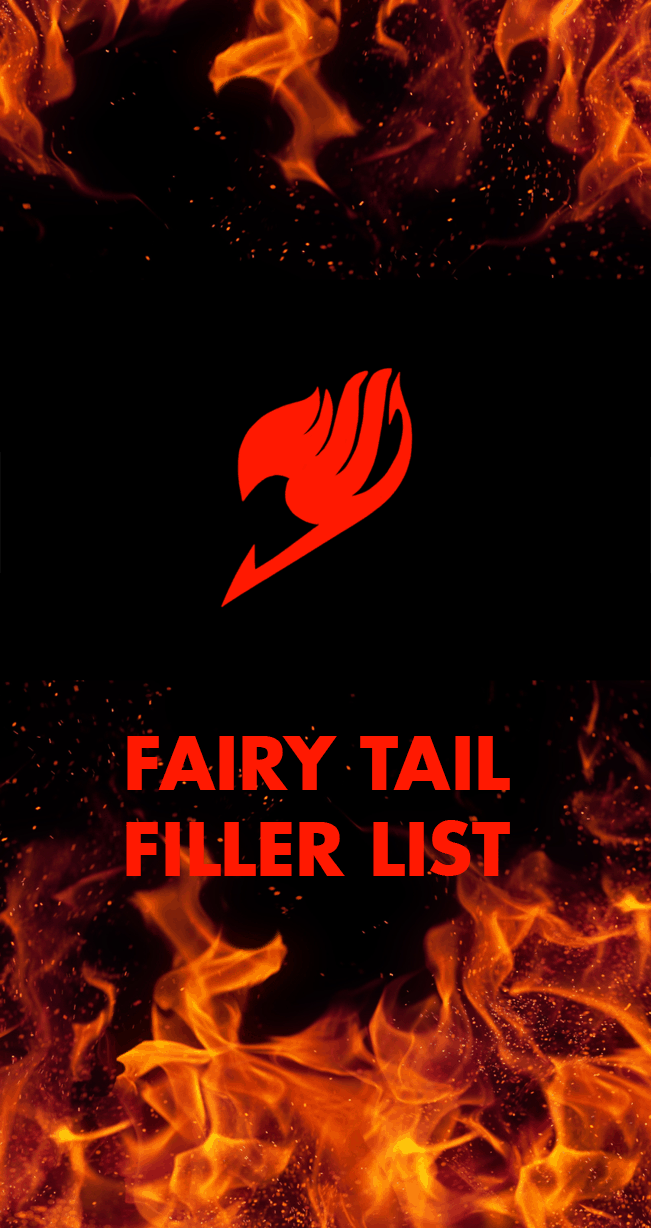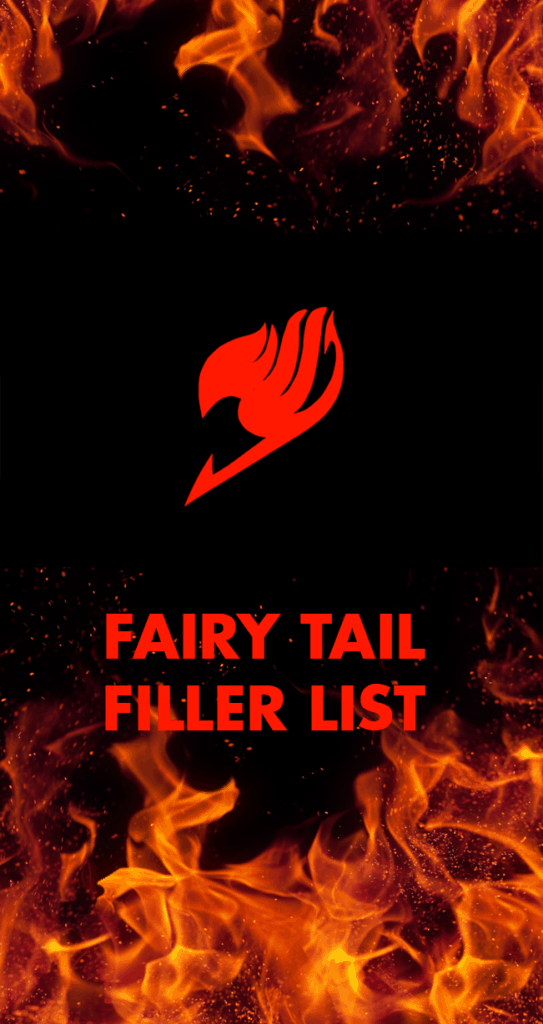 1-8, 10-18, 21-48, 51-68, 76-124, 152-200, 227-245, 247-254, 257-259, 261-267, 269, 271-311, 313-328.
151, 201, 255, 260, 270.
9, 20, 49-50, 69, 73, 202, 203, 226, 246, 256.
19, 70- 72, 74, 75, 125-150, 204-225, 268.
Fairy Tail Filler List Season 1
| Sr. No. | Episode Name | Episode Type |
| --- | --- | --- |
| 1 | Fairy Tail | CANON |
| 2 | The Fire Dragon, the Monkey, and the Ox | CANON |
| 3 | Infiltrate! The Everlue Mansion! | CANON |
| 4 | DEAR KABY | CANON |
| 5 | The Armored Mage | CANON |
| 6 | Fairies in the Wind | CANON |
| 7 | Flame and Wind | CANON |
| 8 | The Strongest Team!! | CANON |
| 9 | Natsu Eats a Village! | MOSTLY FILLER |
| 10 | Natsu vs. Erza | CANON |
| 11 | The Cursed Island! | CANON |
| 12 | Moon Drip | CANON |
| 13 | Natsu vs. Yuka "The Wave"! | CANON |
| 14 | Do What You Must!! | CANON |
| 15 | Eternal Magic | CANON |
| 16 | Galuna Island, the Final Battle! | CANON |
| 17 | BURST | CANON |
| 18 | Reach it! To That Sky! | CANON |
| 19 | Changeling! | FILLER |
| 20 | Natsu and the Dragon Egg! | MOSTLY FILLER |
| 21 | Phantom Lord | CANON |
| 22 | Lucy Heartfilia | CANON |
| 23 | 15 Minutes! | CANON |
| 24 | So No One Sees the Tears | CANON |
| 25 | A Flower Blooms in the Rain | CANON |
| 26 | Wings of Flame | CANON |
| 27 | The Two Dragon Slayers | CANON |
| 28 | Fairy Law | CANON |
| 29 | My Resolve! | CANON |
| 30 | Next Generation | CANON |
| 31 | The Star That Will Never Return to the Sky | CANON |
| 32 | Celestial Spirit King | CANON |
| 33 | Tower of Heaven | CANON |
| 34 | Jellal | CANON |
| 35 | Voice in the Darkness | CANON |
| 36 | Heaven's Game | CANON |
| 37 | Heart's Armor | CANON |
| 38 | Destiny | CANON |
| 39 | A Prayer Under the Holy Light | CANON |
| 40 | Titania Falls | CANON |
| 41 | Home | CANON |
| 42 | Battle of Fairy Tail | CANON |
| 43 | Defeat Your Friends, To Save Your Friends | CANON |
| 44 | Thunder Palace | CANON |
| 45 | Satan's Descent | CANON |
| 46 | Clash at Kardia Cathedral | CANON |
| 47 | Triple Dragon | CANON |
| 48 | Fantasia | CANON |
Fairy Tail Filler List Season 2 (2010–2011)
| Sr. No. | Episode Name | Episode Type |
| --- | --- | --- |
| 49 | The Day of the Fateful Encounter | MOSTLY FILLER |
| 50 | Special Request: Watch Out for the Guy You Like! | MOSTLY FILLER |
| 51 | Love & Lucky | CANON |
| 52 | Allied Forces, Assemble! | CANON |
| 53 | Oración Seis Appears! | CANON |
| 54 | Sky Maiden | CANON |
| 55 | The Girl and the Ghost | CANON |
| 56 | Dead Grand Prix | CANON |
| 57 | Darkness | CANON |
| 58 | Spirit vs. Spirit | CANON |
| 59 | Recollections of Jellal | CANON |
| 60 | March to Destruction | CANON |
| 61 | Super Air Battle! Natsu vs. Cobra | CANON |
| 62 | Jura of the Ten Wizard Saint | CANON |
| 63 | Only Your Words | CANON |
| 64 | Zero | CANON |
| 65 | From Pegasus to Fairies | CANON |
| 66 | The Power of Feelings | CANON |
| 67 | I'm With You | CANON |
| 68 | A Guild for Only One | CANON |
| 69 | Call of the Dragon | MOSTLY FILLER |
| 70 | Natsu vs. Gray!! | FILLER |
| 71 | Friendship Overcomes the Dead | FILLER |
| 72 | A Fairy Tail Wizard | FILLER |
Fairy Tail Filler List Season 3 (2011)
| Sr. No. | Episode Name | Episode Type |
| --- | --- | --- |
| 73 | Rainbow Sakura | MOSTLY FILLER |
| 74 | Wendy's First Big Mission!? | FILLER |
| 75 | The 24-Hours Endurance Road Race | FILLER |
| 76 | Gildarts | CANON |
| 77 | Earth Land | CANON |
| 78 | Edolas | CANON |
| 79 | Fairy Hunting | CANON |
| 80 | Key of Hope | CANON |
| 81 | Fireball | CANON |
| 82 | Welcome Back | CANON |
| 83 | Extalia | CANON |
| 84 | Fly! To Your Friends! | CANON |
| 85 | Code ETD | CANON |
| 86 | Erza vs. Erza | CANON |
| 87 | These Are Lives!!!! | CANON |
| 88 | The River of Stars for Pride's Sake | CANON |
| 89 | Dragon Chain Cannon of Demise | CANON |
| 90 | The Boy from That Time | CANON |
| 91 | Dragon Sense | CANON |
| 92 | For All The Living Things | CANON |
| 93 | I'm Standing Here | CANON |
| 94 | Bye Bye Edolas | CANON |
| 95 | Lisanna | CANON |
| 96 | That Which Extinguishes Life | CANON |
| 97 | Best Partner | CANON |
| 98 | Who's The Lucky One? | CANON |
| 99 | Natsu vs. Gildarts | CANON |
| 100 | Mest | CANON |
Fairy Tail Filler List Season 4 (2011–2012)
| Sr. No | Episode Name | Episode Type |
| --- | --- | --- |
| 101 | The Black Wizard | CANON |
| 102 | Iron Soul | CANON |
| 103 | Makarov Strikes | CANON |
| 104 | Lost Magic | CANON |
| 105 | Fire Dragon vs. Flame God | CANON |
| 106 | The Ultimate Magic World | CANON |
| 107 | Arc of Embodiment | CANON |
| 108 | The Door of Humans | CANON |
| 109 | Lucy Fire | CANON |
| 110 | Dead-End of Despair | CANON |
| 111 | The Tears of Love and Life | CANON |
| 112 | The One Thing I Couldn't Say | CANON |
| 113 | Tenrou Tree | CANON |
| 114 | Erza vs. Azuma | CANON |
| 115 | Frozen Spirit | CANON |
| 116 | The Power That Becomes Life | CANON |
| 117 | Thunder Crashes | CANON |
| 118 | The Man Without the Mark | CANON |
| 119 | Realm of the Abyss | CANON |
| 120 | Daybreak at Tenrou Island | CANON |
| 121 | The Right to Love | CANON |
| 122 | Let's Join Hands | CANON |
| 123 | X791 Fairy Tail | CANON |
| 124 | The Empty Seven Years | CANON |
| 125 | Magic Dance Ball | FILLER |
Fairy Tail Filler List Season 5 (2012)
| Sr. No. | Episode name | Episode Type |
| --- | --- | --- |
| 126 | The Truly Evil Jiggle Butt Gang | FILLER |
| 127 | The Terror of Invisible Lucy | FILLER |
| 128 | Father's Memento | FILLER |
| 129 | Raging Showdown! Natsu vs. Laxus | FILLER |
| 130 | Targeted Lucy | FILLER |
| 131 | Legion's Fierceness | FILLER |
| 132 | Key of the Starry Heaven | FILLER |
| 133 | Traveling Companions | FILLER |
| 134 | Labyrinth Rhapsody | FILLER |
| 135 | Trail of the Myth | FILLER |
| 136 | The True Villain, Once Again | FILLER |
| 137 | That Which Exceeds Calculation | FILLER |
| 138 | The Whereabouts of the Crusade | FILLER |
| 139 | The Moment That's Activated | FILLER |
| 140 | Reborn Oración Seis Appears! | FILLER |
| 141 | Chase the Infinite Clock! | FILLER |
| 142 | The Dissonance of Battle | FILLER |
| 143 | Anti-Link | FILLER |
| 144 | Unleashed Despair | FILLER |
| 145 | Real Nightmare | FILLER |
| 146 | The Spiral of Time | FILLER |
| 147 | To the Infinity Castle! | FILLER |
| 148 | The Angel's Tears | FILLER |
| 149 | A Friend's Voice is Heard | FILLER |
| 150 | Lucy and Michelle | FILLER |
Fairy Tail Filler List Season 6 (2012–2013)
| Sr. No. | Episode Name | Episode Type |
| --- | --- | --- |
| 151 | Sabertooth | MOSTLY CANON |
| 152 | And We Aim For The Top | CANON |
| 153 | Song Of The Stars | CANON |
| 154 | Only Enough Time to Pass By One Another | CANON |
| 155 | The Blooming Capital: Crocus | CANON |
| 156 | Sky Labyrinth | CANON |
| 157 | New Guild | CANON |
| 158 | In a Night of Falling Stars | CANON |
| 159 | Lucy vs. Flare | CANON |
| 160 | Bad Omen | CANON |
| 161 | Chariot | CANON |
| 162 | Elfman vs. Bacchus | CANON |
| 163 | Mirajane vs. Jenny | CANON |
| 164 | Kagura vs. Yukino | CANON |
| 165 | Malice is Concealed by the Veil of Darkness | CANON |
| 166 | Pandemonium | CANON |
| 167 | 100 versus 1 | CANON |
| 168 | Laxus vs. Alexei | CANON |
| 169 | Wendy vs. Sherria | CANON |
| 170 | A Small Fist | CANON |
| 171 | Naval Battle | CANON |
| 172 | The Perfume Dedicated To You | CANON |
| 173 | Battle of Dragon Slayers | CANON |
| 174 | Four Dragons | CANON |
| 175 | Natsu vs. the Twin Dragons | CANON |
Fairy Tail Filler List Season 7 (2014–2015)
| Sr. No. | Episode Name | Episode Type |
| --- | --- | --- |
| 176 | The Dragon King | CANON |
| 177 | The Eclipse Plan | CANON |
| 178 | Fairy Strategist | CANON |
| 179 | Gray vs. Rufus | CANON |
| 180 | Garou Knights | CANON |
| 181 | Fairy Tail vs. Executioners | CANON |
| 182 | The Burning Earth | CANON |
| 183 | The Country We're In | CANON |
| 184 | The Country, Until Tomorrow | CANON |
| 185 | Erza vs. Kagura | CANON |
| 186 | The Future Accelerating Towards Despair | CANON |
| 187 | Frog | CANON |
| 188 | Attacking Lightning! | CANON |
| 189 | Gloria | CANON |
| 190 | The One Who Closes the Door | CANON |
| 191 | Natsu vs. Rogue | CANON |
| 192 | Live on For Her | CANON |
| 193 | Seven Dragons | CANON |
| 194 | The Magic of Zirconis | CANON |
| 195 | Man & Man, Dragon & Dragon, Man & Dragon | CANON |
| 196 | Sin and Sacrifice | CANON |
| 197 | The Time of Life | CANON |
| 198 | The Golden Grasslands | CANON |
| 199 | The Grand Ball Games | CANON |
| 200 | Drops of Time | CANON |
| 201 | Delivery | MOSTLY CANON |
| 202 | Welcome Back, Frosch | MOSTLY FILLER |
| 203 | Moulin Rouge | MOSTLY FILLER |
| 204 | Stake My Life on Hospitality | FILLER |
| 205 | Beacon of Rebellion | FILLER |
| 206 | Panic of Library | FILLER |
| 207 | Hisui Rises | FILLER |
| 208 | Astral Spirytus | FILLER |
| 209 | Wendy vs. Aquarius: Let's Play at an Amusement Park | FILLER |
| 210 | Guild Deck vs. Celestial Spirit Deck | FILLER |
| 211 | Gray vs. Cancer: Dance Battle! | FILLER |
| 212 | Juvia vs. Aries: Clash in the Desert! | FILLER |
| 213 | Erza vs. Sagittarius: Horseback Showdown! | FILLER |
| 214 | Natsu vs. Leo | FILLER |
| 215 | The Snake Charmer Ophiuchus | FILLER |
| 216 | When the Stars Are Filled All Over | FILLER |
| 217 | Celestial Spirit Beast | FILLER |
| 218 | Believe | FILLER |
| 219 | What a True Heart Weaves | FILLER |
| 220 | 413 Days | FILLER |
| 221 | The White Silver Labyrinth | FILLER |
| 222 | Transform! | FILLER |
| 223 | Kemokemo Arrived! | FILLER |
| 224 | The Place You Came Before | FILLER |
| 225 | The Thunder Man | FILLER |
| 226 | Fairy Tail of the Dead Meeeeeeeeen | MOSTLY FILLER |
| 227 | The Morning of a New Adventure | CANON |
| 228 | Wizards vs. Hunters | CANON |
| 229 | Law of Retrogression | CANON |
| 230 | The Devil Returns | CANON |
| 231 | Gray vs. Doriate | CANON |
| 232 | Voice of the Flame | CANON |
| 233 | Song of the Fairies | CANON |
| 234 | Tartaros Arc Prologue: The Nine Demon Gates | CANON |
| 235 | Tartaros Arc Prologue: Fairies vs. the Underworld | CANON |
| 236 | Tartaros Arc Prologue: The White Inheritance | CANON |
| 237 | Tartaros Arc Prologue: Natsu vs. Jackal | CANON |
| 238 | Tartaros Arc: Immorality and Sinners | CANON |
| 239 | Tartaros Arc: Jellal vs. Oración Seis | CANON |
| 240 | Tartaros Arc: Where Prayers Go | CANON |
| 241 | Tartaros Arc: Devil Reincarnation | CANON |
| 242 | Tartaros Arc: Kill or Let Live | CANON |
| 243 | Tartaros Arc: Wendy vs. Ezel | CANON |
| 244 | Tartaros Arc: Friends Forever | CANON |
| 245 | Tartaros Arc: Hell's Core | CANON |
| 246 | Tartaros Arc: Underworld King | MOSTLY FILLER |
| 247 | Tartaros Arc: Alegria | CANON |
| 248 | Tartaros Arc: Attack of the Celestials | CANON |
| 249 | Tartaros Arc: The Celestial King vs. The Underworld King | CANON |
| 250 | Tartaros Arc: Erza vs. Minerva | CANON |
| 251 | Tartaros Arc: A Young Boy's Story | CANON |
| 252 | Tartaros Arc: Gray vs. Silver | CANON |
| 253 | Tartaros Arc: Silver Memories | CANON |
| 254 | Tartaros Arc: Air | CANON |
| 255 | Tartaros Arc: Steel | MOSTLY CANON |
| 256 | Tartaros Arc: The Final Duels | MOSTLY FILLER |
| 257 | Tartaros Arc: Wings of Despair | CANON |
| 258 | Tartaros Arc: The Fire Dragon's Iron Fist | CANON |
| 259 | Tartaros Arc: 00:00 | CANON |
| 260 | Tartaros Arc: The Girl in the Crystal | MOSTLY CANON |
| 261 | Tartaros Arc: The Definitive Demon | CANON |
| 262 | Tartaros Arc: Memento Mori | CANON |
| 263 | Tartaros Arc: Soaring in Ishgar | CANON |
| 264 | Tartaros Arc: Drops of Fire | CANON |
| 265 | Tartaros Arc Epilogue: That Is the Power of Life | CANON |
Fairy Tail Filler List Season 8 (2016)
| Sr. No. | Episode Name | Episode Type |
| --- | --- | --- |
| 266 | Fairies in Your Heart | CANON |
| 267 | The Beginning of the Adventure | CANON |
| 268 | Treasure Hunt | FILLER |
| 269 | Dances with Blades | CANON |
| 270 | A Moonlit Lake | MOSTLY CANON |
| 271 | Blue Skull | CANON |
| 272 | The One Who Teaches Magic | CANON |
| 273 | Treasure | CANON |
| 274 | Law | CANON |
| 275 | An Eternal Adventure | CANON |
| 276 | Challenger | CANON |
| 277 | Message of Fire | CANON |
Fairy Tail Filler List Season 9 (2018–2019)
| Sr. No. | Episode Name | Episode Type |
| --- | --- | --- |
| 278 | Lamia Scale's Thanksgiving Day | CANON |
| 279 | Do It All for Love | CANON |
| 280 | Avatar | CANON |
| 281 | Pitched Underground Battle | CANON |
| 282 | Operation Purify | CANON |
| 283 | Ikusa-Tsunagi | CANON |
| 284 | Memoirs | CANON |
| 285 | The Seventh Guild Master | CANON |
| 286 | Rules of the Area | CANON |
| 287 | Emperor Spriggan | CANON |
| 288 | The Land the Gods Abandoned | CANON |
| 289 | Mavis and Zeref | CANON |
| 290 | Fairy Heart | CANON |
| 291 | Defending Magnolia | CANON |
| 292 | Morning Star | CANON |
| 293 | This Perfume Goes To… | CANON |
| 294 | Natsu vs. Zeref | CANON |
| 295 | Beyond 400 Years | CANON |
| 296 | What I Want to Do | CANON |
| 297 | Until the Battle Is Done | CANON |
| 298 | During Hushed Times | CANON |
| 299 | Natsu, Revived!! | CANON |
| 300 | The Historia of the Dead | CANON |
| 301 | Fighting Spirit | CANON |
| 302 | The Third Seal | CANON |
| 303 | The Two of Us, Forever | CANON |
| 304 | Fairy Tail ZERØ | CANON |
| 305 | White Dragneel | CANON |
| 306 | The Winter Wizard | CANON |
| 307 | Gray and Juvia | CANON |
| 308 | The Strongest Demon of the Book of Zeref | CANON |
| 309 | The Broken Bond | CANON |
| 310 | Pleasure and Pain | CANON |
| 311 | The Heart of Natsu | CANON |
| 312 | Sting, the White Shadow Dragon | CANON |
| 313 | Dragon Seed | CANON |
| 314 | Master Enchant | CANON |
| 315 | Dragon or Demon | CANON |
| 316 | Gray's Trump Card | CANON |
| 317 | The Black Future | CANON |
| 318 | My Name Is… | CANON |
| 319 | Emotion | CANON |
| 320 | Neo Eclipse | CANON |
| 321 | I Can No Longer See Love | CANON |
| 322 | The Vow of the Doors | CANON |
| 323 | Savage Dragon Fire | CANON |
| 324 | When the Flame Goes Out | CANON |
| 325 | World Destruction | CANON |
| 326 | The Magic of Hope | CANON |
| 327 | Hearts Connected | CANON |
| 328 | Friends You Can't Do Without | CANON |