As part of the KADOKAWA Light Novel Expo, it was announced that the anime adaptation of "The Devil is a Part-Timer!" (jap.: "Hataraku Maou-sama!") continues with The Devil is a Part-Timer Season 2, in which all well-known Japanese speakers will once again participate. You can see the "Hataraku Maou-sama Season 2" first teaser below.
The Devil is a Part-Timer Season 2 Release Date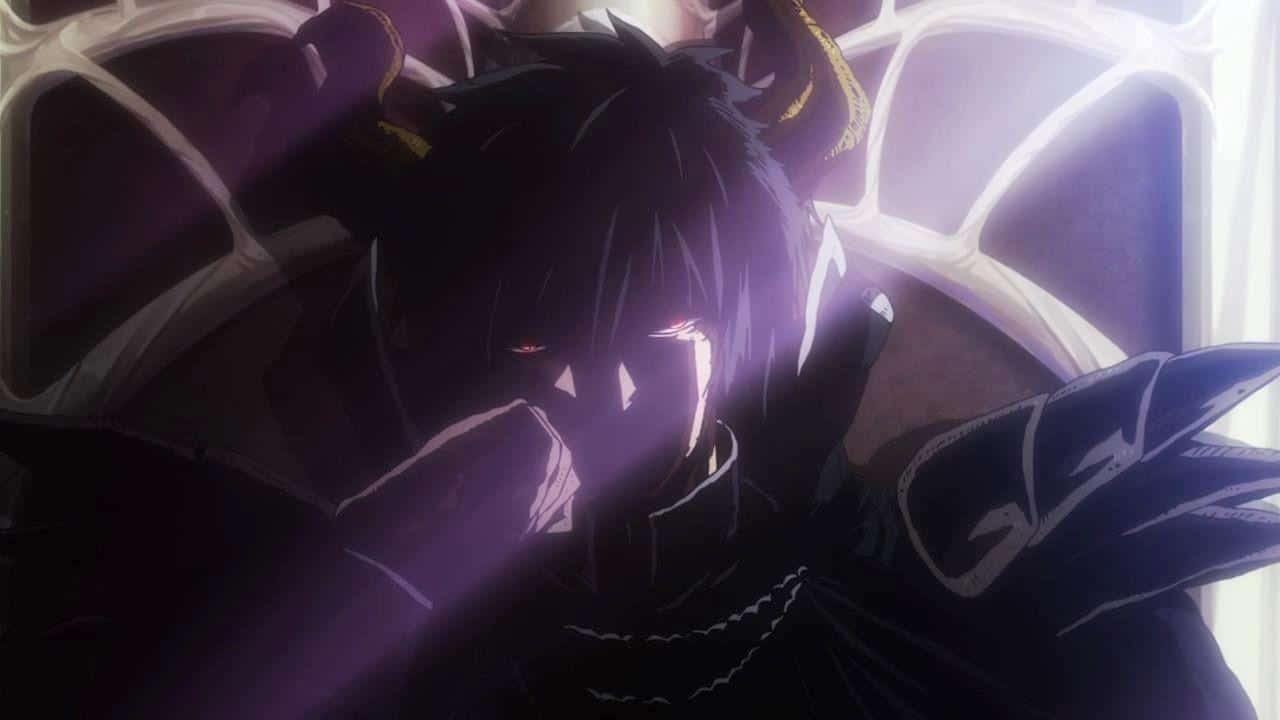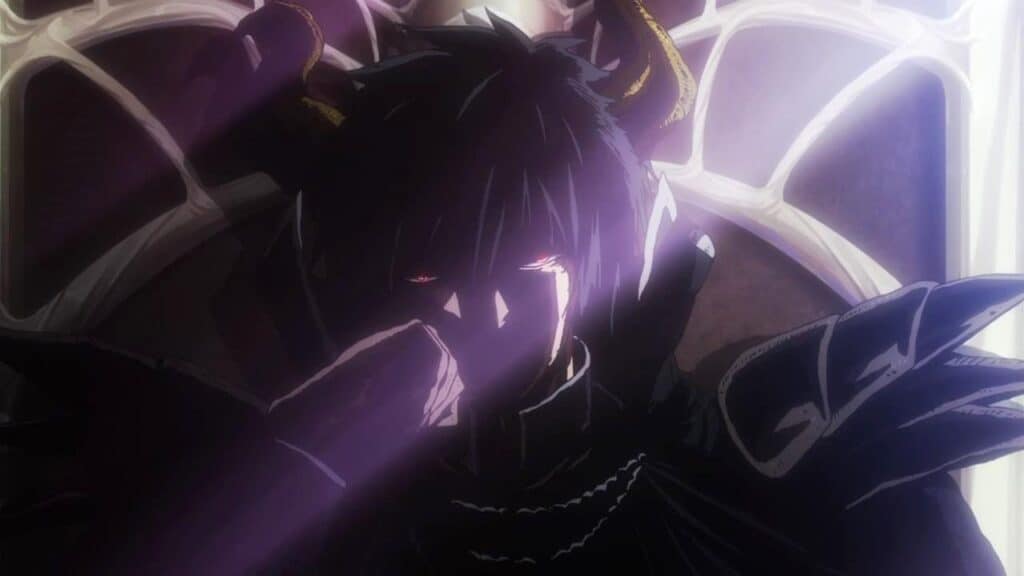 Update: The Devil is a Part-Timer Season 2 Release Date in Jul 2022 according to myanimelist.com.
The first season was directed by Naoto Hosoda ("Mirai Nikki") at studio WHITE FOX (Goblin Slayer Season 2, Arifureta Season 2, and Re: Zero Season 3). Touko Machida, Kento Shimoyama, and Masahiro Yokotani wrote the script, while Ryosuke Nakanishi composed the music. Who is responsible for The Devil is a Part-Timer Season 2 and when it will start on Japanese television is not yet known.
On the Twitter account of the anime adaptation of "The Devil is a Part-Timer!" (Jap.: "Hataraku Maou-sama!") was announced that new information about the upcoming second season will be revealed next month.
After the announcement of the second season of the fantasy comedy anime already took place in March 2021, new details about the sequel will be revealed as part of a livestream at the "Dengeki Bunko Winter Festival 2021" on December 12, 2021.
As special guests of honor, the voice actors Ryota Osaka and Yoko Hikasa, who lend their voices to the two main roles Sadao Maou and Emi Yusa in the anime series, were announced. The event will take place at 20:50 Japanese time (12:50 in Europe) on ABEMA TV.
The 13 episodes of the first season of "The Devil is a Part-Timer!" were broadcast in Japan between April and June 2013 and later released by Anime House with English and Japanese voice over on DVD and Blu-ray.
The original Light Novel was written by Satoshi Wagahara and was published by Kadokawa between February 2011 and August 2020 with drawings of 029. With 21 volumes, the series is now considered to be complete.
The Devil Is a Part-Timer Season 2 Visual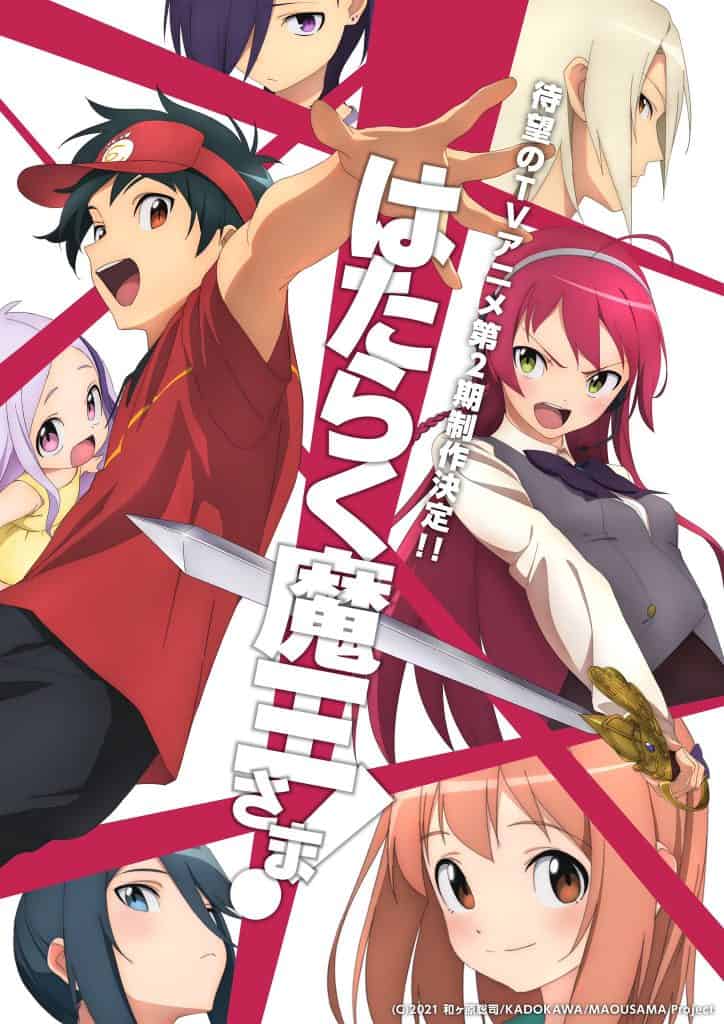 Akio Hiragi began drawing a manga adaptation in Dengeki Daioh in December 2011, which has 16 volumes in print as of March 10. Kurone Mishima (Kono Subarashii Sekai ni Shukufuku wo!) serialized the Hataraku Maou-sama! High School! a spin-off in Dengeki Maoh from May 2012 to February 2015.
White Fox produced the 13-episode first television anime in Spring 2013, covering the first two volumes. Funimation simulcast the show with subtitles and released it on Blu-ray in July 2014.
Yen Press licensed both the light novel and manga adaptation in English in August 2014 and released the 16th manga volume and 18th light novel volume on December 15 last year. The company also published the high school spin-off manga between August 2015 and October 2016.
Wagahara and 029 published a spin-off volume titled Hataraku Maou-sama no Meshi! in February 2019. Uoji Sada launched a manga adaptation based on the volume on Kadokawa's ComicWalker website in August that year. The third volume went to sale on March 27.
The Devil Is a Part-Timer Season 2 Teaser
The Devil Is a Part-Timer Season 2 Characters, Cast & Staff
I. Characters & Cast
| | |
| --- | --- |
| Character | Cast |
| Satan | Ohsaka Ryota |
| Emilia | Hikasa Yoko |
| Sasaki Chiho | Tohyama Nao |
| Alsiel | Ono Yuki |
| Hanzou Urushihara | Hiro Shimono |
Sadao Maou: is the main protagonist of the series. He was once the Devil King who declared war on Ente Isla in an attempt to annex the four continents. However, due to the actions of the Hero Emilia Justina and her companions, he was forced to retreat to Earth, causing him to lose almost all of his powers.
Emi Yusa: is the main female protagonist/deuteragonist and the Hero who defeated the Demon King Satan. After forcing the Demon King to retreat from Ente Isla, she followed him to modern day Japan to ensure his destruction. However, just like the Demon Lord, she lost most of her powers upon her arrival and was forced to assume a Japanese name. She was also forced to find employment, and so became a call center agent. She is a half human/half angel.
Chiho Sasaki: is Maou's friend and a fellow employee at MgRonald's. She has a crush on Maou. She can hear and understand the language of Ente Isla, after receiving feedback from a hypnosis spell that Maou cast on her father, Inspector Sasaki.
Shiro Ashiya: is one of Satan's Demon Generals and was also transported to modern day Japan with him. Extremely loyal to Maou, he takes care of the domestic duties at home and goes to the library to research ways for Maou and himself to regain their powers.
Suzuno Kamazuki: is Sadao Maou's next door neighbor and the Chief of the Doctrinal Corrections Council who serves under the Church of Ente Isla. She is most commonly seen wearing a kimono as she only owns traditional clothes instead of modern ones.
Hanzo Urushihara: is a fallen angel and one of the Demon King's generals. After his defeat at the hands of Hero Emilia, he was secretly rescued by Olba Meyer, who promised to return Lucifer to heaven if they became allies in defeating the Demon Lord. After being defeated by the Demon Lord, he moved in with Sadao Maou and Ashiya.
II. Production Team
This team worked for The Devil Is a Part-Timer Season 1, The Devil is a Part-Timer Season 2 staff has not been released yet we will update when it's released.
| | |
| --- | --- |
| Director | Hosoda Naoto |
| Series Composition | Yokotani Masahiro |
| Character Design | Ikariya Atsushi |
| Production Studio | White Fox |
| Author | Satoshi Wagahara |
Where To Watch The Devil Is a Part-Timer!
Watch Hataraku Maou-sama! on:
The Devil Is a Part-Timer Action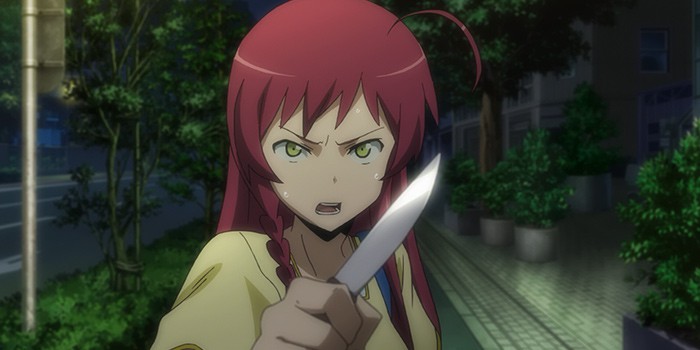 In the world of Ente Isla, the Demon Lord Satan has attempted to conquer humanity using an enormous army of demons. But when he almost succeeds, mankind's champion, Hero Emilia, thwarts his plans, forcing him to retreat into a portal that leads to a world unbeknownst to him Earth.
Along with his faithful servant Alsiel, Satan stumbles upon the modern-day city of Tokyo without any knowledge of the world itself. Completely out of their depth, they gain some information from a police officer, but Satan still has one more problem money.
In order to survive with his greatly diminished powers, he guises himself as a human named Sadao Maou lives in an apartment and becomes a part-timer at the fast-food restaurant MgRonald's. Determined not only to conquer Ente Isla but also Earth, Sadao strives to become a full-time employee in his job, as he believes that it would be a step forward in his conquests.
Things begin looking up for the once all-powerful demon as he ventures through his everyday life—his job, his home, and his relationships. However, a major setback pops up when Emilia, the hero who drove him out of Ente Isla, suddenly appears.