An Irish legal drama series, Striking Out was produced by Blinder Films for RTE Television. After running for 2 successful seasons, is Striking Out Season 3 on the cards? Shot in spectacular Dublin, this series ranked highest on RTE Sunday nights for over a year. It would be crazy not to bring it back for excited fans all over the world.
A Peek into Striking Out Season 3 Plot
The Story So Far…
Despite being an Irish origin story, the makers brought the series (Outlander, The Originals) to the US due to its insane popularity where it made its debut on Acorn TV in March 2017. This legal drama has four and six episodes in season 1 and 2 respectively, all of them filled with intense emotion and shrewd power dynamics. The story begins with Tara Rafferty who catches her fiancé Eric Dunbar cheating on her with a co-worker. Tension brews when we find out that both Tara and Eric work in the same law firm. Tara soon resigns and begins her own law firm where she fights cases dealing with domestic issues.
Later in the Striking Out series, we can see Tara facing hurdles from influential people. Her personal struggles becomes intertwined with her professional woes. Will Tara be able to solve both?
Striking Out Season 3 – Expected Storyline
Season 2 left audience with a suspicious cliff hanger. If Season 3 of this Acorn TV drama series hits OTT platforms, it will probably resume from where it left off. Striking Out Season 3 might focus on the trio – Tara, Barry and the mysterious Coraline. This James Phelan show has been criticised for being 'too small'. Hopefully the makers will shoot a slightly bigger season. After all, one can never get enough drama, can they?
Will the Original Cast Return for Season 3?
Given the stellar performances by the original cast, let's hope they return to the series if a third season is made. Season 1 and 2 of Striking Out had the following actors in important roles –
Amy Huberman as Tara Rafferty
Rory Keenan as Eric Dunbar
Neil Morrissey as Vincent Pike
Fiona O'Shaughnessy as Meg Reilly
Emmet Byrne as Ray Lamont
Maria Doyle Kennedy as George Cusack
Moe Dunford as Sam Dunbar
Even though it was a tightly knitted cast, we sure would love to see new faces in exciting roles.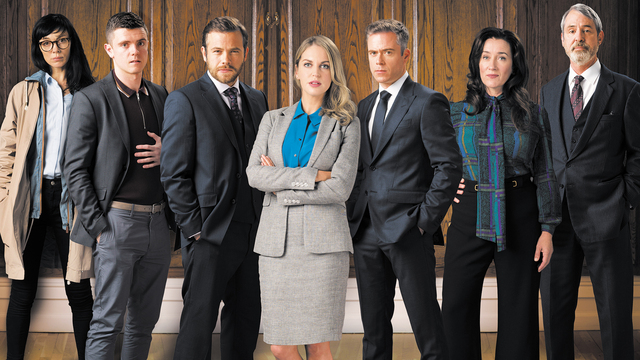 Release Date of Striking Out Season 3
A perfect mix of drama and manipulative politics, Striking Out series has managed to grab the attention of even those not particularly interested in law. However, after the huge success of its first two seasons, Blinder Films and maker James Phelan haven't made any announcement about a new season.
Initially, it was thought that Season 3 will be released in 2020. But obviously it was no more than a false rumour. The series has currently been put on hold. But hey! Don't lose hope it because there hasn't been any cancellation news as well. But if you are still impatient, you can always explore similar series like Cold Justice or Black Snails.
Striking Out Season 3 on Strong Female Protagonist
If there is one striking thing about Striking Out series, it's the badass female protagonist Amy Huberman as Tara Rafferty. Earlier this year, the actress 'crossed her fingers' wishing for a season 3. Unfortunately for Huberman and fans worldwide, RTE claimed that there won't be a season 3. But a forthcoming series called 'Finding Joy' will star Amy in it and it is also being shot at Dublin! What a co-incidence! Huberman has spoken to the media about needing strong female voices and apparently it seems that Finding Joy will offer one. This new show, about which Amy is so excited about will have Cathal Watters as the DOP who previously worked on the famous Netflix show Peaky Blinders.
As far as the new season for Striking Out is concerned, it may or may not make it to the floor. But one can always resort to exploring other series having kickass female voices.