Tiger & Bunny franchise will receive a new anime, it has now been announced that this is a Tiger And Bunny season 2 to be broadcast in Japan in 2022. The anime was first released on April 3rd in 2011, under the production of Sunrise. It was directed by Keiichi Satou, who has previously directed the live-action version of the popular anime and manga Black Butler.
New Studio and New Director
"Tiger & Bunny 2" is directed by Mitsuko Kase ("City Hunter") at The Bandai Namco Pictures studio ("Gintama, Welcome to Demon School! Iruma-kun"). Several employees of the original series are expected to return to their first season positions for production. Masafumi Nishida writes the script again, while Masakazu Katsura is again responsible for the character design.
The original series was created in 2011 under the direction of Keiichi Satou ("Karas") in Studio Sunrise (Code Geass, Accel World). The anime also received a film in 2012 with "Tiger & Bunny the Movie: The Beginning". In February 2014, the first season continued with a second film entitled "Tiger & Bunny: The Rising".
One of the new changes will be new character designs. During the "HERO TV presents Anniversary Special Program" in April 2021, it was announced that Tiger & Bunny 2 will feature new hero suits.
To celebrate the 10th anniversary of the Tiger & Bunny series, BN Pictures will be streaming the first season for free on its YouTube channel starting April 10, 2021. Japanese voice cast actors Hiroaki Hirata and Masakazu Morita will also have weekly interviews after each episode.
Tiger And Bunny Season 2 Visual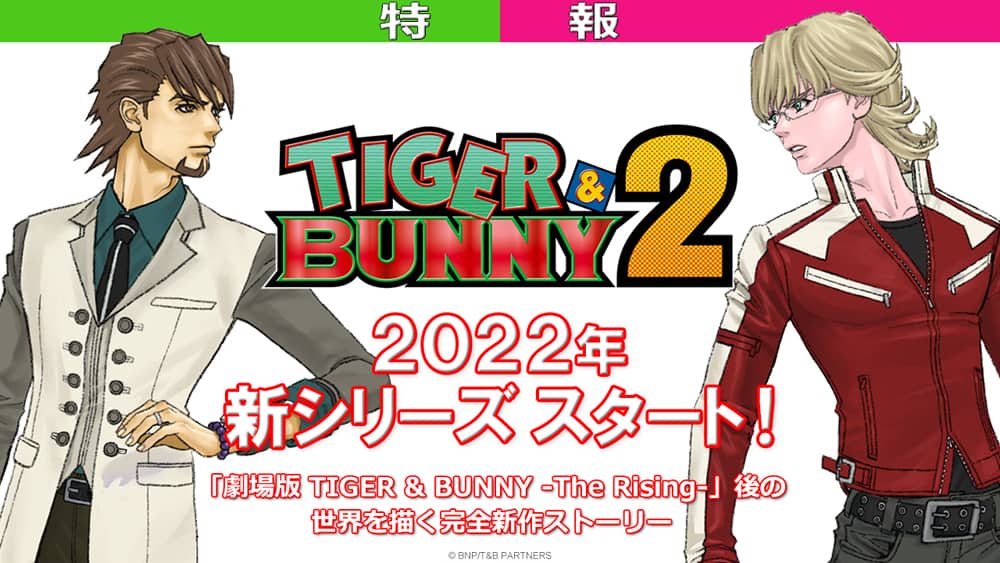 Tiger And Bunny Action
The "Next" live in the city constellation: superheroes with special abilities. These heroes solve cases and save lives to be sponsored or collect "hero points". Their deeds are documented by the popular program "Hero TV", which annually selects the "King of Heroes". The veteran hero Wild Tiger always preferred to work alone, but now he has been assigned a novice named Barnaby Brooks Jr., who has a different view of being a superhero.