"World Witches Take Off!" Is a sequel to the 15-minute short anime "Strike Witches 501 Unit Start!" Based on the manga by Fumikane Shimada & Projekt Kagonish / Makoto Fujibayashi. Broadcasting will start on January 12, 2021 on TOKYO MX, and will be aired on MBS and BS11 in sequence.
Opening / Ending Information
The theme song information was also announced, the opening theme was "Wanna Fly?" By Yoko Ishida, who is in charge of the theme song throughout the series, and the ending theme was "Colorful Everyday" sung by the 501st Joint Fighter Air Corps and the 502nd Joint Fighter Airways. Two songs of "Awesome days!" Sung by the group are used. The ending theme will change units depending on the number of episodes, so look forward to the broadcast as to which character will sing in what episode.
In addition, on the official website of the TV anime "Strike Witches ROAD to BERLIN", the contents and jacket photos of the album "TV anime" Strike Witches ROAD to BERLIN Original Soundtrack "" containing the BGM in the play released on December 23 , The ban on privilege information has been lifted. In addition, new songs from the three titles of "Strike Witches 501st Integrated Combat Wing Songbook" by Shirley, Lucchini, and Shizuka Hattori, which will be released on December 9, have also been released.
World Witches Take Off! Broadcast Information
TOKYO MX: Every Tuesday from January 12, 2021 24: 45
MBS: Every Saturday from January 16, 2021 28: 53
BS11: Every week from January 13, 2021 (Wednesday) Wednesday 24: 15
World Witches Take Off Visual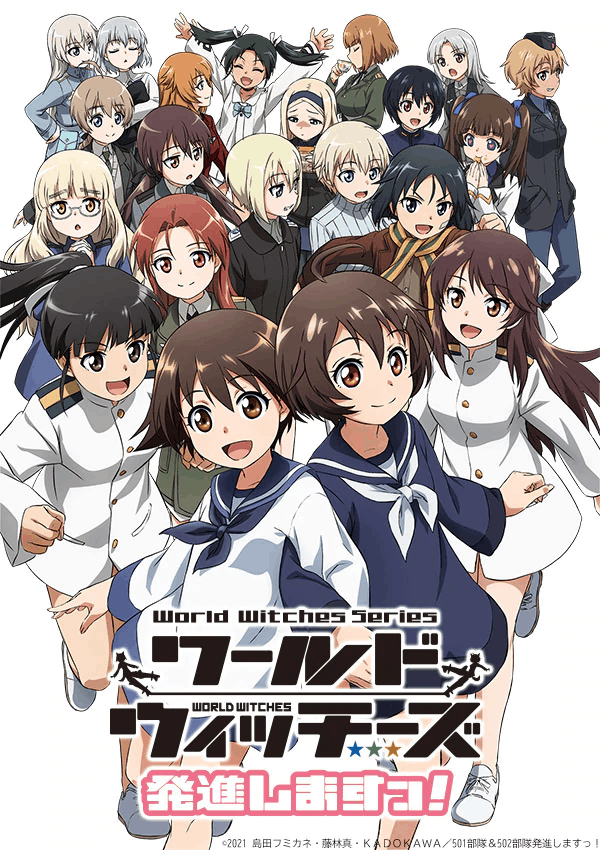 Cast
| | |
| --- | --- |
| Character | Voice Actor |
| Yoshika Miyato | Misato Fukuen |
| Mio Sakamoto | Saori Seto |
| Lynette Bishop | Kaori Nazuka |
| NaPerine Crosterman | Miyuki Sawashiro |
Production Team
| | |
| --- | --- |
| Original | Fumikane Shimada & Projekt Kagonish |
| Manga | Makoto Fujibayashi |
| Director | Fumio Ito |
| Character Design | Kei Anshoku |
| Series Literature | Midnight Murakami |