A new promo video and another visual were released today on the website of the original anime "Vlad Love". At the same time it was announced that a "special version" of the first episode will premiere on December 18, 2020 on the series' YouTube channel.
Vlad Love Anime from the "Ghost in the Shell" Director
Studio Drive ("Actors: Songs Connection, Uzumaki") and Production IG ("Psycho-Pass, Guilty Crown, Vinland Saga Season 2") are responsible for the production of "Vlad Love". Mamoru Oshii ("Ghost in the Shell") writes the story and also acts as chief director, while Junji Nishimura ("Ranma ½") takes over the direction. Kei Yamamura is writing the script and Kazunari Niigaki is responsible for character design.
Daisuke Miyachi ("Popin Q") is involved in the project as a music producer, while Kanako Takatsuki (Hanamaru Kunikida from "Love Live! Sunshine !!") contributes the theme song together with the group BlooDye.
Vlad Love Anime Release Date
The comedy anime, which revolves around a vampire girl named Mai and a high school girl, was originally scheduled to start in October 2020, but has been postponed to Dec 18, 2020. A total of 12 episodes are planned.
Vlad Love Visual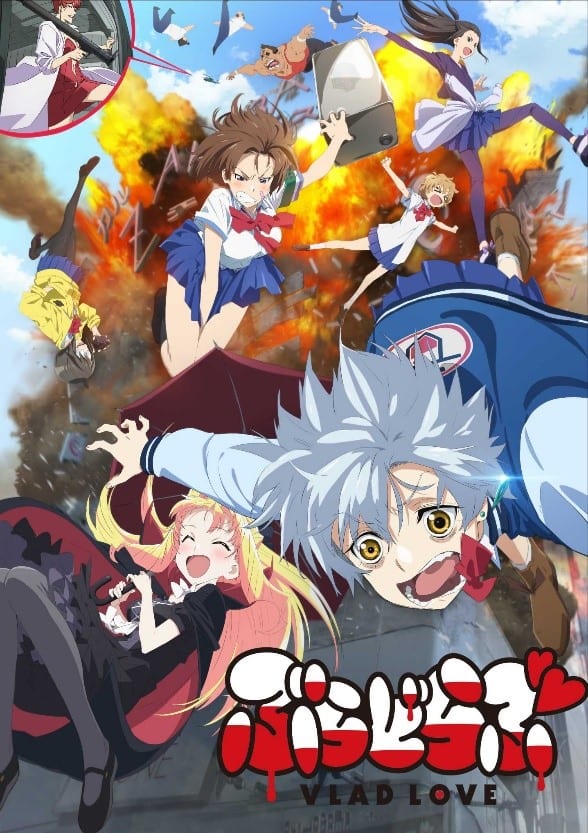 Vlad Love Characters, Cast & Staff
I. Character & Cast
| | |
| --- | --- |
| Character | Voice Actor |
| Mitsugu Banba | Ayane Sakura |
| Mai Vlad Transylvania | Rina Hidaka |
| Maki Watabe | Saori Hayami |
| Nami Unten | Yuu Kobayashi |
II. Production Team
| | |
| --- | --- |
| Director | Nishimura ("Ranma ½") |
| Producer | Studio Drive / Production IG |
| Character Design | Kazunari Niigaki |
| Script | Kei Yamamura |
| Story | Mamoru Oshii ("Ghost in the Shell") |
Vlad Love Promo
Action
Mitsugu Bamba is a high school girl who goes crazy about donating her blood despite an unfriendly nurse at the local blood bank. One day Mitsugu met a beautiful girl there who looked like she came from abroad. The girl is so pale it looks like she may faint any minute. Instead, however, it suddenly begins to devastate the blood bank. The girl then loses consciousness, whereupon Mitsugu takes her home…