After it was announced a year ago that the Haganai manga adaptation of the light novel "Haganai: I Don't Have Many Friends" (Japanese: "Boku wa Tomodachi ga Sukunai") is about to reach the finale, the new edition of the "Comic Alive" magazine has now published the last chapter.
Haganai Manga Adaptation Started in 2010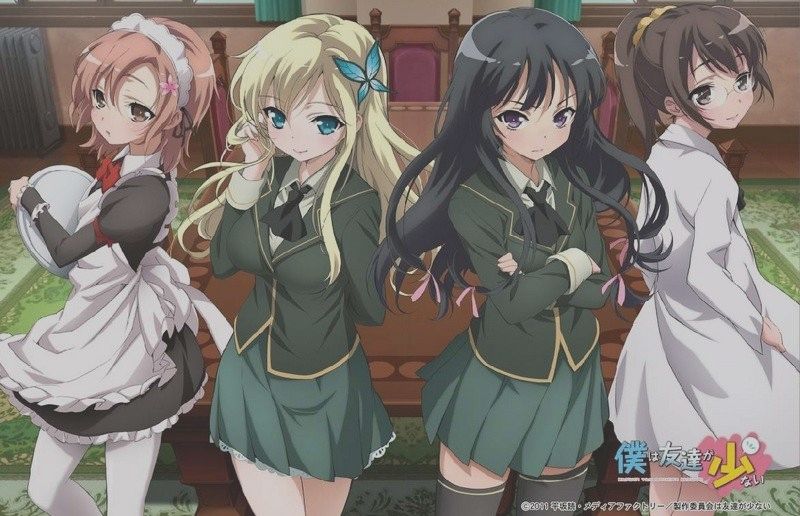 Mangaka Itachi started the Haganai manga adaptation, which so far consists of 18 volumes, in March 2010 in Media Factory's "Comic Alive" magazine. The remaining chapters are to be combined in two further volumes, so that volume 20 completes the series. The original light novel by author Yomi Hirasaka and illustrator Buriki ended in August 2015 with the eleventh volume.
The series received an anime adaptation by studio AIC Build, which aired on Japanese television from October to December 2011. An OVA was released in September 2012, followed by a second season in the 2013 winter season.
Trailer
Action
The neighborhood club – a club founded to make friends, where unhappy boys and girls live their unfortunate lives with few friends.
Although Yozora Mikazuki witnessed a certain incident towards the end of summer, the daily life of the neighborhood club continues as usual. A strange nun, members of the student council and other new faces appear, making Kodaka Hasegawa's life even more exhausting than before.
As everyone enjoys going to an amusement park, playing games, celebrating birthdays and attending the school festival – a symbol of normal school life – the relationships among club members are slowly beginning to change…
Off to a new stage in this unfortunate coming-of-age romantic comedy!