On the official website of the anime adaptation of "Let's Make a Mug Too" (Japanese: "Yakunara Mug Cup Mo") it was announced today that the series will be broadcast on Japanese television from April 2, 2021. In addition, a new trailer has been released, which you can see below.
Anime is Created at Nippon Animation
The series is a mixture of anime and live-action. Director Jun Kamiya ("Kingdom") is responsible for the production at Studio Nippon Animation. Naruhisa Arakawa ("Spice and Wolf") writes the screenplay, while Ayano Yoshioka ("Mademoiselle Hanamura") acts as a character designer.
The main roles are Minami Tanaka (Mary Saotome in "Kakegurui") as Himeno Toyokawa, Yuu Serizawa (Ueno in "How clumsy you are, Miss Ueno.") As Mika Kukuri, Yuuki Wakai (Mai Tadakusa in "Yatogame-chan Kansatsu Nikki) Can be heard as Naoko Naruse and Rina Honnizumi (Sicily by Claude in "Wise Man's Grandchild") as Juko Aoki.
"Let's Make a Mug Too" is a coming-of-age story set in the city of Tajimi in Gifu Prefecture. The free web manga was launched in 2012 as part of a project to revitalize the community of volunteers and businesses in the city of Tajimi.
The Japanese version has so far consisted of 31 volumes, seven of which can already be downloaded free of charge in English.
Let's Make a Mug Too Visual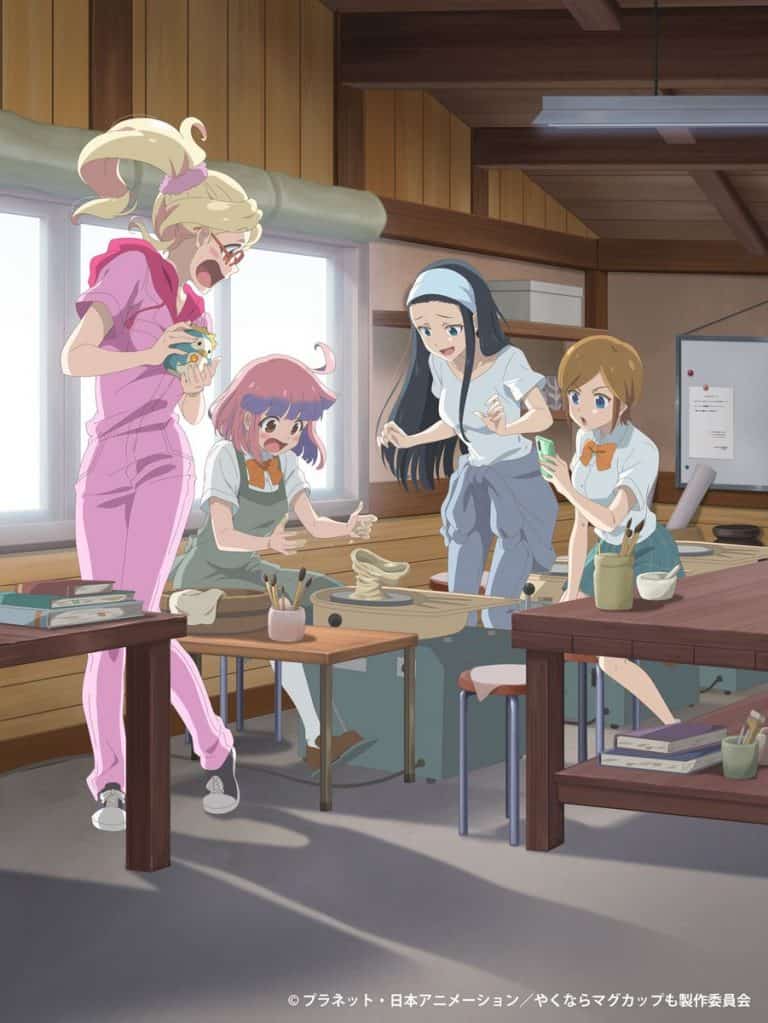 Trailer
Character, Cast & Staff
I. Character & Cast
| | |
| --- | --- |
| Character | Voice Actor |
| Himeno Toyokawa | Yuma Uchida |
| Mika Kukuri | Yu Serizawa |
| Naoko Naruse | Yuki Wakai |
| Toko Aoki | Rina Honnizumi |
II. Production Team
| | |
| --- | --- |
| Director | Jun Kamiya |
| Producer | Yakunara Mug Cup Production Committee |
| Series Composition | Toshihisa Arakawa |
| Character Design | Ayano Yoshioka |
| Animation production | Nippon Animation |
Action
The city of Tajimi, located in the southern part of The Japanese prefecture of Gifu, is famous for its Mino pottery. Toyokawa Himeno, whose mother is a well-known potter, moves into a shopping street in Tajimi. She joins her school's pottery club and experiences many adventures with her friends who are enthusiastic about pottery.