And serve! A new anime project from the "Prince of Tennis" franchise has been known for some time, now there is a new visual to marvel at! On the official website of the two-part anime project "The New Prince of Tennis: Hyoutei vs. Rikkai – Game of Future" a new visual was released, which you can see below in the article.
Prince of Tennis: Hyōtei vs. Rikkai Anime
The new anime is being produced under the direction of Keiichiro Kawaguchi ("ISLAND") in the KAI and MSC studios and is due to appear in spring 2021. The project aims to tell an original story with author Takeshi Konomi acting as an advisor. Mitsutaka Hirota writes the script.
In addition to this project, Ryōma! Rebirth Movie The Prince of Tennis " currently a new film for the" The Prince of Tennis "franchise in the works. After a postponement, it will start in Japanese cinemas in 2021 and be produced entirely in 3DCG.
Takeshi Konomi published the sports manga "The Prince of Tennis" from 1999 to 2008 in "Weekly Shonen Jump" magazine. An anime adaptation consisting of 178 episodes and two films started on Japanese television in 2001 and was produced by the Trans Arts studio.
Visual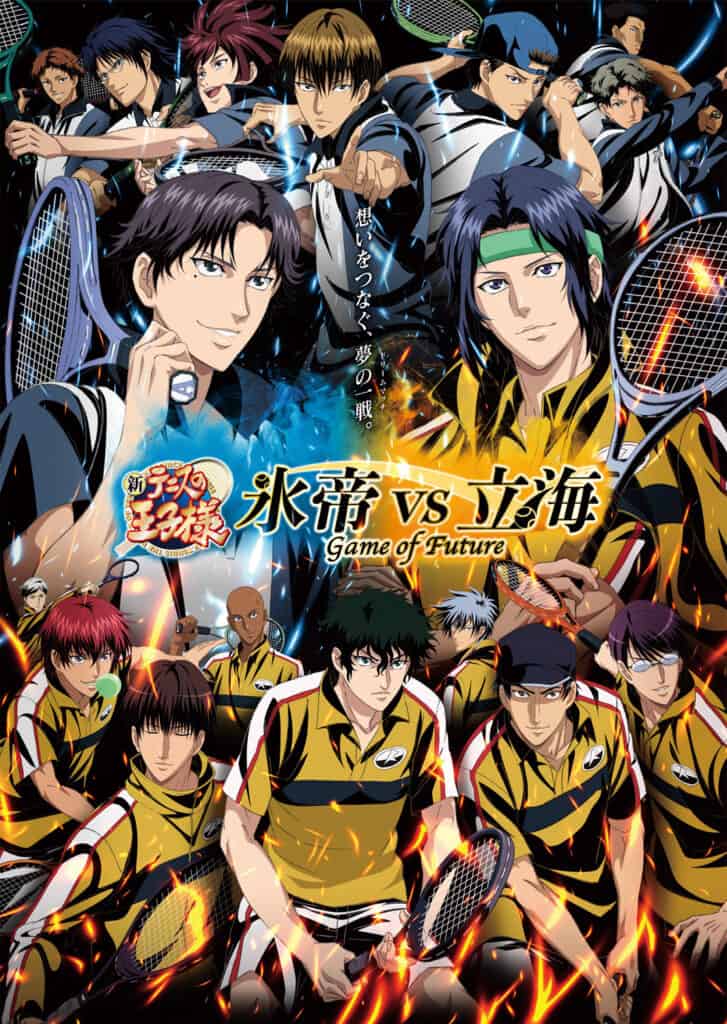 Cast
| | |
| --- | --- |
| Character | Voice Actor |
| Keigo Atobe | Junichi Suwabe |
| Shinobi Yuushi | Hidenobu Kiuchi |
| Ryo Shishido | Toshiyuki Kusuda |
| Taketo Mukai | Soichiro Hoshi |
| Jiro Akutagawa | Yuji Ueda |
| Huadi Chonghong | Satoshi Tsuruoka |
| Chotaro Otori | Namikawa Daisuke |
Production Team
| | |
| --- | --- |
| Director | Keiichiro Kawaguchi |
| Producer | Studio KAI MSC |
| Series composition | Mitsutaka Hirota |
| Character Design | Akiharu Ishii |
| Music | Chihiro Tamaki |