The Japanese television station Fuji TV announced today known currently that a new original anime titled "Bakuten!!" is in the works, which will be broadcast from April 2021 Noitamina block.
Bakuten!! New Anime from Studio ZEXCS
The series is being produced under the direction of Toshimasa Kuroyanagi ("The Great Passage") in the ZEXCS studio. Toshizo Nemoto ("Log Horizon") writes the script, while Yuka Shibata ("Kimi ni Todoke") adapts the original character design of Robico ("My Little Monster") for the animation.
The main roles are Shimba Tsuchiya (Tatara Fujita in "Welcome to the Ballroom") as Shoutarou Futaba, Kaito Ishikawa (Tobio Kageyama in "Haikyu!!") as Misato Yoshiya and Daisuke Ono (Shizuo Heiwajima in "Durarara!!") as Shichigahama Masamune to hear.
The character Tsukidate Keisuke is voiced by Takashi Kondō (Akuto Sai in "Demon King Daimao"), Hiro Shimono (Akihisa Yoshii in "Baka & Test") scores Onagawa Nagayoshi and Hiroshi Kamiya (Takashi Natsume in "Natsume's Book of Friends") lends music Watari Koutaro his voice.
The anime is part of the "Zutto Ouen Project 2011 + 10", which was launched on the 10th anniversary of the 2011 Tōhoku earthquake. With "Hula Fulla Dance" and "Misaki no Mayoiga", two further anime productions for the project are in progress.
Bakuten!! Visual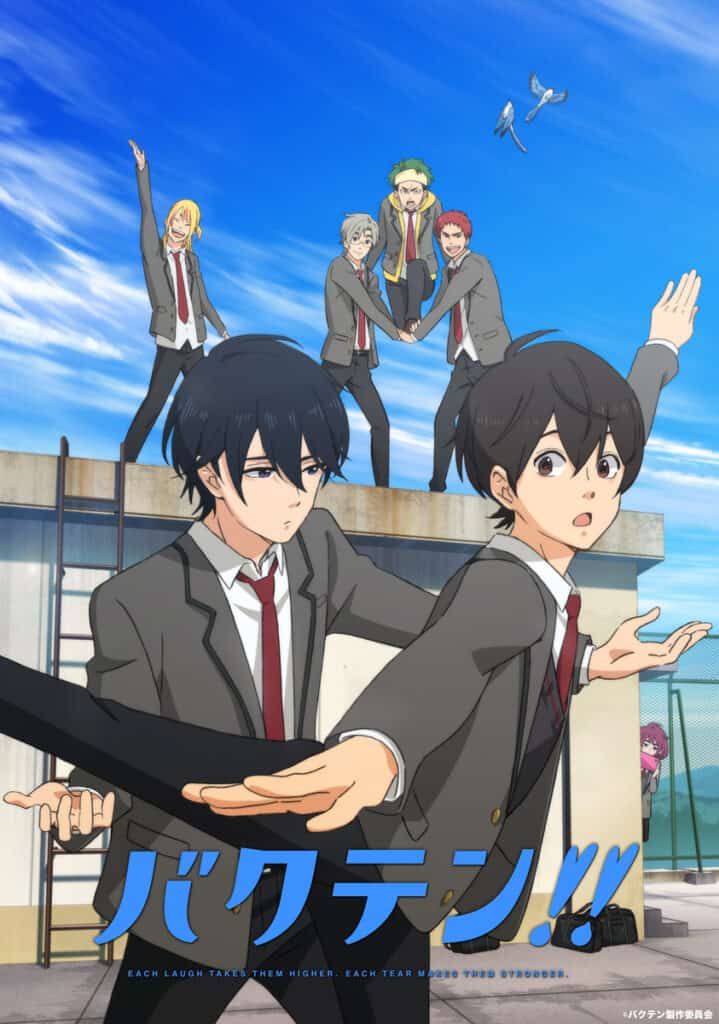 Bakuten!! Teaser
Cast
| | |
| --- | --- |
| Character | Voice Actor |
| Shotaro Futaba | Tsuchiya Shimba |
| Misato Yoshiya | Kaito Ishikawa |
| Masamune Shichigahama | Ono Daisuke |
| Tsukidate Keisuke | Takashi Kondo |
| Onagawa Nagayoshi | Hiro Shimono |
| Watari Kotaro | Hiroshi Kamiya |
Production Team
| | |
| --- | --- |
| Director | Toshimasa Kuroyanagi |
| Producer | ZEXCS |
| Screenplay | Toshizo Nemoto |
| Character Design | Robico, Yuka Shibata |
Bakuten!! Action
Shoutarou Futaba is fascinated by rhythmic gymnastics for men. After enrolling in Soshukan High School, he immediately joins the school team. The series tells of a team of unique Senpai and Yoshiya Misato, a classmate who is now famous through tournaments in rhythmic gymnastics. They are all running towards a common goal.