The dream of all book lovers is to be surrounded by books with no disturbance or time limit; the serene thought is pleasing in itself. The Ascendance of a Bookworm Season 3 anime has officially been confirmed to be in production. The announcement was made by the official Twitter account.
Ascendance of a Bookworm Season 3 Release Date
On the official website of the anime adaptation of "Ascendance of a Bookworm" (jap.: "Honzuki no Gekokujou") it was announced that the series will continue with the third season and it will start in the spring season 2022 on Japanese television.
Like its two predecessors, the third season is being created under the direction of director Mitsuru Hongou ("World Trigger") in the studio Ajia-Do Animation Works (Kemono Jihen).
The Ascendance of a Bookworm Volume 26 release date occurred on April 10, 2021. The Ascendance of a Bookworm Volume 27 release date is scheduled for August 10, 2021.
The book series is up to Ascendance of a Bookworm: Part 5 Volume 6. Based on the length of the final part, Part 5 could easily be over 10 books by itself, possibly ending with Volume 32.
Ascendance of a Bookworm Season 3 Visual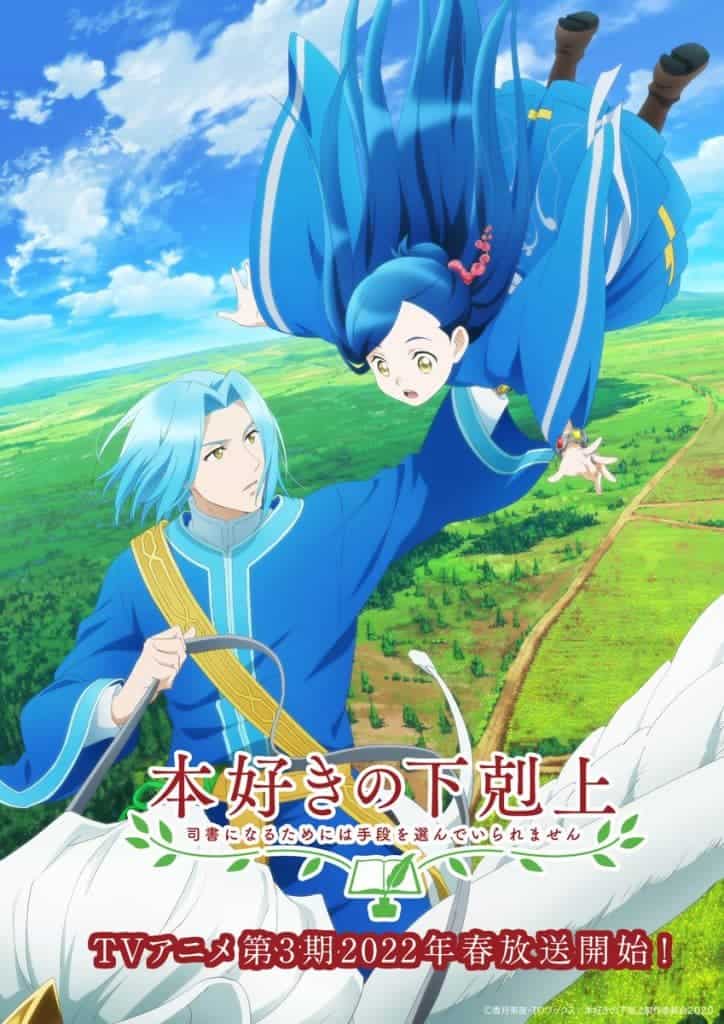 Ascendance of a Bookworm Season 3 Announcement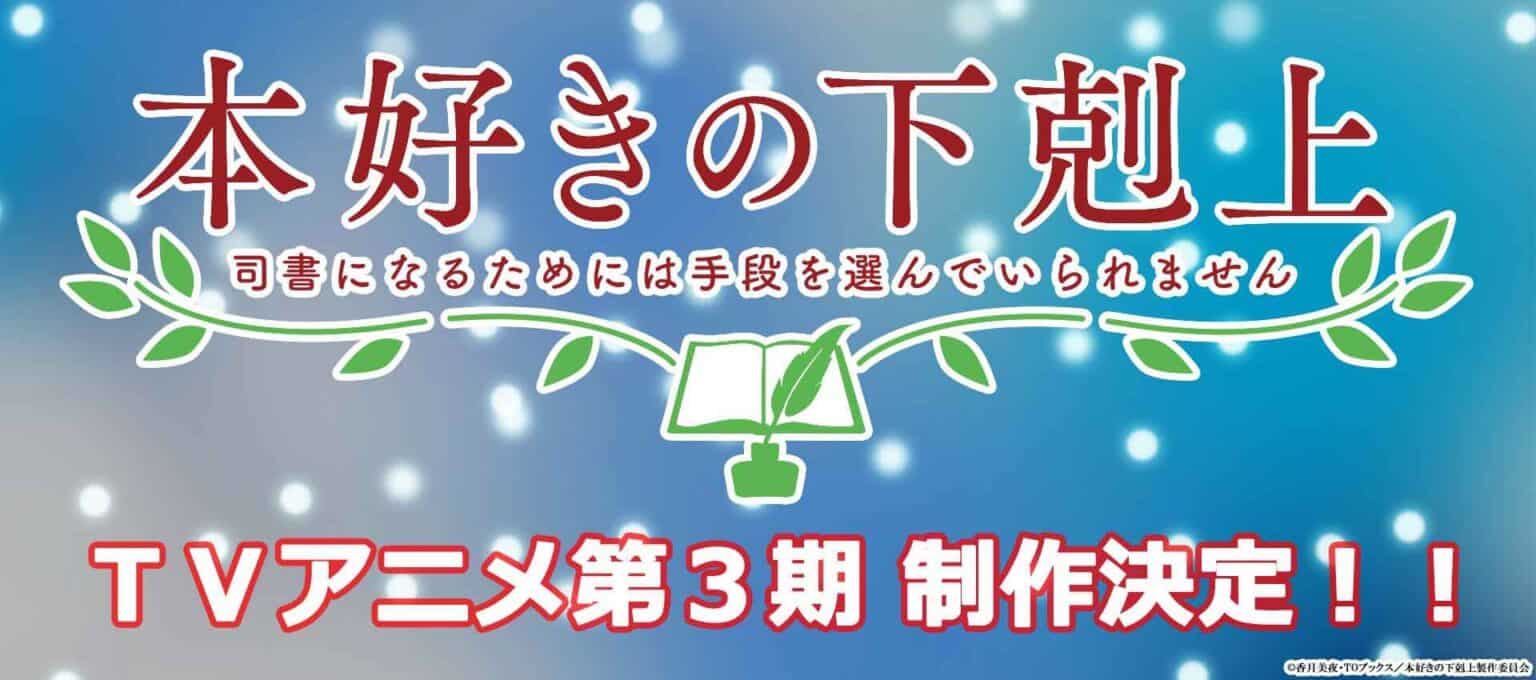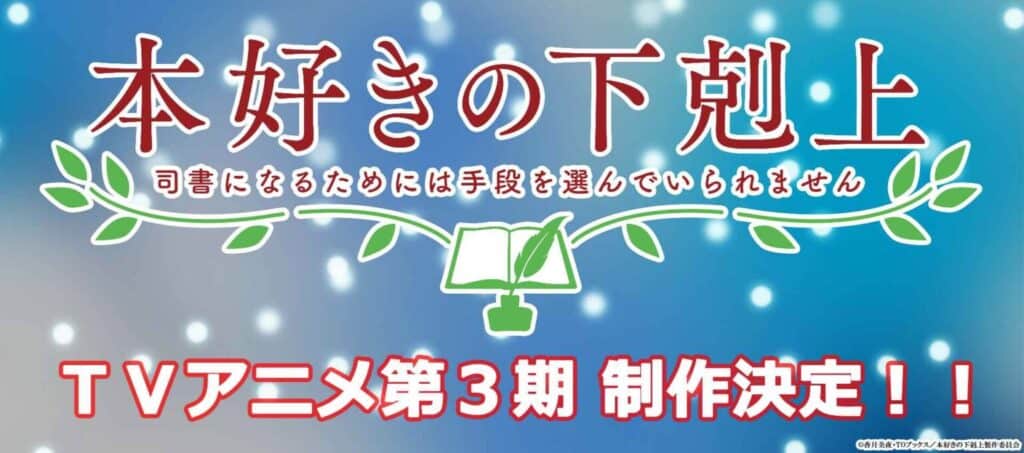 Series Available at Crunchyroll
The first two seasons of "Ascendance of a Bookworm" were directed by Mitsuru Hongo ("World Trigger") and Hideki Kawasaki in studio Ajia-do Animation Works ("How Not to Summon a Demon Lord"). Mariko Kunisawa ("Magimoji Rurumo") was responsible for the series composition, while Yoshiaki Yanagida ("Kujibiki Unbalance") contributed to the character design.
In this country, Crunchyroll secured the rights to the anime and offers all episodes already in the original sound with English subtitles on demand. The first season aired in the fall season of 2019, while the second season aired in the spring 2020 season. Now Ascendance of a Bookworm Season 3 has been announced.
Ascendance of a Bookworm Season 3 Anime Spoilers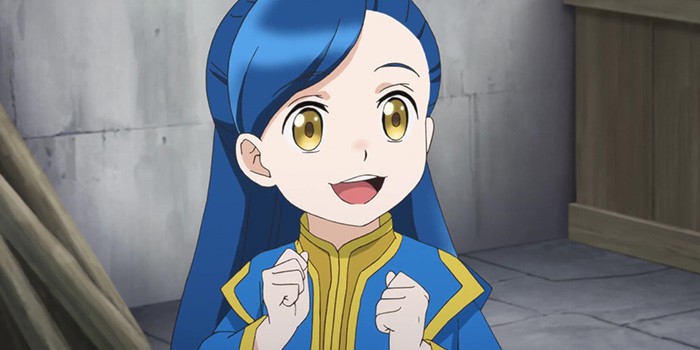 Myne's display of magical power may have increased the value of the young apprentice shrine maiden, but that only means more people in power will want to exploit the girl. The High Priest foresees danger coming and decides to shelter Myne in the temple.
As might be guessed, Myne is more interested in books than politics. She wants to work out the printing process issues to drive the prices down so more people can afford to buy books. So, she focuses on new ways to develop ink.
But it's not like Myne is totally engrossed in her Biblio bubble. It will be a long winter since Myne will be separated from her family. And that family is growing! Myne will welcome a baby brother in the spring.
Unfortunately, spring brings its own set of problems since certain people begin plotting to control Myne's future. Myne just wants everything to stay the same, but she may be forced to walk a new road in order to protect the people she loves.
Ascendance of a Bookworm Action
Urano Motosu loves books and has an endless desire to read literature, no matter the subject. She almost fulfills her dream job of becoming a librarian before her life is ended in an accident. As she draws her last breath, she wishes to be able to read more books in her next life.
As if fate was listening to her prayer, she wakes up reincarnated as Myne—a frail five-year-old girl living in a medieval era. What immediately comes to her mind is her passion. She tries to find something to read, only to become frustrated by the lack of books at her disposal.
Without the printing press, books have to be written and copied by hand, making them very expensive; as such, only a few nobles can afford them—but this won't stop Myne. She will prove that her will to read is unbreakable, and if there are no books around, she will make them herself!