In 2020, it was confirmed that BLACKPINK member Jisoo will be taking a big step forward in her entertainment career: her first leading role as an actress.
The singer, whose real name is Kim Ji-soo, will star in the Korean drama Snowdrop with Jung Hae-In. This is his biggest role after cameos in 2015's The Producers and 2019's Arthdal ​​Chronicles.
Snowdrop will tell the story of two college students who are caught in a romance in South Korea circa 1987 – a pivotal year in the country's history which witnessed a national mass movement that forced the government to hold elections. It is produced by the South Korean television network JTBC. Here's what we know about the show so far.
Snowdrop Release Date
Yes, the official release date for this series has finally been confirmed.
On November 9, JTBC announced with a new poster featuring the two main cast, that Snowdrop will premiere on the channel on December 18. The poster also confirms that the show will air on weekends at 10:30 p.m. KST.
On August 18, JTBC distributed promotional reels for its upcoming series of shows including Snowdrop. While an exact release date was not announced at the time, the network confirmed that the show will be the last Saturday-Sunday drama of the year, hinting at a fourth-quarter release.
What is Snowdrop About?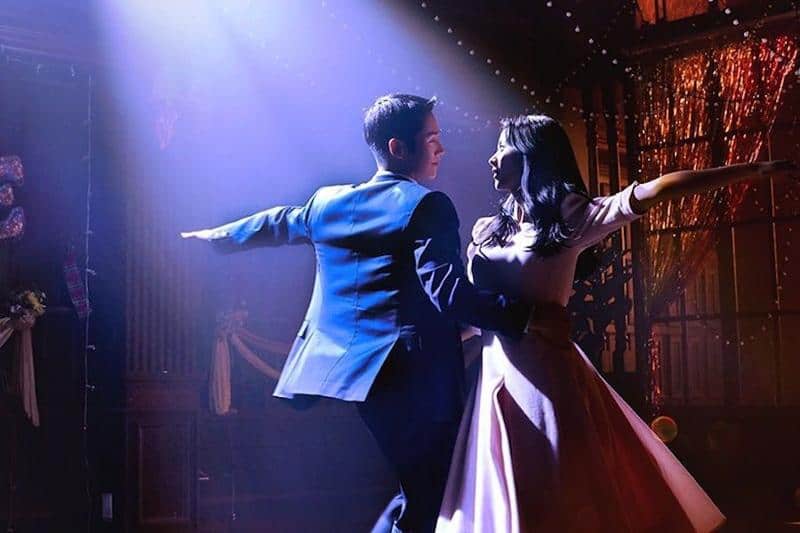 In 1987, Im Soo Ho and Eun Young Ro are students at a prestigious university in Seoul. Im Soo Ho, who grew up in Germany, has a gentle charm but gives off an air of secrecy. Eun Young Ro, who is lively, lovable, and cheerful, fell in love with him at first sight at a social gathering. One day, Soo Ho suddenly rushes into a female dormitory covered in blood, and Eun Young Ro hides him and tends to his wounds despite facing danger under close surveillance.
Among those monitoring, Soo Ho and Young Ro must avoid Pi Seung Hee, the notoriously strict and imposing housemother of Young Ro's dorm, and Kye Boon Ok, a phone operator at the dorm who had to forgo a college education due to her family's financial circumstances. Lee Kang Moo is the relentless head of Team 1 of the National Intelligence Service (NIS) and always insists on doing everything by the book.
By contrast, NIS agent Jang Han Na is impulsive, hot-tempered, and passionate about her job. Kang Chung Ya is a beautiful and talented surgeon at a state-run hospital who can charm anyone in a split second. Although her skills in the operating room have earned her a solid reputation as a dependable surgeon, Dr. Kang is mysterious and appears to be hiding something.
Snowdrop Detail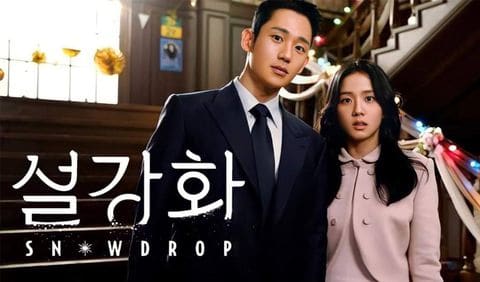 Native Title: 설강화
Also Known As: Sulkanghwa , Seolkanghwa , Sulganghwa , Seolganghwa
Screenwriter: Yoo Hyun Mi
Director: Jo Hyun Taek
Genres: Romance, Drama, Melodrama, Political
Country: South Korea
Type: Drama
Episodes: 20
Airs: Dec 18, 2021 – Feb 20, 2022
Airs On: Saturday, Sunday
Original Network: JTBC
Duration: 1 hr. 10 min.
Content Rating: 15+ – Teens 15 or older
Snowdrop Cast
Main Cast
Jung Hae-In – Im Soo-Ho
Kim Ji-Soo – Eun Young-Ro
Additional Cast Members:
Yoon Se-Ah – Pi Seung-Hee
Kim Hye-Yoon – Kye Boon-Ok
Jung Sin-Hye – Go Hye-Ryeong
Kim Mi-Soo – Yeo Jung-Min
Choi Hee-Jin – Yoon Seol-Hee
Huh Nam-Jun – Oh Gwang-Tae
Ahn Dong-Goo – Choi Byeong-Tae
Kim Jong-Soo – Kim Man-Dong
Nam Mi-Jung – Oh Deok-Sim
Jeon Mu-Song – Lim Ji-Rok
Jung Ae-Ri – Choi Soo-Ryun
Kim Min-Kyu – Joo Gyeok-Chan
Yoo In-Na – Kang Chung-Ya
Park Sung-Woong – Nam Tae-Il
Jung Hye-Young – Jo Sung-Sim
Jang Seung-Jo – Lee Kang-Moo
Heo Jun-Ho – Eun Chang-Soo
Kim Jung-Nan – Hong Ae-Ra
Jung Eugene – Jang Han-Na
Lee Hwa-Ryong – Ahn Kyung-Hee
Baek Ji-Won – Choi Mi-Hye
Jung Yi-Seo – Shin Kyung-Ja
Snowdrop Trailer
JTBC released four teasers for Snowdrop has so far. The latest one, which was released on December 5, features a dramatic and violent preview of the upcoming series, including scenes with actors Yoon Se-ah and Yoo In-na.