The official website for D4DJ First Mix, the anime adaption of the project D4DJ (Dig Delight Direct Drive DJ) from Bushiroad, released a promotional video on Friday. The video previews the opening theme song "Guruguru DJ Turn" performed by Happy Around! feat. KYOKO & SAKI.
The anime Broadcast will start on October 30th in Japan and on the streaming platforms. But the first episode of the anime will premier on October 22nd via live broadcast on YouTube.
The anime will stream on Funimation, Crunchyroll, HIDIVE, YouTube, Anime Network, AnimeLab (Australia and New Zealand), Wakanim (Europe), Aniplus-Asia (Southeast Asia), The anime will be available in 15 languages, with dubs in three languages.
In addition, a new promotional image was revealed.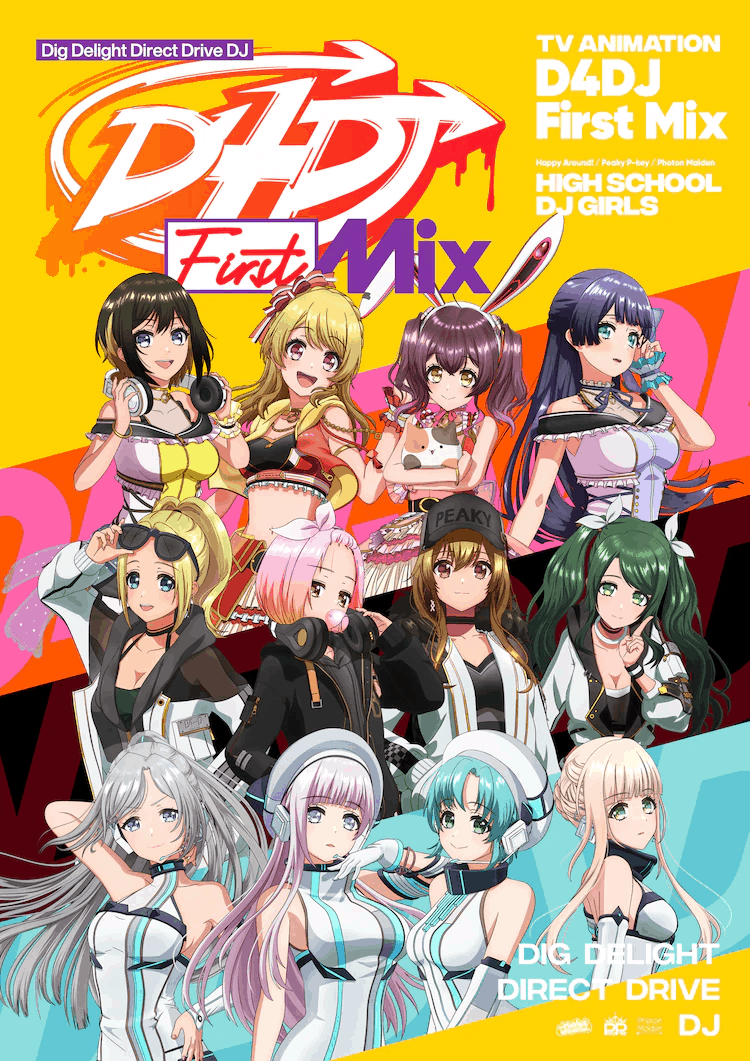 Production Team
Original: Bushiroad the original idea is credited and the founder and current president of the company Takaaki Kidani serve as executive producer.
Story Original: Ko Nakamura (BanG Dream! (TV): Story Draft)
General Producer: Masahiro Nakayama
Director: Seiji Mizushima
Music: Ryohei Sataka
Animation Producer: Hiroaki Matsuura
Animation Production: Sanzigen
D4DJ First Mix Synopsis
We will never forget this moment. Rinku Aimoto has a habit of spending time saying "Happy Around!" Accept. every time you're happy After returning to Japan, he switched to Yoba Academy, where the DJ activities are quite active.
Impressed with the DJ activity, she decides to team up with girls Maho Akashi, Muni Ohnaruto, and Rei Togetsu to create a musical unit called Happy Around! Under the production of Saito Shigeru. To build. While hanging out with other music entities on campus like Peaky P-Key and Photon Maiden, Rinku and her friends have to prepare for their performances on stage.