The Japanese company Oozlaya announced today that the web manga "Hori and Miyamura" (Japanese: "Hori-san to Miyamura-kun") will receive two new OVA episodes, which will be released in a few months.
New OVA Episodes in May 2021
The fifth OVA episode is titled "Manatsu-bi" (Midsummer Day) and has a running time of 22 minutes, while the sixth episode is titled "Yasashii Hito" (A Friendly Person) and has a running time of 26 minutes. Both episodes are scheduled for release in May 2021.
Studio Gonzo is once again responsible for the production. The film is directed by Kazuya Aiura ("Assassins Pride"), while Yuniko Ayana ("Given") writes the script and Fumi Katou ("Around a Whisker)) contributes the character design. The speakers are also involved again.The first four episodes were released as OVA in Japan between September 2012 and December 2018 and are not yet available in this country.
"Hori and Miyamura" is a web manga written by HERO, published between 2007 and 2011. A new version entitled "Horimiya" and will receive an anime series in January 2021 has been published since 2011 with drawings by Daisuke Hagiwara.
Hori and Miyamura OVA Announcement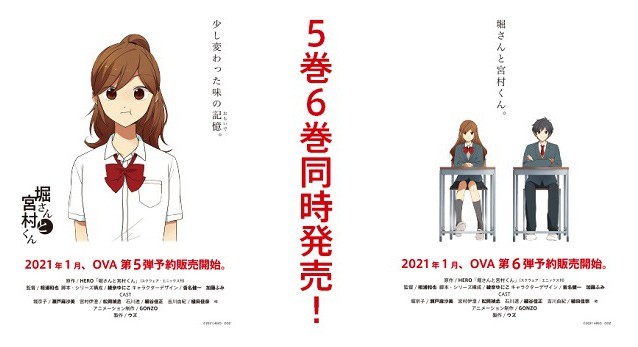 Hori and Miyamura Action
"Horimiya" revolves around the high school student Kyoko. She is known to everyone at school as smart, pretty and popular. Her classmate Izumi, on the other hand, is shy and very reserved. But when the two meet one day, they are not badly surprised: Suddenly a pierced Izumi in punk clothes stands in front of an unestylated Kyoko!
Are the two teenagers, who otherwise seem so different for their classmates, perhaps not so dissimilar?