In the past, Meloni has talked about The Potential of Benson and Stabler to come together, telling People magazine, "I think there's a world of possibilities."
Meloni and Hargitay have always recognized their alchemy on screen, with the former adding: " Obviously we recognized it when we were together on SVU.
"We've always played with that, leading to that, teasing with it."
Hopefully, the two begin a relationship in Season 23, but fans will surely wish Stabler didn't leave the Organized Crime Unit and the couple could make it work.
One fan agreed, writing on Twitter: "I've never been so confused and excited in my life."
Will Law & Order: SVU Season 23 begin with Olivia Benson's injury?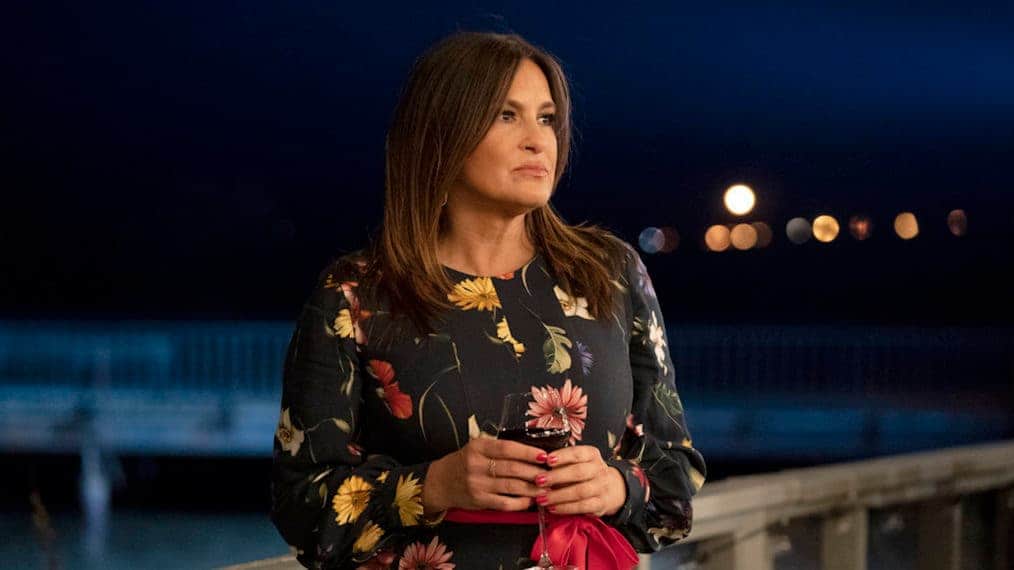 Mariska Hargitay, who plays Captain Olivia Benson, broke her ankle in July and shared photos from the cast and, later, the boot she got from her Instagram while healing. She also shared a photo from July 21 showing her wearing crutches. So what could this mean for Benson when Season 23 begins on Sept. 23? It will be written into the new season.
The injury is "going to be addressed in the season premiere," though not with crutches, according to TV Line.
Other teases on the premiere suggest we'll see more of the night Sergeants Fin Tutuola (Ice-T) and Phoebe Baker (Jennifer Esposito) were supposed to get married in the Season 22 finale. (They decided they were happy with the situation.) Hargitay was spotted on set wearing the same dress she wore to the event. This may explain why posts shared on Instagram by Hargitay and Christopher Meloni (who plays Detective Elliot Stabler, now on his own spin-off, Organized Crime) suggested another crossover to kick off in the 2021-2022 season.
The last time we saw the former partners in the SVU finale, Benson told Stabler how the pair met (she was his first partner), and the two exchanged a meaningful look and toast to the partners. However, we then saw them both on Organized Crime The finale of Law & Order: SVU, during which gangster Richard Wheatley (Dylan McDermott) had his wife text Benson to meet Stabler at the hospital where his ex-wife Angela (Tamara Taylor) was staying.
We'll have to wait to find out how SVU will address what happened to Hargitay off-screen and if it's related to anything from last season's Law and Order show.
Law & Order: SVU, 2-hour Season 23 premiere, Thursday, September 23, 8/7c, NBC ('The InBetween, Good Girls & The Blacklist Season 9').