Netflix announced in a line-up presentation that Kousuke Oono's manga series "Yakuza goes Hausmann" (Japanese: "Gokushufudō") will receive an anime adaptation that will be available worldwide on the platform next year appears. You can find the first visual below.
Yakuza Goes Hausmann Anime is Created by JC Staff
The series bears the international title "The Way of the Househusband" and is being produced under the direction of Chiaki Kon ("Golden Time") in the JC Staff studio. Susumu Yamakawa ("Back Street Girls: Gokudols") writes the script. Kenjiro Tsuda, who played the protagonist Tatsu in the live-action trailers, will slip into his role again.
Oono started the manga in February 2018 on Shinchosha's "Kurage Bunch" website. Five volumes have been published in Japan so far. The fourth volume will be released on December 22, 2020.
A live-action adaptation has been broadcast on Japanese television since early October.
Yakuza Goes Hausmann Visual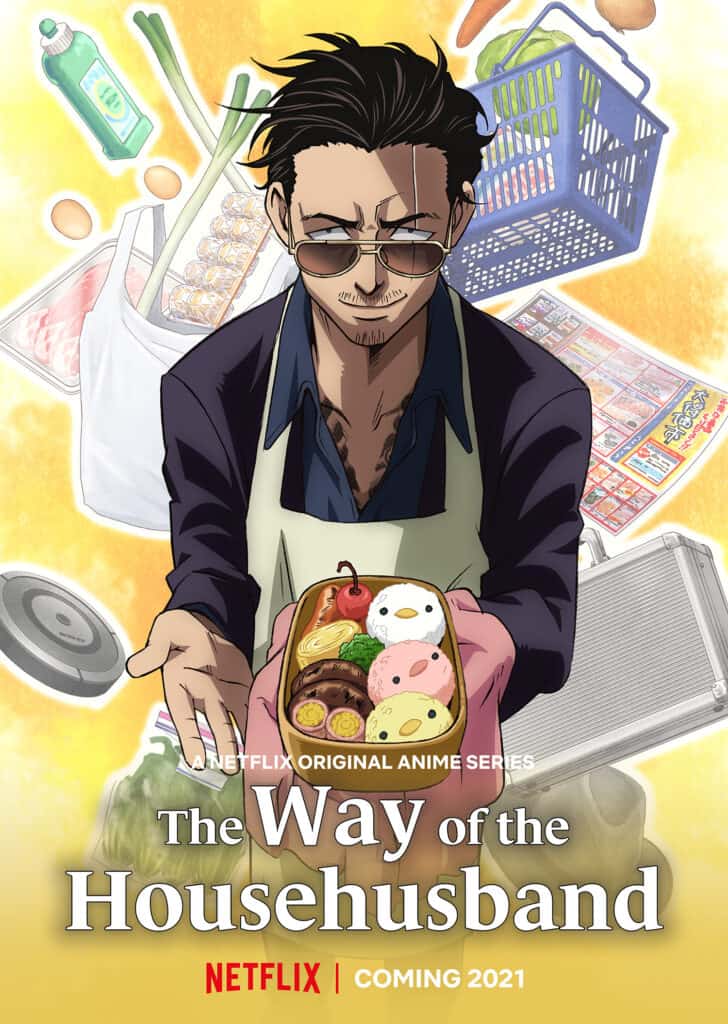 The Way of the Househusband Cast
Production Team
Director: (Director of "Golden Time, Sailor Moon Crystal Season 3") Chiaki Kon
Script: ("Back Street Girls: Gokudols") Susumu Yamakawa
The Way of the Househusband Action
He was once feared as a yakuza legend called "Immortal Tatsu". Just mentioning his Yakuza name left his enemies shaken to the core. And rightly so, because Immortal Tatsu mows down entire gangs on its own without even blinking an eyelid.
But that is now a thing of the past: Tatsu decides to change his life. From now on, tokens, pots and feather dusters are his weapons. You read that right, Tastu decides to become a househusband. As much as he tries, his reputation is always one step ahead … only his wife is not at all impressed by it.