"Can the existence of love be proved by science?" The Science Fell in Love, So I Tried to Prove It Season 2 anime will have the cluelessly smart science types attempting to investigate and quantify this strange phenomenon called love.
RikeKoi Season 2 Release Date
Last autumn we reported that "Science Fell in Love, So I Tried to Prove it" (jap.: "Rikei ga Koi ni Ochita no de Shoumei Shite Mita"), also known as "RikeKoi", will continue with a second season. Now it has been announced that it will start next year.
The anime did not deviate from the Science Fell In Love, So I Tried To Prove It manga at all. By the end of the first season, the manga had run out of chapters. Season 2 will either debut in early winter 2022 or spring 2022 due to this issue.
The first season was produced by Toru Kitahata ("Haganai NEXT") at Zero-G. Kenta Onishi acted as assistant director and Kouichirou Natsume as Chief Production Supervisor. Rintarou Ikeda ("Magical Sempai") co-wrote the script with Michiko Yokote ("Shirobako"), while Yuusuke Isouchi contributed the character design.
The 12 episodes were broadcast on Japanese television between January and March 2020 and were shown in the Japanese original with English subtitles at Crunchyroll in simulcast. A disc release has not yet been announced.
The original manga series was written by Alifred Yamamoto and has been published on the "Comic Meteor" website since 2016. The Japanese publisher Holp Shuppan has so far published nine volumes.
Visual of RikeKoi Season 2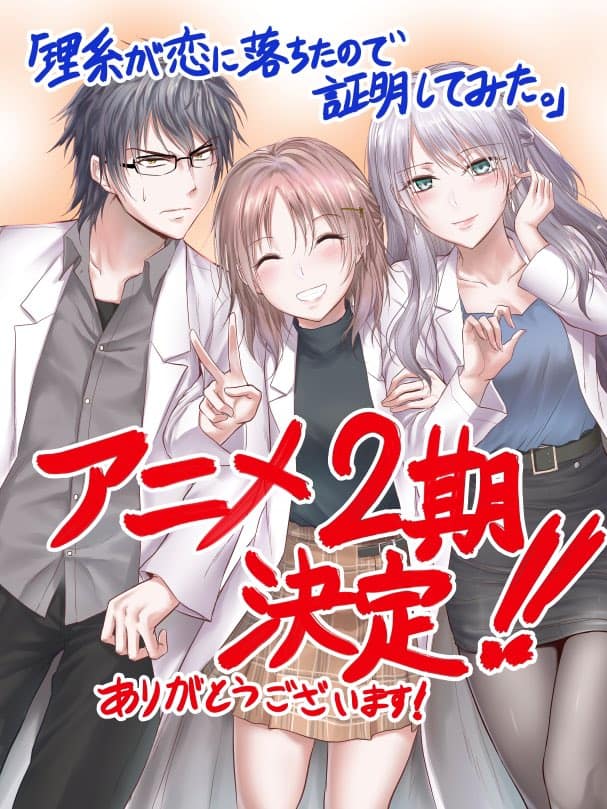 The visual shows the characters Shinya Yukimura, Kotonoha Kanade, and Ayame Himuro (from the left). The trailers, teasers, visuals, cast, and staff will be released at a later date on the official website of season 2.
RikeKoi Season 2 Teaser
Science Fell in Love, So I Tried to Prove It Action
It is widely believed that science can provide rational explanations for the countless phenomena of our universe. However, there are many aspects of our existence that science has not yet found a solution to and cannot decipher with numbers.
The most notorious of these is the concept of love. While it may seem impossible to apply scientific theory to such an intricate and complex emotion, a daring pair of quick-witted Saitama University scientists aim to take on the challenge.
One day the bold and beautiful Ayame Himuro outwardly declares that she is in love with Shinya Yukimura, her fellow logical and level-headed scientist. Acknowledging his own lack of experience with romance, Yukimura questions what factors constitute love in the first place and whether he is in love with Himuro or not.
Both clueless in the dealings of love, the pair begin to conduct detailed experiments on one another to test the human characteristics that indicate love and discern whether they demonstrate these traits towards each other.
As Himuro and Yukimura begin their intimate analysis, can the two scientists successfully apply scientific theory, with the help of their friends, to quantify the feelings they express for one another?