In the latest issue of "Weekly Shonen Magazine" Kodansha announced that some time ago announced Seven Deadly Sins Sequel Manga to the series "The Seven Deadly Sins" (Japanese "Nanatsu no Taizai") as of January 27, 2021 is published in the magazine.
Seven Deadly Sins Sequel Manga
According to previous information, the new manga will be titled "The Four Knights of the Apocalypse" (Japanese: "Mokushiroku no Yon-kishi") and focus on the character Tristan. In the course of the announcement of the date, however, the title was no longer mentioned.
Nakaba Suzuki published "The Seven Deadly Sins" from October 2012 to March 2020 in the "Weekly Shōnen Magazine". The main series was published by Shogakukan in 41 volumes.
The anime implementation currently comprises three seasons, several specials and a film and is available on Netflix. In addition, peppermint anime is releasing the series on DVD and Blu-ray. The fourth season starts in January 2021.
Seven Deadly Sins Sequel Manga Illustration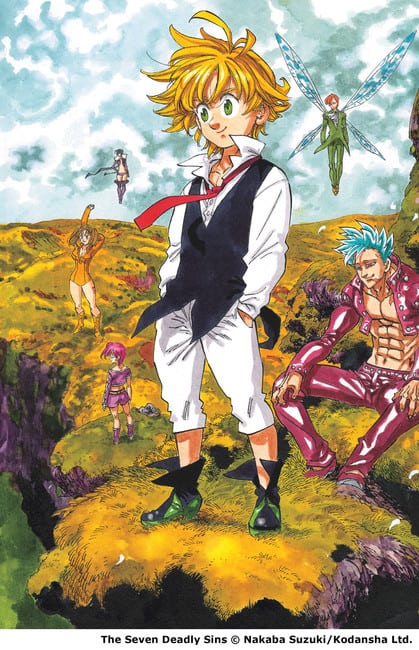 Action
Long ago the Kingdom of Britannia was upset by a subgroup of the Order of the Holy Knights. The so-called "Seven Deadly Sins" were associated with the cruel death of the General of the Holy Knights and subsequently hunted down mercilessly. Many residents of the kingdom believe that the infamous "Seven Deadly Sins" were completely destroyed back then. But some rumor that the group is hiding underground.
Ten years have passed and again Britannia faces great hardship: This time the entire Order of the Holy Knights rises against the reigning ruler. Full of desperation, his enchanting daughter Elizabeth goes in search of the only remaining hope: the "Seven Deadly Sins"! Soon she met the boy Meliodas by chance, who runs an inn and is also a member of the legendary group. Together they go in search of the remaining members and repeatedly encounter seemingly insurmountable obstacles.