Japanese publisher Shogakukan Wednesday announced that Saizou Harawatas and Yoshio Pierres manga series "Battle in 5 Seconds After Meeting" (Japanese: "Deatte 5-byou de Battle") will receive an anime adaptation in the form of a series on their newly opened official website. Further information about the studio, the employees, etc. will be announced at a later date. You can see the first visual below in the article.
Battle in 5 Seconds After Meeting Anime Adaptation
In November 2020, it was announced that the Battle in 5 Seconds After Meeting Manga would receive an anime television series adaptation. Named
Akira Shiroyanagi is into video games and Konpeito. So everything could be so simple if one day he wasn't dragged onto the battlefield by a mysterious girl named Mion and directly into an experiment, the participants of which were deleted from the family register and given special powers.
Determined to win that game, he uses the newfound power of his brain to literally beat the organization responsible for all this with heads.
Battle in 5 Seconds After Meeting from the pen of Saizou Harawata started as a web manga and was reprinted in 2015 by Miyakokasiwa in Shogakukan's Ura Sunday webcomic magazine. The series currently comprises fourteen edited volumes.
Battle in 5 Seconds After Meeting Visual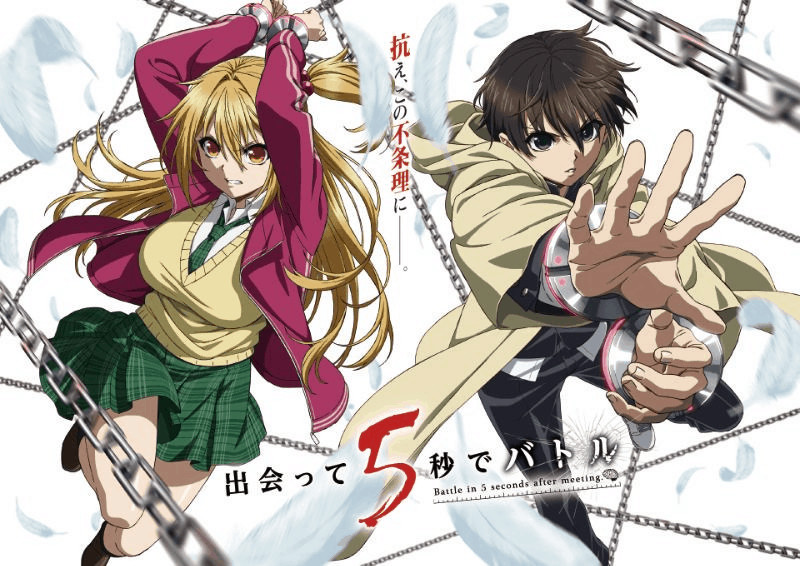 Action
It was just a usual morning. Akira Shiroyanagi, a high schooler who loves games and Konpeito (Japanese sweets), has suddenly been dragged into a battlefield by a mysterious girl who calls herself Mion. The participants are told that they are "erased from the family register, involved in an experiment, and gained certain powers."
Akira is determined to win the game with his newfound powers and destroy the organization. Armed with a power no one expects and his "brain" skills, the new period of intelligence battle begins!