As part of a live stream event, it was announced that the sequel to the anime adaptation of The Quintessential Quintuplets Season 3 (Jap.: 5-toubun no Hanayome), announced four weeks ago will be a sequel film.
The Quintessential Quintuplets Season 3 / Movie Release Date
TBS Animation also tweeted the announcement on its official Twitter account. The company offered a brief message to fans, which read: "Thanks to all of your support, the sequel will be a movie. The screenreader of the romance comedy series is set for its third season and is scheduled to hit Japanese cinemas later this year in 2022. Further details are not yet known at this time. You can see a first visual for the announcement below.
The Quintessential Quintuplets movie's exact release date has not been announced yet, we will update it on this page as soon as it is announced along with any other info regarding the anime.
Quintessential Quintuplets Season 2 released on Japanese television in 7 January 2021. "The Quintessential Quintuplets" currently consists of two seasons, the second season of which ended only three weeks ago with the twelfth episode. It was directed by Kaori in the Studio Bibury Animation ("Azur Lane") and was shown in the Simulcast by Crunchyroll and Funimation in the original Japanese sound with English subtitles.
The first season which was produced by director Satoshi Kuwahara at Studio Tezuka Productions, (Dororo and How Not to Summon a Demon Lord) was shown on Japanese television in winter 2019 and will be released in September 2021 with English and Japanese voice-overs on DVD and Blu-ray.
The Quintessential Quintuplets Season 3 Visual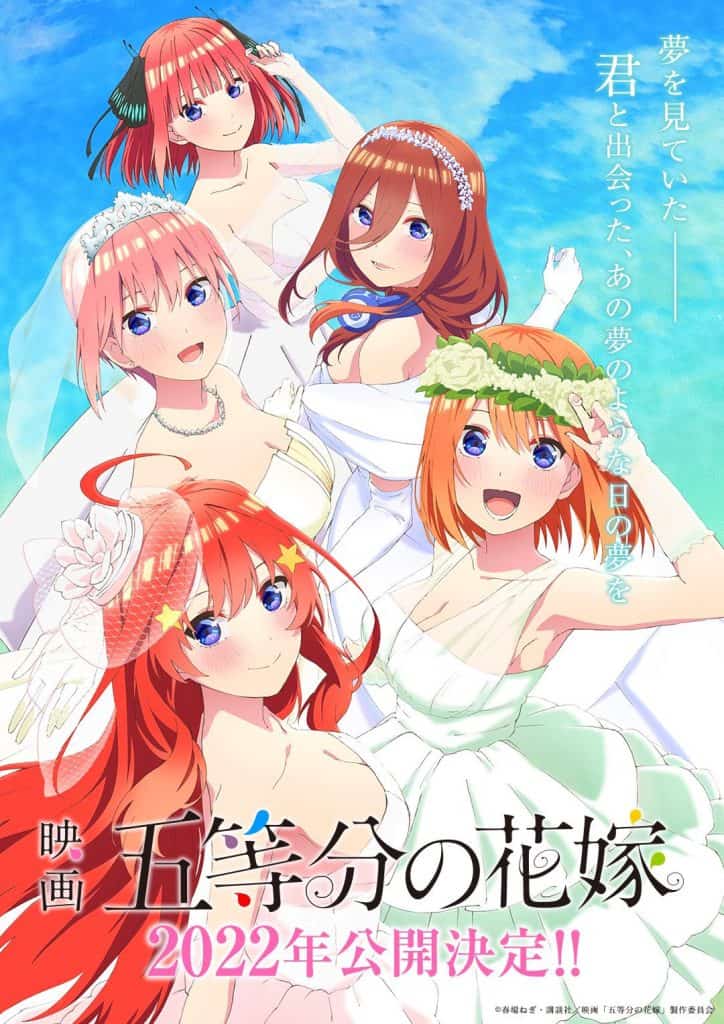 The Quintessential Quintuplets Movie Announcement
The Quintessential Quintuplets Action
Fuutarou Uesugi is an ace high school student, but leads an otherwise tough life. His standoffish personality and reclusive nature have left him friendless, and his father is debt-ridden, forcing his family to scrape by.
One day during his lunch break, Uesugi argues with a female transfer student who has claimed "his seat," leading both of them to dislike each other. That same day, he is presented with a golden opportunity to clear his family's debt: a private tutoring gig for a wealthy family's daughter, with a wage of five times the market price. He accepts the proposal, but is horrified to discover that the client, Itsuki Nakano, is the girl he confronted earlier!
After unsuccessfully trying to get back on Itsuki's good side, Uesugi finds out that his problems don't end there: Itsuki is actually a quintuplet, so in addition to her, he must also tutor her sisters—Miku, Yotsuba, Nino, and Ichika—who, despite the very real threat of flunking, want nothing to do with a tutor. However, his family's livelihood is on the line so Uesugi pushes on, adamant in his resolve to rid the sisters of their detest for studying and successfully lead them to graduation.