On the Twitter account of the anime adaptation of "Miss Kobayashi's Dragon Maid" (Japanese: "Kobayashi-san Chi no Maid Dragon"), it was announced that the Dragon Maid Season 2 will be broadcast on Japanese television from July 2021. A new visual has also been released.
Dragon Maid Season 2 Release Date
The second season is titled "Miss Kobayashi's Dragon Maid S" (Official website) and is produced like the first season of Kyoto Animation (Tsurune). The "S" is supposed to stand for "Super de Supreme na Second life ga Start shimasu". Details of the contributors are yet to be released.
The 13-part first season was shown in The Simulcast between January and April 2017 on Crunchyroll with English subtitles. The film was directed by Yasuhiro Takemoto ("Amagi Brilliant Park"). Meanwhile, the streaming service also offers the series with English dubbing.
The first season was released in three volumes on DVD and Blu-ray.
First Season anime director Yasuhiro Takemoto
The elephant in the room is the deadly Kyoto Animation fire of 2019. The 2017 TV anime was helmed by Kyoto Animation director Yasuhiro Takemoto, who died in the KyoAni fire. The arson attack also killed 27-year-old Shiho Morisaki, who worked on the Dragon Maid anime.
Four days after the Kyoto Animation arson attack on July 18, 2019, Takemoto was declared missing by his father, who stated: "he was untraceable". His death was later confirmed by his relatives and authorities.
For Dragon Maid Season 2, Takemoto is being replaced by director Tatsuya Ishihara (Air, Clannad, Sound! Euphonium). But KyoAni is honoring Takemoto by still crediting him as the Series Director for the second season.
Dragon Maid Season 2 Visual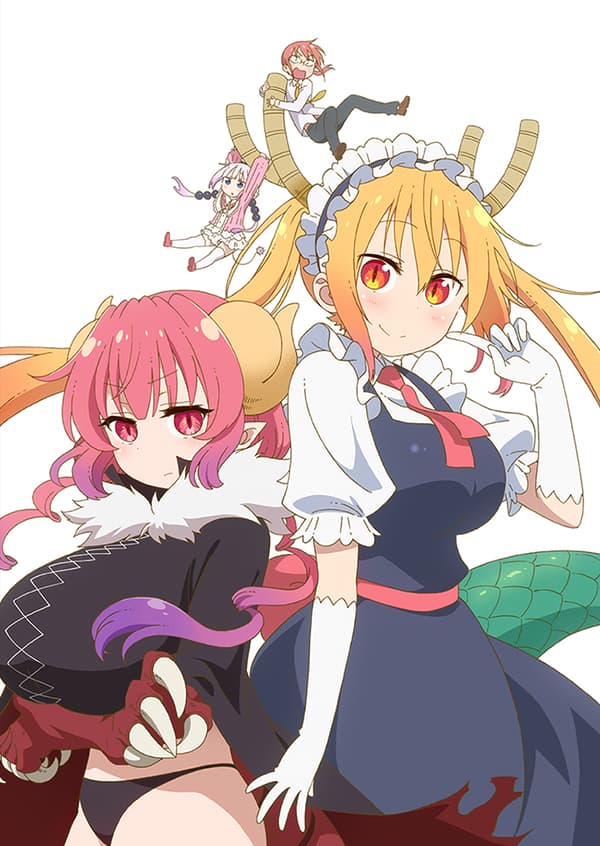 Miss Kobayashi's Dragon Maid S (Season 2) – Official Trailer
Dragon Maid Plot
Kobayashi lives alone in her apartment until one-day Tooru emerges from nowhere and the two eventually live together. Tooru looks down on people and sees them as inferior and foolish beings. However, since Kobayashi saved her life, Tooru supports her in order to settle her guilt with her, in various everyday tasks, even if not everything always goes according to plan. A fantastic slice-of-life comedy about a hard-working office worker living with a dragon girl.