During the opening ceremony of the "Gunpla Expo Tokyo 2020" event, Studio Sunrise announced that the anime film "Mobile Suit Gundam: Hathaway" will start in Japanese cinemas on May 7, 2021. You can see a new teaser and another visual below.
Mobile Suit Gundam Hathaway Release Date
The film is being made under the direction of Shukou Murase ("Gangsta.") In Studio Sunrise (Code Geass). Yasuyuki Mutou ("Mobile Suit Gundam Unicorn RE: 0096") writes the script, while Pablo Uchida, Naoyuki Onda ("Ergo Proxy") and Shigeki Kuhara ("Nazca") animate the original character design by Haruhiko Mikimoto. Hiroyuki Sawano ("Attack on Titan") is responsible for the music.
The anime adaptation of Yoshiyuki Tomino's novel "Mobile Suit Gundam: Hathaway's Flash" was originally scheduled to hit Japanese cinemas on July 23, 2020. Due to the current COVID-19 pandemic, however, this had to be postponed to May 7, 2021.
"Mobile Suit Gundam: Hathaway's Flash" is part of the "UC NexT 0100 Project" and will cover the future of the UC timeline.
Visual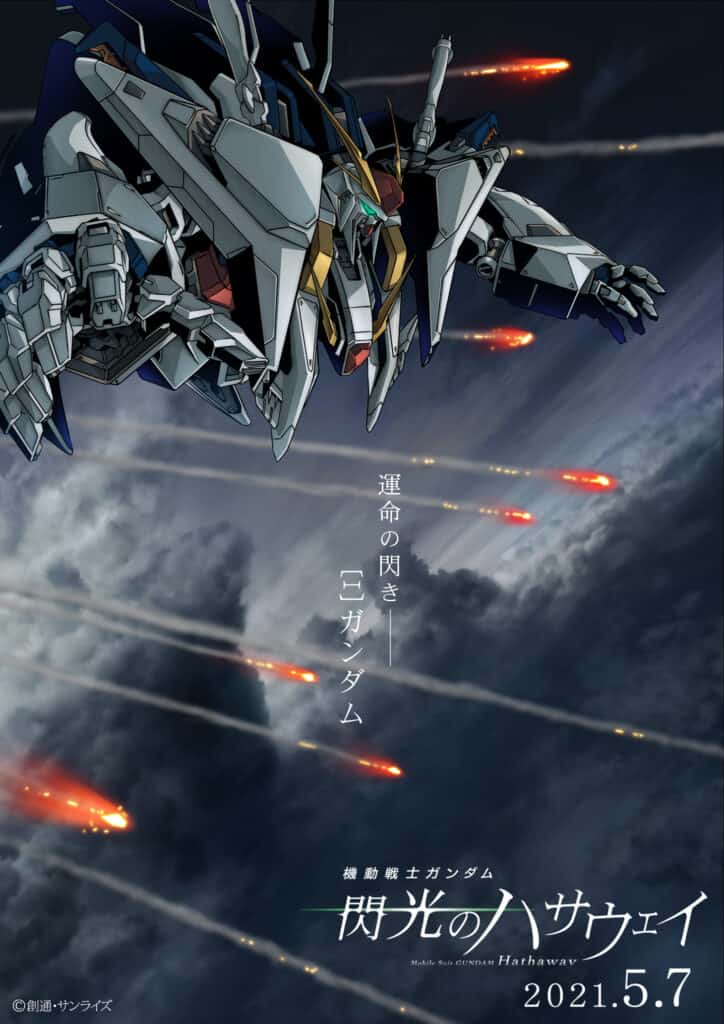 Cast
| | |
| --- | --- |
| Character | Voice Actor |
| Hathaway Noa | Kensho Ono |
| Andalusia Gigi | Reina Ueda |
| Kenneth Sureggu | Junichi Suwabe |
Production Team
| | |
| --- | --- |
| Director | Murase Shuko |
| Producer | Sunrise |
| Original | Yoshiyuki Tomino / Hajime Yatate |
| Character Design | pablo uchida / Naoyuki Onda / Shigeki Kouhara |
| Music | Hiroyuki Sawano |
Teaser
Action
Twelve years have passed since the Second Neo Zeon War (Char's Rebellion). UC0105——. Corruption of the Earth Federation Government has accelerated pollution of the Earth and has also implemented an inhumane policy of "hunting people" to force civilians into space. The anti-Earth federal government movement "Muffty" began to resist with the fierce act of assassinating such a high-ranking federal government official.
The name of the leader is "Muffty Nabille Erin". Its true identity was Hathaway, the son of Federal Colonel Bright Noa, who also fought the One Year War. Hathaway tries to pave the way as a warrior with the ideas, ideals and will of Amuro Ray and Char Aznable, but the encounter between Colonel Kenneth Sleg and the mysterious beautiful girl Gigi Andalusia greatly increases his fate. I will change it.