The Japanese company Hobby Japan today announced that Yuri Kitayamas and Rivs Fantasy Light Novel "Seirei Gensouki – Spirit Chronicles," an anime adaptation is obtained. A first promo video, a visual and some character designs including speakers can be found below.
Seirei Gensouki Anime is created by TMS Entertainment
The series is being produced under the direction of Osamu Yamasaki ("ItaKiss") in the studios TMS Entertainment (Spirit Chronicles, Dr. Stone, ReLIFE, Kamisama Kiss, Rent-A-Girlfriend, Megalo Box and Rent-a-Girlfriend) and Wao World. Yamasaki is also writing the script with Mitsutaka Hirota, Megumu Sasano and Yoshiko Nakamura. Kyoko Yufu is the character designer, while Yasuyuki Yamazaki is responsible for the music at Nippon Columbia and TMS Music.
Yuri Kitayama started the light novel in February 2014 on the "Let's Become Novelists" website. Hobby Japan has been publishing the fantasy romance with illustrations by Riv since October 2015 and has since brought 17 volumes to the Japanese market. A manga adaptation by Futago Minaduki has been published in "Comic Fire" magazine since July 2018.
Seirei Gensouki Visual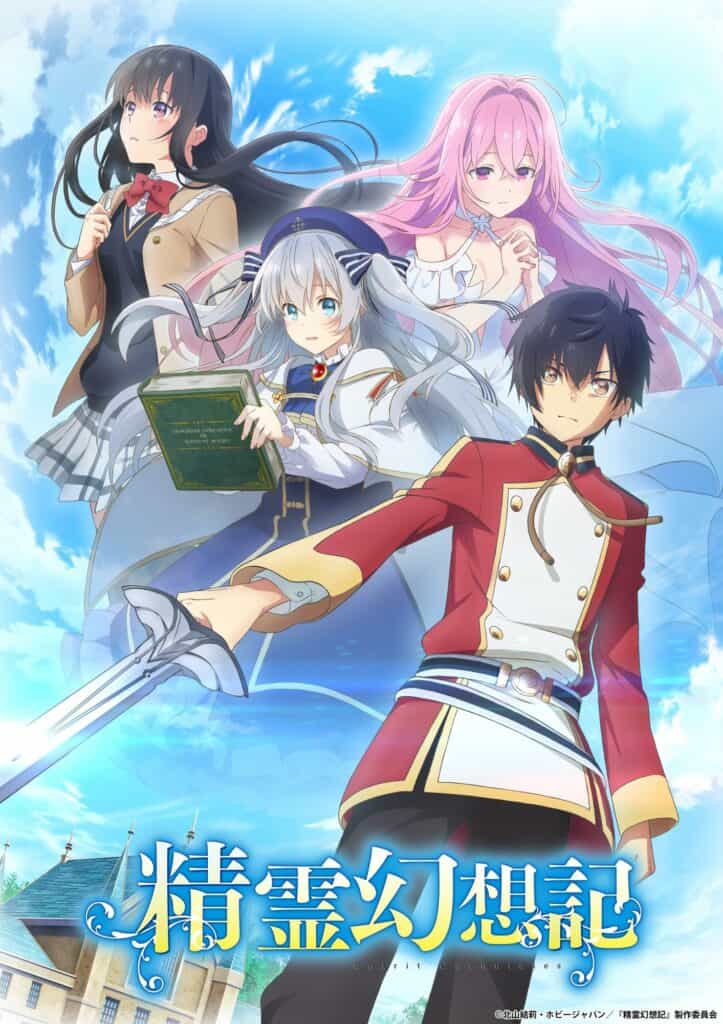 Seirei Gensouki Promo
Seirei Gensouki Character Designs
Yoshitsugu Matsuoka (Kirito, Sword Art Online) as Rio / Haruto Amakawa

Akane Fujita (Kiyoka Musumi, Katana Maidens) as Celia Claire

Yūki Kuwahara (Sora Narukami, The Day I Became a God) as Aishia

Tomori Kusunoki (Natsume, Deca-Dence) as Latifa

Sayaka Harada (Chitose Nakai, Yuna's Haunted House) as Miharu Ayase

Sayumi Suzushiro (Akira Ōno, Hi Score Girl) as Christina Beltrum

Kaede Hondo (Hitomi Mishima, Hintamatsuri) as Flora Beltrum

Sayaka Kaneko (Sora Hirota, High School Fleet) as Roanna Fontaine

Kenji Hamada (Tarō Kawaguchi, Bakuman) as Alfred Emerle

Atsushi Tamaru (Ayato Amagiri, The Asterisk War) as Charles Arbor

Koji Yusa (Tatara, Tokyo Ghoul) as Reiss Vulfe

Nao Tōyama (Lelei la Lelena, GATE) as Liselotte Cretia

Hiyori Nitta (Hime Wazumi, High School Fleet) as Sara

Yukina Shutō (Haru Urara, Uwa Musume Pretty Derby) as Orphia

Asuka Nishi (Mimosa Vermillion, Black Clover) as Alma
Action
Haruto had only one goal in mind throughout his life: to win back his childhood love! However, this suddenly disappears in high school and Haruto dies in a bus accident at the age of 20. After that, he only remembers waking up in an ice-cold room in the slums of another world.
He was reborn as Rio after his death. Now he is a seven year old refugee child who lives in a fantasy kingdom. With the knowledge from his previous life, Rio is now beginning a new phase in his life.