With "Words Bubble Up Like Soda Pop" a sugar-sweet romance anime will soon start in Japanese cinemas. Now a new trailer reveals the specific release date. After the Japanese theatrical release of the film "Words Bubble Up Like Soda Pop" (Japanese: "Cider no Yō ni Kotoba ga Wakiagaru") had to be postponed due to the COVID-19 pandemic, a new trailer, which you can find below, now announced that it will be shown in Japanese cinemas from June 25, 2021.
The original anime, which was originally scheduled to start on May 15, 2020, is being produced under the direction of Kyōhei Ishiguro ("Your Lie in April") in the Signal.MD and Sublimation studios. Dai Sato ("Cowboy Bebop") writes the script, while Yukiko Aikei ("Your Lie in April") is responsible for character design. The music is composed by kensuke ushio ("A Silent Voice").
The "boy meets girl" story shows how words and music can bridge the gap between the boy Cherry, who cannot communicate well with other people, and the girl Smile, who hides behind a mask.
They meet in a shopping center on the outskirts of a provincial town. Cherry always wears headphones and puts the feelings he cannot express into Japanese haiku poems. Smile always wears a mask to hide her large front teeth, for which she wears braces. As a popular video star, she streams a video about finding "cuteness."
Words Bubble Up Like Soda Pop Visual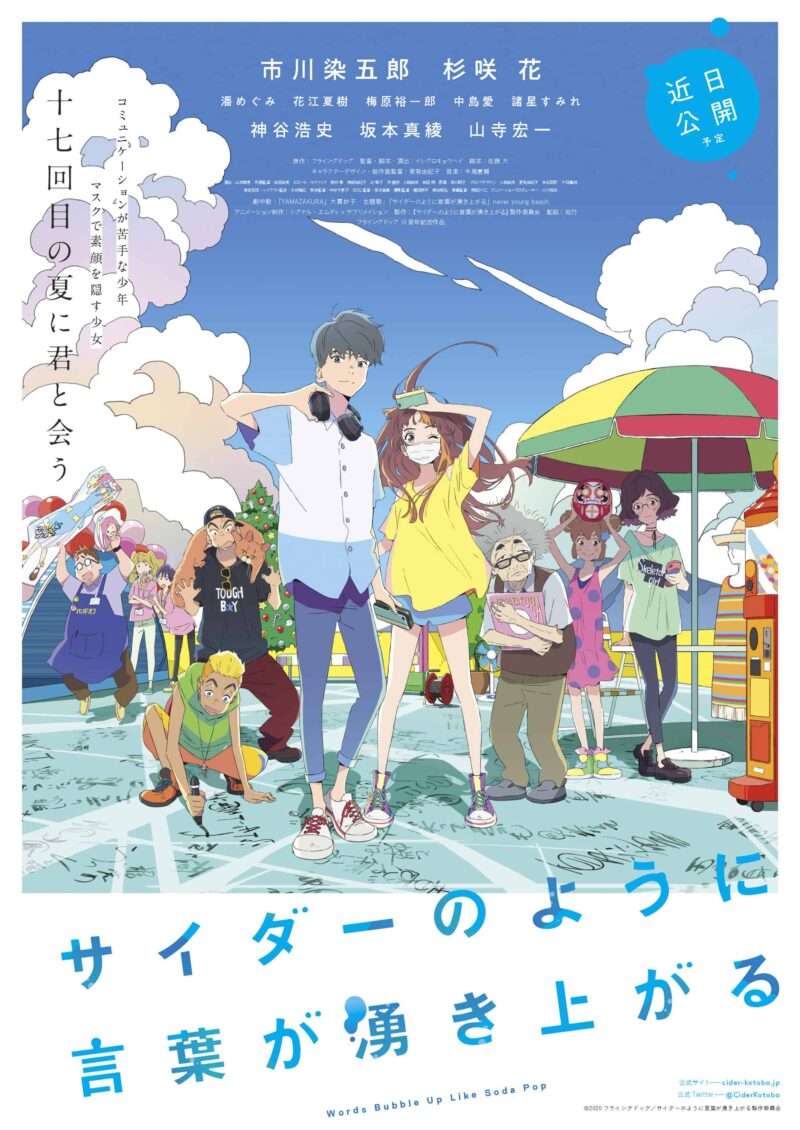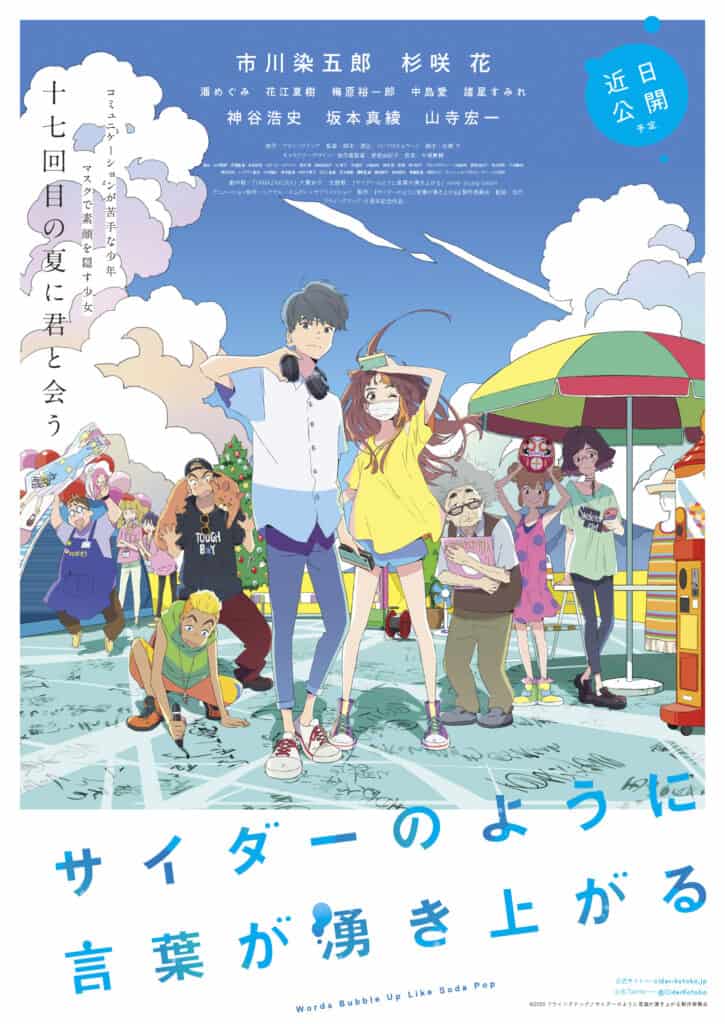 Words Bubble Up Like Soda Pop Trailer
Cast
| | |
| --- | --- |
| Character | Voice Actor |
| Cherry | Somegoro Ichikawa |
| Smile | Sugisaki Hana |
| Fujiyama | Koichi Yamadera |
| Beaver | Megumi Han |
| Japan | Natsuki Hanae |
| Tough boy | Yuichiro Umehara |
| Juli | Megumi Nakajima |
| Mali | Sumire Morohoshi |
| Tsubaki | Kikuko Inoue |
Production Team
| | |
| --- | --- |
| Director | Kyohei Ishiguro |
| Producer | Signal MD x Sublimation |
| Screenplay | Dai Sato |
| Character Design | Yukiko Aikei |
| Music | Kensuke Ushio |
Action
The 17th summer, a local city.
Cherry, a boy who is not good at communication and always wears headphones so that people cannot talk to him. He put his unspeakable feelings in his hobby haiku. Smile, a girl who always wears a mask to hide her large front teeth during orthodontics. The popular video owner, she found "kawaii" and distributed the video.
Cherry, who can't easily say what she thinks other than haiku, and Smile, who can't overcome the complex of appearance, meet at a shopping mall and eventually exchange words little by little through SNS.
One day, they find out why Fujiyama, an old man he met at a part-time job, searches for a record of his memories that he has lost. The two decide to find it themselves. The distance between Cherry and Smile rapidly shrinks as we search for records together to fulfill Fujiyama's wishes. However, in the wake of a certain event, their feelings passed each other.
The climax of the story, the straight and explosive message of Cherry, reaches deep into the heart and becomes a bright flash that is remembered in the memory of one summer. Your emotions spring up in the most emotional last scene in the history of anime!