Ricky Gervais After Life returns for a third season. As expectations now stand, indicated by Gervais himself, this will be the final installment of the tragicomic series. How will things continue for Tony? Here's everything we already know about After Life season 3.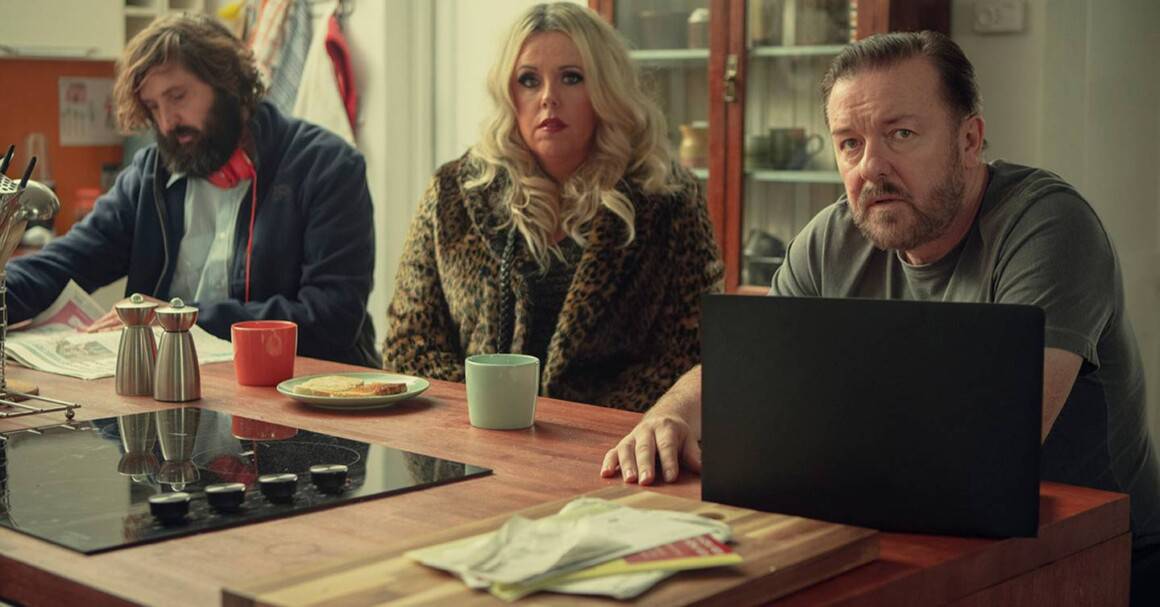 Tony in After Life
After Life revolves around Tony, played by Ricky Gervais himself. His wife has died of cancer and in the last weeks of her life she recorded video messages for Tony. The journalist from a local newspaper doesn't really want to go on living without his wife and so the only solace he finds is in the videos. He destroys everything and everyone around him and may think about suicide. Until sometimes there are glimmers of hope.
Harsh Reality of Grief
The strength of After Life, besides Gervais' sometimes snide humor, lies in the harsh reality of grief. It is not a process that goes up in a straight line. Just as you think Tony is coming out on top, he may be falling further down than ever. In the second season, his father also dies and he tries to cling to Emma. At the end of season two, we see that the nurse wants to go along with his idea of a Groundhog Day relationship.
Writing During Lockdown
After the release of season two, it was announced within a few weeks that there would be a third season. So Gervais used the lockdown to write on the new season. Once again, six episodes will be made. It will be the final one, though, he told The Mirror. "I've thought about it and I've figured it out. There will be no fourth season. There's an old saying, 'To lead the orchestra, you have to turn your back on the audience.' That's just true. The audience thinks they want another season, but they're not sure. So you have to be careful." Shooting will begin in mid-April and take a month and a half.
"After that, it will take a couple of months to fully edit it and also a couple of months to work it into 160 languages," he was previously heard to say on ITV's Lorraine. The Brit expects that the series will be seen at the end of 2021.
Cast and Characters of After Life Season 3
| Cast | Character |
| --- | --- |
| Ricky Gervais | Tony Johnson |
| Tom Basden | Matt |
| Tony Way | Lenny |
| Diane Morgan | Kath |
| Mandeep Dhillon | Sandy |
Majority of Cast Returns
The characters Tony, his colleagues Lenny, Matt, Kath, Sandy, nurse Emma, village idiot Brian, and the new couple letter carrier Pat and Roxy will all return in the final season. Also not missing will be Lisa, Tony's wife, with video messages. Uncertain are the roles of Anne, whom Tony seemed to be saying goodbye to at the grave, and mother and son June and James.
What is After Life Season 3 about?
Gervais is entering uncharted territory for him with After Life 3, he told Lorraine. "I've never made a third season of anything before. But it just feels right now. I fell in love with the characters and this is what it should be." With that, Gervais already seems to be shooting down one of the two most common theories about the third season. After all, Tony is constantly living on the edge of suicide, so a common theory is that Tony will eventually die anyway. But do you do that to a character you have come to love? The other line that is often thought of is that Tony and Emma manage to find each other and Tony finds happiness in the little everyday things. The little things that he loved so much in his little village.
After Life Production Completed
Ricky Gervais has confirmed that production on the third season of After Life has been completed. Production was rocked just last week when Charlie Hanson, producer of the series, was accused of sexual misconduct. He is accused by eleven women. Netflix ("Evil Season 3") subsequently sent Hanson away. However, filming has now finished.
After Life Season 3 Release Date
The release date of the series After Life Season 3 is not announced yet. Season 1 premiered in March 2019, and season 2 in April 2020, so perhaps we can expect a release date to be announced soon, if season 3 follows a similar trajectory. We can expect the third season of the series After Life somewhere in 2022 on Netflix ("Emily in Paris").
After Life Action
Struggling to come to terms with his wife's death, a writer for a newspaper adopts a gruff new persona in an effort to push away those trying to help.