Halloween Ends will end this year's rebooted Halloween trilogy, but whether it will be Michael Myers' ending remains a mystery.
Returning writer/director David Gordon Green has teased a very different film from its sequel, Halloween Kills. "[It's] a much more intimate film," he told Empire. "Not a lot of play in it, not a lot of retro jokes and excitement.
"It's kind of a future film, and the tone is very different. And that's what excites me, having three chapters that I'm involved in that are very different from each other."
Halloween Ends was announced alongside its sequel in July 2019, although plans were originally changed due to everything that has happened since that initial announcement.
What hasn't changed is that Green is back directing and has written with Danny McBride as they did on Halloween (2018) and Halloween Kills. Paul Brad Logan and Chris Bernier also co-wrote the script, while John Carpenter also returns as executive producer and for the music.
Assuming there are no further delays, the film is on track for an October release. But what awaits us in the final showdown between Laurie Strode (Jamie Lee Curtis) and The Shape?
Here's everything we know about Halloween Ends.
Halloween 3: Release date – When will Halloween Ends be released?

Halloween Ends will be released in theaters on October 14, 2022 after a year-long delay from its planned release.
Originally, Halloween Ends was set to release on October 15, 2021, but in July 2020, Carpenter announced the delay of the original Halloween Kills release date of October 16, 2020.
In the US, Halloween Kills also released on Peacock at the same time, but it's unknown if Universal will do the same with Halloween Ends.
Andi Matichak, who plays Laurie's granddaughter Allyson, revealed in March 2021 that initial plans to film both films back-to-back were changed because the sequels had an "intense shooting schedule", adding: "It would be a bit much to try and do it at the same time."
In August 2021, The Shape actor James Jude Courtney said that the film would begin shooting in January 2022. Jamie Lee Curtis shared a photo on set in February 2022, so it seems vaguely on track for an October 2022 release.
Halloween 3 Cast: Who will be back for Halloween Ends?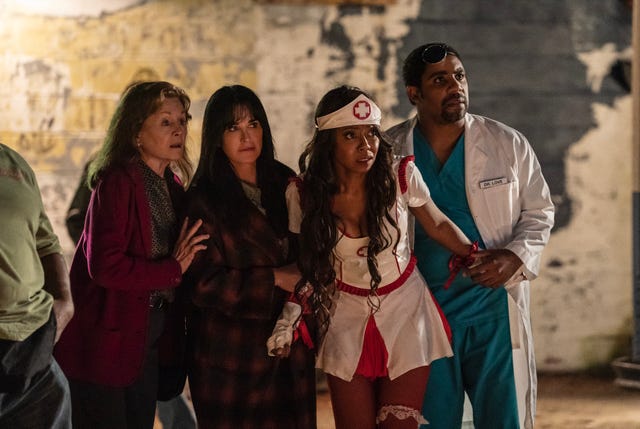 When Halloween Ends was announced, it was confirmed that Jamie Lee Curtis would return as Laurie Strode, so it's no spoiler to say that she survived the sequel. She said in July 2021 that the third film would probably be her last.
"I would say, given what I know about the next film, I think this will be the last time I'll be playing it," she explained.
"And I didn't say something like, 'Oh, because I died!' Nothing to do with that. I'm talking about emotionally what they've built. I think that would be a spectacular way to end this trilogy."
Just because Laurie survived, doesn't mean Halloween Kills doesn't live up to its name even though many people died. Last chance to avoid spoilers, so be careful.
The biggest deaths come in the film's final moments when Michael kills Laurie's daughter, Karen, brilliantly potrayed by Judy Greer.
Even if we don't see her body, it will be a miracle if she survives her attack, just as we want to see Greer back. "Well, I was disappointed to see the ending," Greer explained.
"I thought it was a great idea. I thought it was very beautifully written, and it felt like a dance, like an opera, sort of. But it was also a bit disappointing, especially because I like to play with my friends."
As far as we know, Michael didn't kill Karen's daughter, Allyson, on his way to kill his mother, so we can expect Andi Matichak to return and we're sure she will team up with her grandmother to seek revenge.
Lindsay Wallace persevered as she returned to the franchise as Kyle Richards, and it has been confirmed that she will return in Halloween Ends. According to Variety, her return in Kills was so well-received that three quells were rewritten to include her.
"When my character doesn't die, I'm like, 'Uhh, hello!'" she said. "Last film, I saw Jamie on set, but we didn't have things together. So, I really wish there was more stuff together."
At the moment, we don't have any other confirmed cast members for the third film outside of Curtis as the sequel doesn't leave too many clues.
Tommy Doyle of Anthony Michael Hall, Marion Chambers of Nancy Stephens, Lonnie Elam of Robert Longstreet and Cameron Elam of Dylan Arnold are all among Michael's countless victims, so that's the last we'll see of them.
One character that is likely to return (presumably) is Will Patton as Deputy Frank Hawkins for the final battle with Michael Myers, while we'll also see Nick Castle and James Jude Courtney return as Michael Myers, aka The Shape.
Halloween 3 Plot: What is Halloween Ends all about?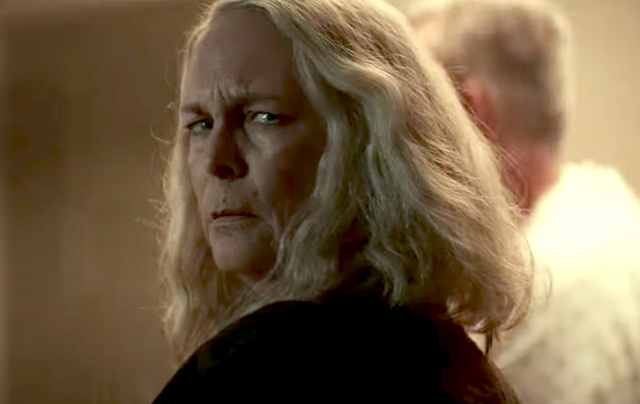 There's no confirmed synopsis for Halloween Ends yet, so all we can do is take a look at the sequel and predict the third film's premise.
Karen's death acts as a cliffhanger, but another big revelation is the idea that Laurie believes that there is no traditional way to kill Michael. According to her, he crossed the line for killing so many people, so ordinary weapons wouldn't work.
We assume that the final film will show Laurie attempt to kill Michael once and for all by whatever method she finds. Will we also get an explanation as to why Michael is so obsessed with returning to his childhood home?
Interestingly, Green has confirmed that the film will jump ahead to a "contemporary timeline" meaning it will be set in 2022, a four-year time jump.
"That will happen at launch," he told Uproxx. "Where we left these characters on Halloween 2018, the world is a different place.
"So not only do they have their immediate world affected by that trauma, have time to process that trauma – and that's a specific and direct traumatic event in the Haddonfield community. But then they also have a worldwide pandemic and strange politics and other things that turn their worlds upside down."
Curtis has remained tight-lipped about what to expect but told The Illuminerdi that it would "shock people": "It will make people very angry. It will excite people. People will be nervous about it. And this is a beautiful way to end this trilogy. "
Will this really be the end of Michael Myers and the Halloween series? Given how the timeline has reinvented itself over the years, don't expect too much, but expect a definite ending for this particular story.
Halloween 3 trailer: Any Halloween Ends trailers yet?
Unfortunately, until now there has been no official trailer or teaser. With filming seemingly underway, hopefully, there will be some sort of teaser soon.