As part of "MAPPA STAGE 2021", it was announced that the new original anime "Takt Op. Destiny" will air on Japanese television starting October 5, 2021. You can see a first teaser video and visual below.
Takt Op. Destiny Anime is being created by MAPPA and Madhouse
The series is being directed by Yuuki Itou ('Sakura Kakumei: Hanasaku Otome-tachi') at MAPPA ('Chainsaw Man, Attack on Titan, Kakegurui, Jujutsu Kaisen, Zombieland Saga & The Idaten Deities Know Only Peace') and Madhouse ('No Game No Life') studios. Kiyoko Yoshimura ('The God of High School, Mr. Love') is responsible for series composition, while Reiko Nagasawa is adapting LAM's character design for animation. Music is contributed by Yoshihiro Ike ('Dororo').
The "Takt Op. Destiny" anime is part of the "Takt Op." multimedia project, which will include a game scheduled for release later this year in Japan. The idea comes from the company DeNA as well as "Sakura Wars" author Ohji Hiroi.
The cast and characters of the project are Natsu Yorita (Megu Suzuya in "Asteroid in Love") as Mokusei, Maria Sashide (Mai Inose in "Asteroid in Love") as Kirakira Hoshi, Kaede Hondo (Sakura Minamoto in "Zombie Land Saga") as Unmei, Sumire Uesaka (Mari Morino in "Asteroid in Love") as Valkyrie, and Yumiri Hanamori (Shizuku in "ARIFURETA") as Carmen.
So far, only Koki Uchiyama (Khun Hachuling in "Tower of God") has been confirmed as the voice actor for the anime as the main character. Further details are still pending.
Takt Op. Destiny is also one of the most anticipated new Upcoming Anime.
Visual of Takt Op. Destiny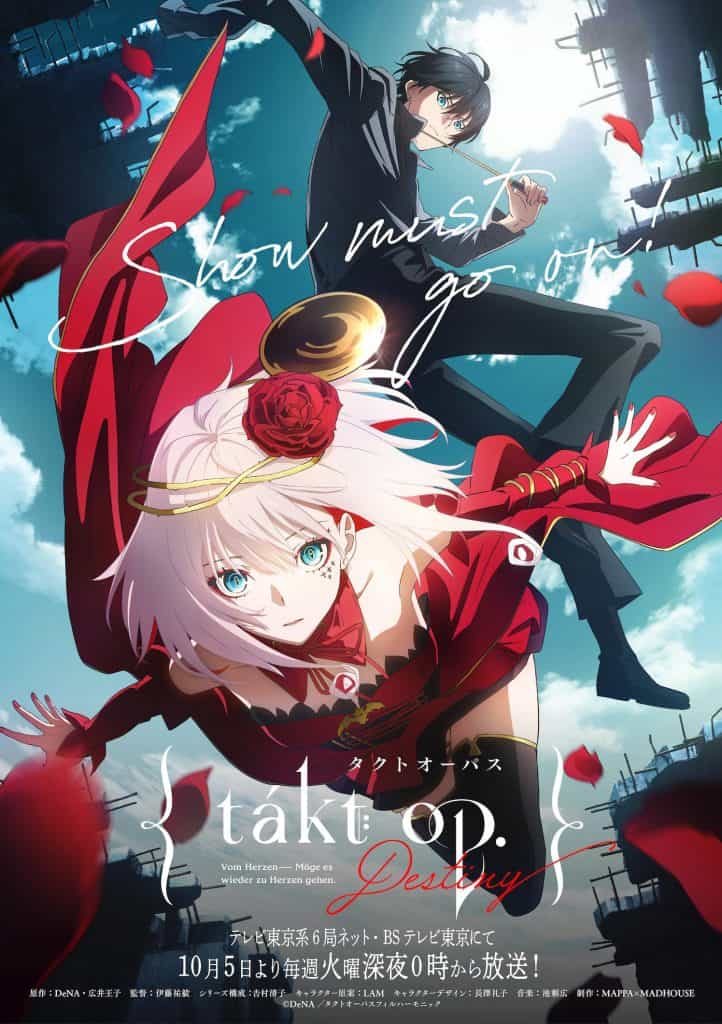 Takt Op. Destiny Teaser
Takt Op. Destiny Action
In the story of the anime, one day a black meteorite fell on the world, and the world completely changed. The meteorite produced grotesque monsters called D2, which started running rampant. D2 very quickly banned all music, which was the one thing able to overcome them. But there were some people who resisted the D2. They are young women who hold the power of music, the "Musicart." These young women hold "scores" that are able to defeat the monsters. And there are also people who lead these women, the Conductor.
The anime takes place in America in the year 2047, which has fallen to ruin thanks to the D2. Takt, a Conductor, is partnered with a Musicart named Unmei. Takt yeans for music to be returned to the world, and Unmei wishes to destroy the D2. Their aim is to travel to New York.