On the official website of "Azur Lane", it was recently announced that the anime adaptation of Hori's manga series "Azur Lane: Bisoku Zenshin!" will be broadcast on Japanese television from January 11, 2021. You can see a new teaser in which the theme song Longing for! by Emi Nitta can be heard below.
Azur Lane: Bisoku Zenshin! Release Date
The short anime is directed by Masato Jinbo ("Senry" Girl" at Yostar Pictures and CANDY BOX. Yu Satou ("Morita-san wa Mukuchi") writes the script, while Hiromitsu Hagiwara is responsible for the character design. Each episode of the series is expected to run for a total of ten minutes, according to an entry on Japanese TV channel ATX-X.
Azur Lane: Bisoku Zenshin! will be on Japanese television from January 11, 2021.
The original manga is from the pen of Hori and is based on the smartphone game "Azur Lane". The series has been released in Japan since April 2018 and has so far counted a volume.
A first anime series for "Azur Lane" ran in Japan in autumn 2019. It was directed by Tensho at Bibury Animation Studios.
Azur Lane: Bisoku Zenshin! Visual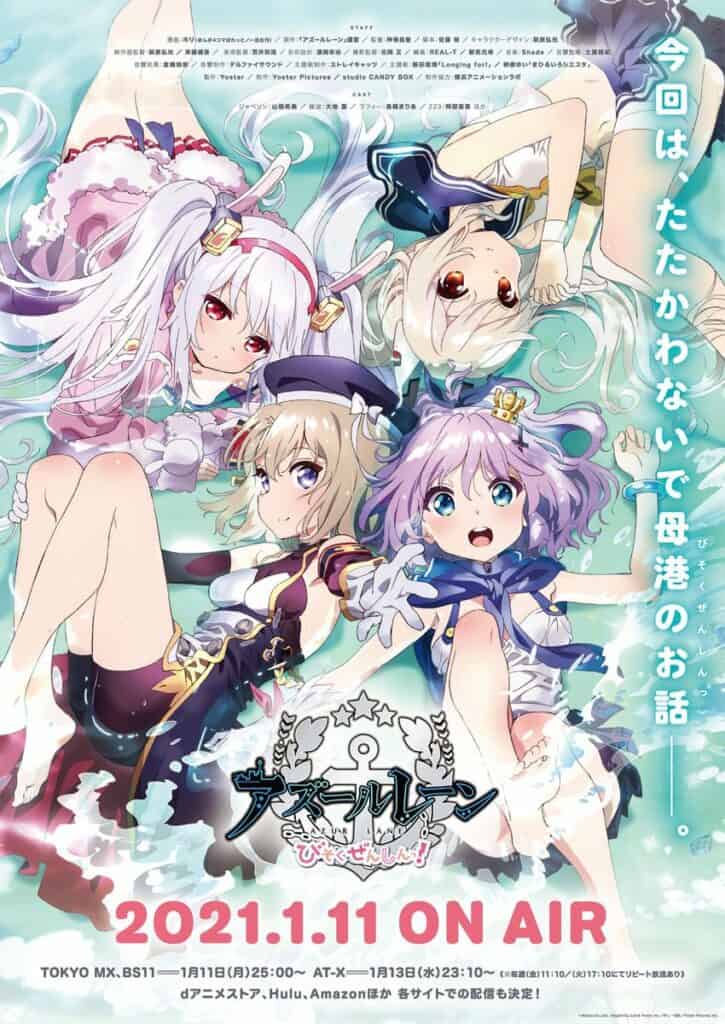 Teaser
Cast
Action
In a seemingly peaceful time without looming threats of Sirens or war, shipgirls from different nations live together in harmony. Some girls, such as the destroyers Ayanami, Javelin, Laffey, and Z23, attend school. Others immerse themselves into various other activities, including sports, foraging, training, going to formal parties, or even vying for the commander's attention! But one thing is for certain: the girls will continue to deepen their friendship in the pleasant port of Azur Lane!