On the website of the anime adaptation of the manga series "Horimiya" it was announced today that the romance series will be broadcast on Japanese television from January 9, 2021. In addition, an entry to the Japanese disc release revealed that the series will cover a total of 13 episodes.
A new visual for the upcoming series was published today on the official website of the anime adaptation of the manga series "Horimiya", which you can see below in the article. A new promo video is slated to be released on December 21, 2020.
On the website of the anime adaptation of the manga series "Horimiya" a new trailer for the upcoming series was released today, which you can watch below. The video introduces Yoh Kamiyama's opening "Iro Kosui" and Friends' ending "Yakusoku".
Horimiya Release Date
Studio CloverWorks (Shadows House, Bunny Girl Senpai & Dakaichi) is responsible for the production of "Horimiya". The film is directed by Masashi Ishihama, who has held this position on "From the New World", among others. Takao Yoshioka ("Seconds in Minor") writes the screenplay, while Masaru Yokoyama ("Fruits Basket 2019") composes the music.
Haruka Tomatsu (Zero Two in "DARLING in the FRANXX") as Kyoko Hori and Kouki Uchiyama (Raku Ichijou in "Nisekoi") as Izumi Miyamura star.
The manga series by author HERO was originally published as a webcomic between February 2007 and December 2011 under the title "Hori-san to Miyamura-kun". A new version with drawings by Daisuke Hagiwara has been published since October 2011 under the name "Horimiya".
Horimiya Visual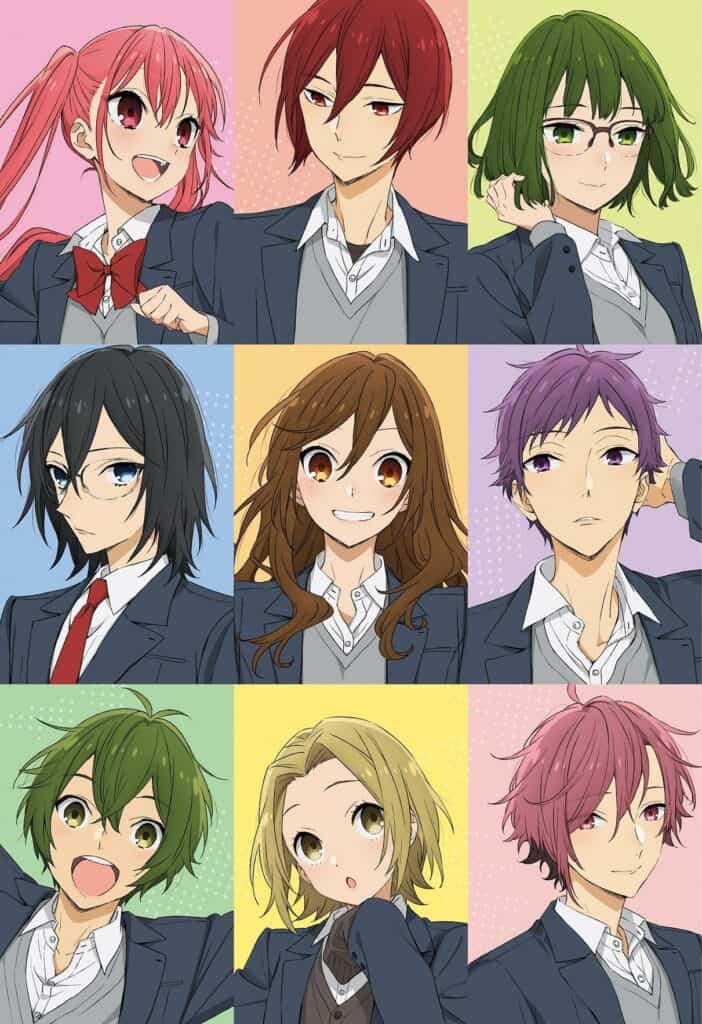 Poster #1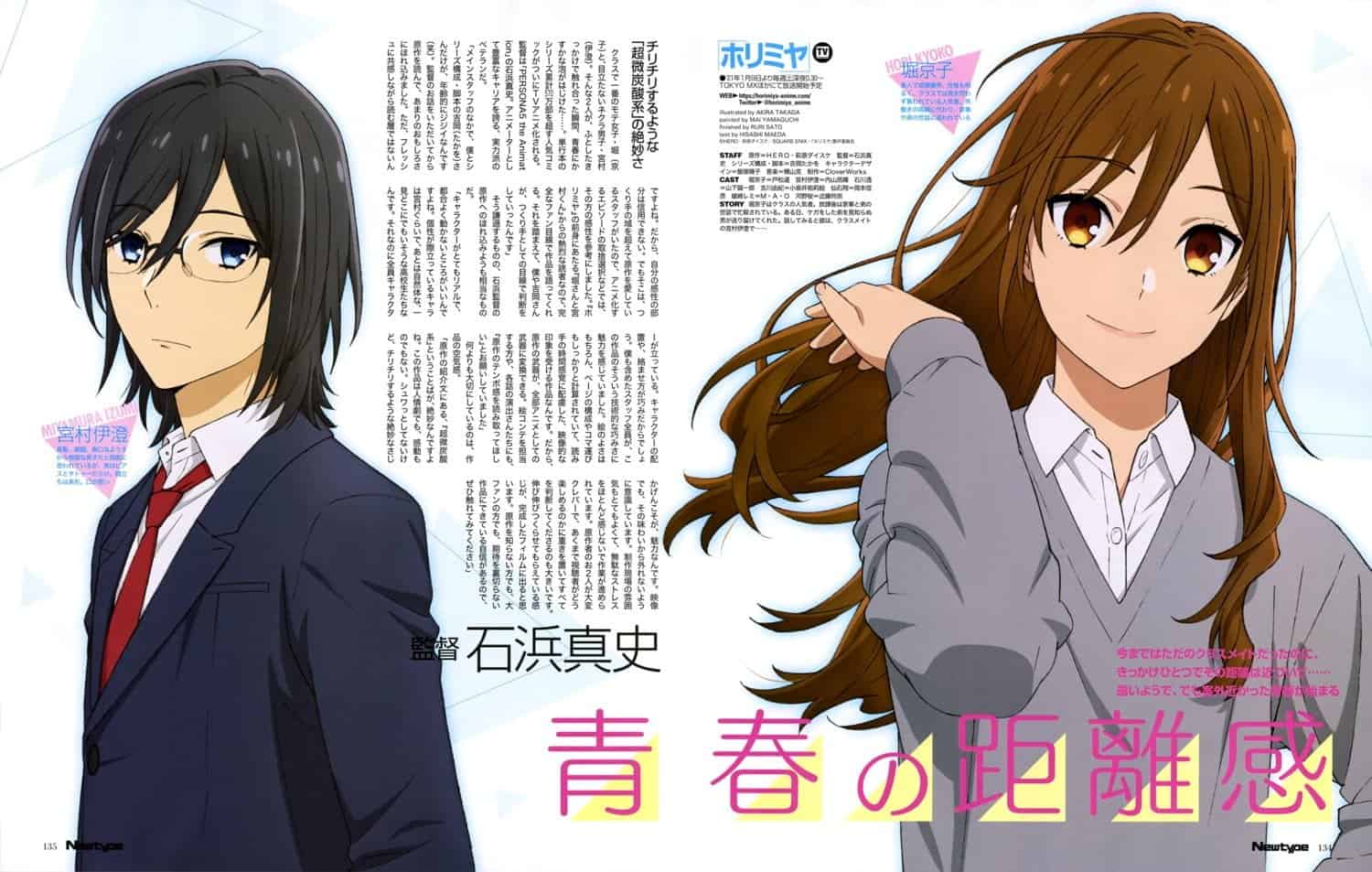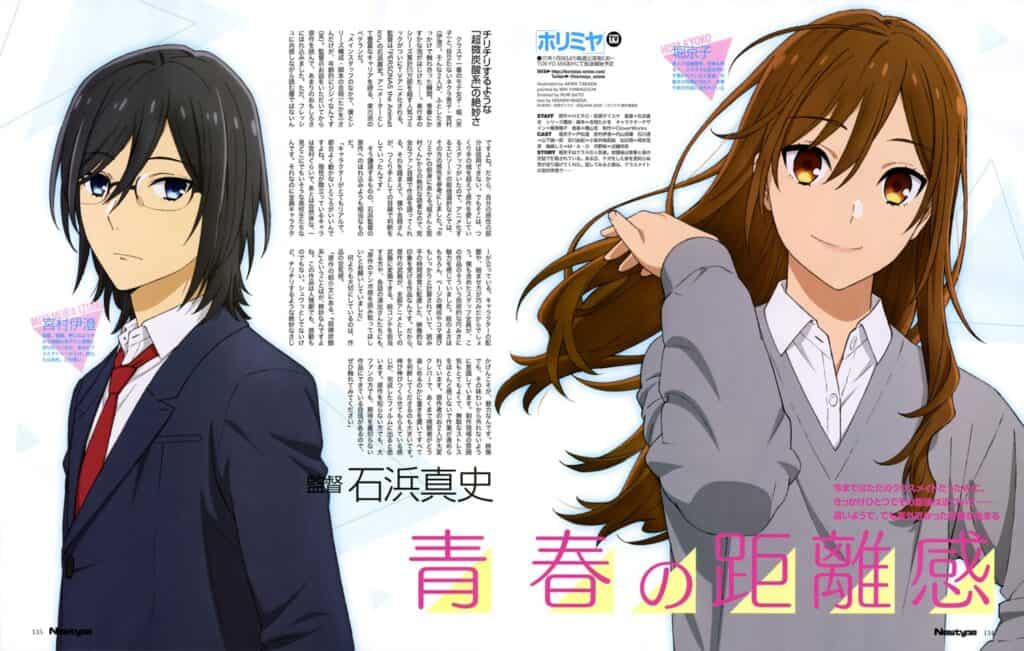 Poster #2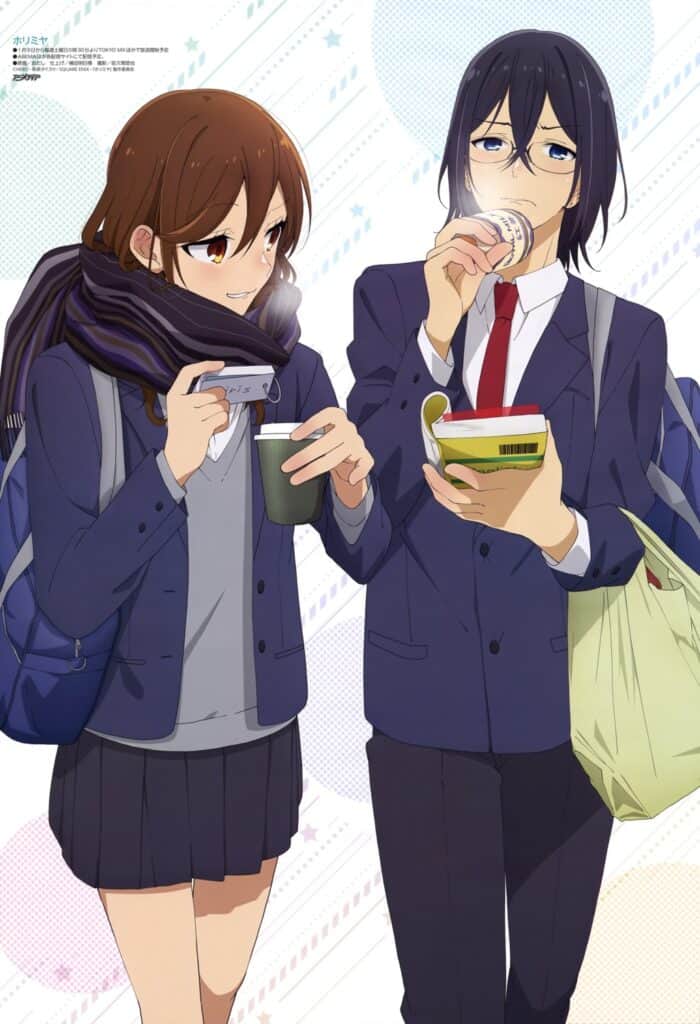 Horimiya Trailer
Horimiya Characters, Cast & Staff
I. Characters & Cast
| | |
| --- | --- |
| Character | Voice Actor |
| Shu Iura | Daiki Yamashita (Genta Doi, Hi Score Girl) |
| Akane Yanagi | Jun Fukuyama (Lelouch vi Britannia, Code Geass) |
| Kōichi Shindo | Taku Yashiro (Vulcan Joseph, Fire Force) |
| Makio Tanihara | Shōya Chiba (Yū, Fire Force) |
| Honoka Sawada | Momo Asakura (Nagisa Kashiwagi, Kaguya-sama: Love is War) |
| Kyōsuke Hori | Daisuke Ono (Sebastian Michaelis, Black Butler) |
| Yuriko Hori | Ai Kayano (Akari Kawamoto, March comes in like a lion) |
| Sōta Hori | Yuka Terasaki (Basil, Reborn!) |
| Motoko Iura | Hisako Kanemoto (Tuka Luna Marceau, GATE) |
II. Production Team
| | |
| --- | --- |
| Character Design | Haruko Iizuka |
| Producer | Cloverworks |
| Script | Takao Yoshioka |
| Music | Masaru Yokoyama |
Horimiya Action
"Horimiya" is about Kyoko, a high school student. She is known to everyone in school as smart, pretty, and popular. Her classmate Izumi, on the other hand, is shy and very reserved. But when the two meet one day, they are amazed: Suddenly a pierced Izumi in punk clothes stands in front of an unstyled Kyoko!
Are the two teenagers, who usually seem so different to their classmates, maybe not so dissimilar after all?