Dark anime is more than just gore, blood, and monsters. From psychological thrillers to dystopian societies, the genre offers terrifying, subtle, and twisted elements that give these shows a sick, bleak, or simply twisted atmosphere.
All anime and manga are made with the blood and ink of the creators so caution this list is not in any order so feel free to pick the ripe one. Here is a list of 35 Dark Anime series for someone who is seeking something out of ordinary.
Dark Anime Series List
35 Ergo Proxy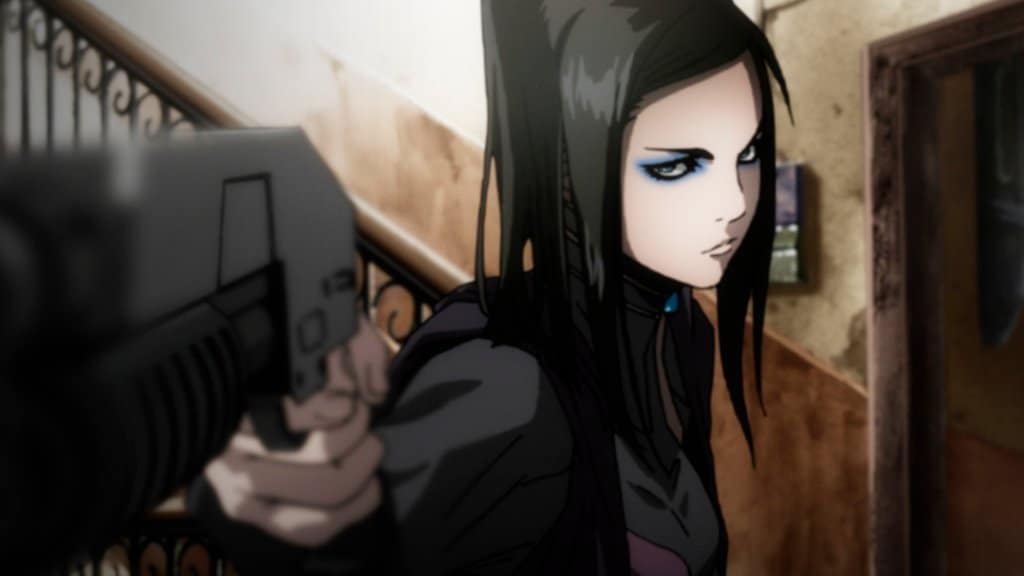 CYBER punk world ruled by advanced technology (the population's over-reliance on tech tools borders on unhealthy). Humans playing gods in a vain attempt to superficially suppress social malaises, ala Orwell's 1984. Dystopian narratives with elements borrowed heavily from loads of thought-provoking literature and philosophy.
Genres: Psychological, Mystery, Sci-Fi
Sometime in the distant future, humanity has managed to survive, but only in isolated cities and through the use of cloning and robotic servants called Autoraves. Life in the cities is strictly controlled by management dedicated to preserving their 'utopian' way of life. But something is causing the Autoraves to become independent and is driving them to seek to escape the city. Re-l Mayer, a female inspector from the Citizen Information Board, learns that the awakening of the Autoraves is caused by an encounter with something called a Proxy. In seeking to learn more, Re-l stumbles into a secret that management is desperately trying to hide and will go to any length to keep suppressed.
34 Gunslinger Girl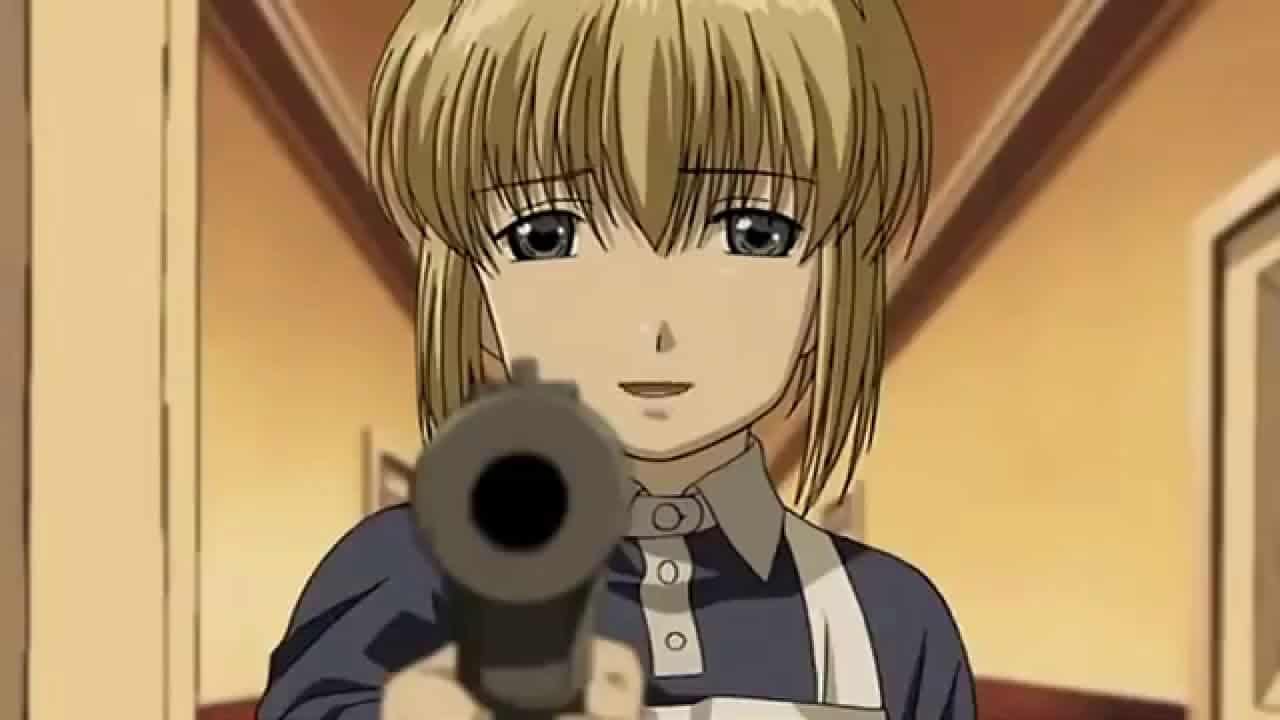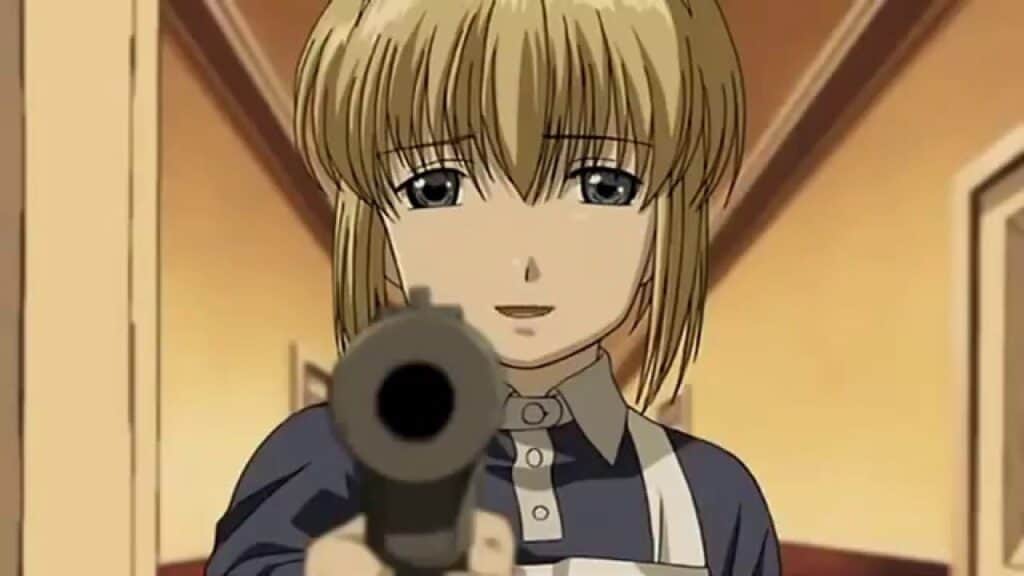 Nostalgic feelings, very ambiguous, problems that they are showing are difficult to assess.
Genres: Action, Psychological, Military, Drama, Sci-Fi
The stage is Europe. A national public interest corporation, the Social Welfare Corporation, called it "a job for the country" and gathered girls for various reasons. The girls were "conditioned" and used as "prosthetic bodies" for work such as "assassination." The girls had men of intelligence who managed each, and managed, ordered, and made the girls fight.
Given the free body and work of the Social Welfare Corporation, the girls were very happy, although they only had to go back and forth between the corporation's facilities and the murder scene. Even if it is the happiness given.
33 Cossette no Shouzou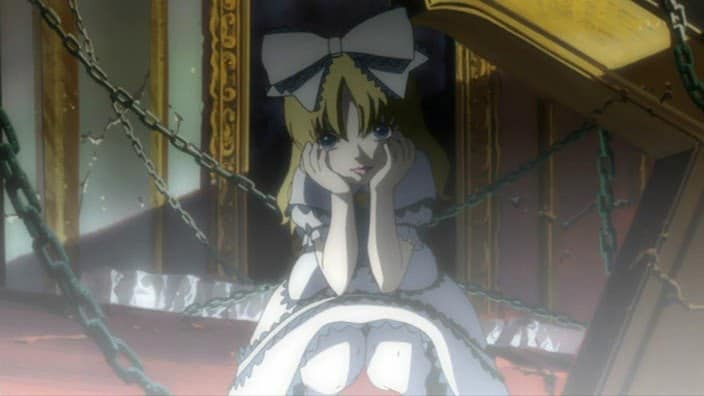 Lots of gore, powerful music, lolis, and a complicated but not fully explored plot.
Genres: Drama, Horror, Magic, Psychological, Romance, Supernatural
Eiri, a talented art student, works part-time in an antique shop in a quiet part of town. One afternoon, he uncovers a delicate Venetian glass that holds a startling secret. When Eiri peers into the glass, he can see a young blond girl, her life playing out like a movie solely for him to see. Curious, he stares into the glass, hoping to learn more about the enchanting girl inside. She is Cossette, a mysterious beauty who haunts the glass, waiting 250 years for someone to finally see her, and set her free. Eiri is soon obsessed with Cossette, determined to do anything he can to help her. Will Eiri see past all the illusions and discover the tragic truth about Cossette, or will he be consumed by anguish and obsession?
32 Ghost In The Shell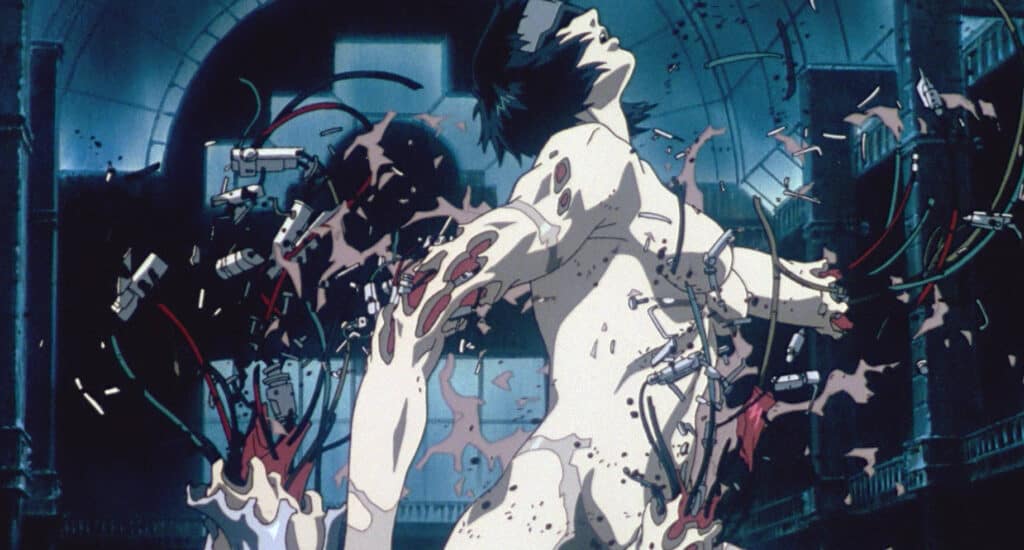 Ghost in the Shell is more cerebral, cyberpunk classics, but with a slightly different approach.
Genres: Action, Mecha, Police, Psychological, Sci-Fi, Seinen
It is the year 2029. Technology has advanced so far that cyborgs are commonplace. In addition, human brains can connect to the internet directly. Major Motoko Kusanagi is an officer in Section 9, an elite, secretive police division that deals with special operations, including counter terrorism and cyber crime. She is currently on the trail of the Puppet Master, a cyber criminal who hacks into the brains of cyborgs in order to obtain information and to commit other crimes.
31 Aoi Bungaku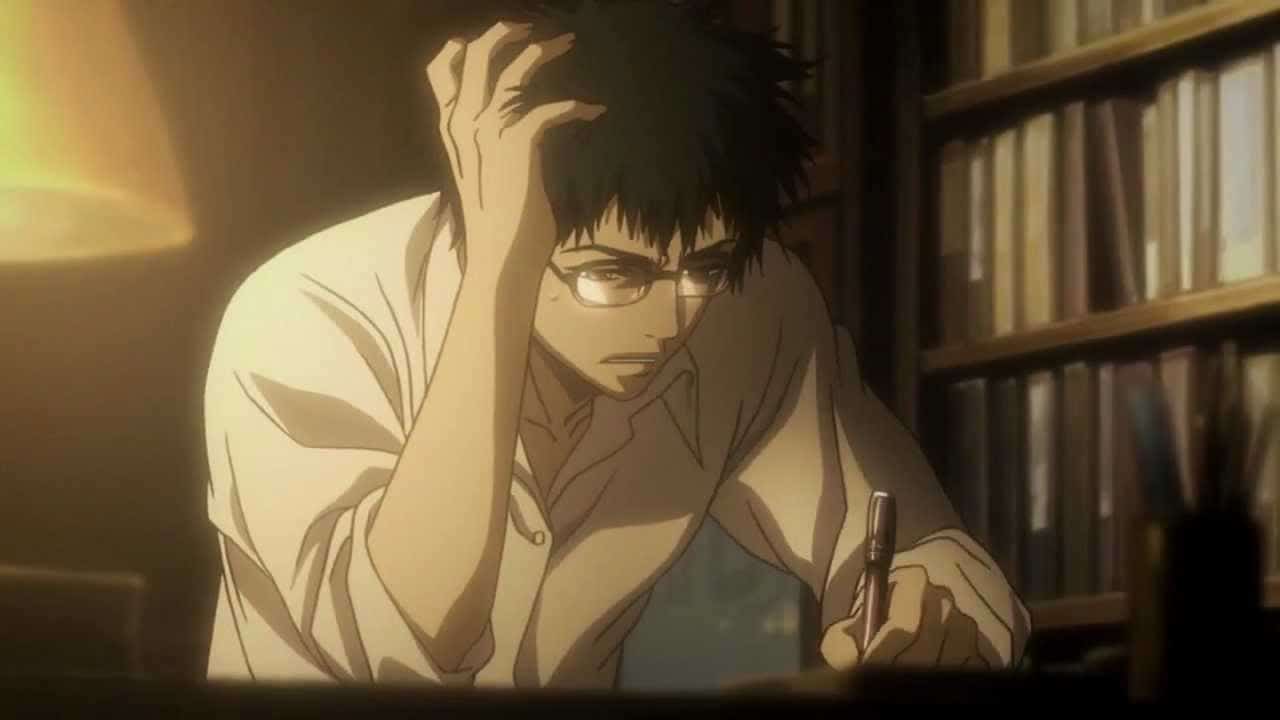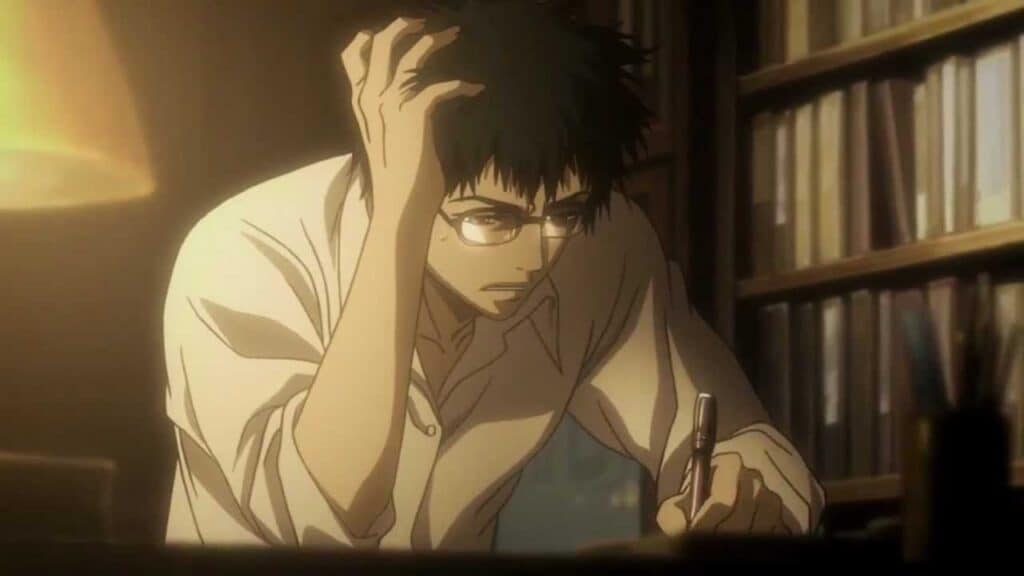 Mature, serious psychological anime and with the amazing character design of Takeshi Obata.
Genres: Drama, Historical, Psychological, Seinen, Thriller
Sometimes the greatest distance is between people. Whether a man alienates himself from society with a façade of cheerfulness, or two friends fail to communicate their feelings of betrayal, invisible barriers plague mankind. Although love should bring people together, when a stoic renter and a dutiful monk choose to court a widow's daughter, their mutual affections drive a bitter gap between them. During each encounter filled with mistrust and despair, the flaws of human nature slowly reveal themselves.
30 Serial Experiments Lain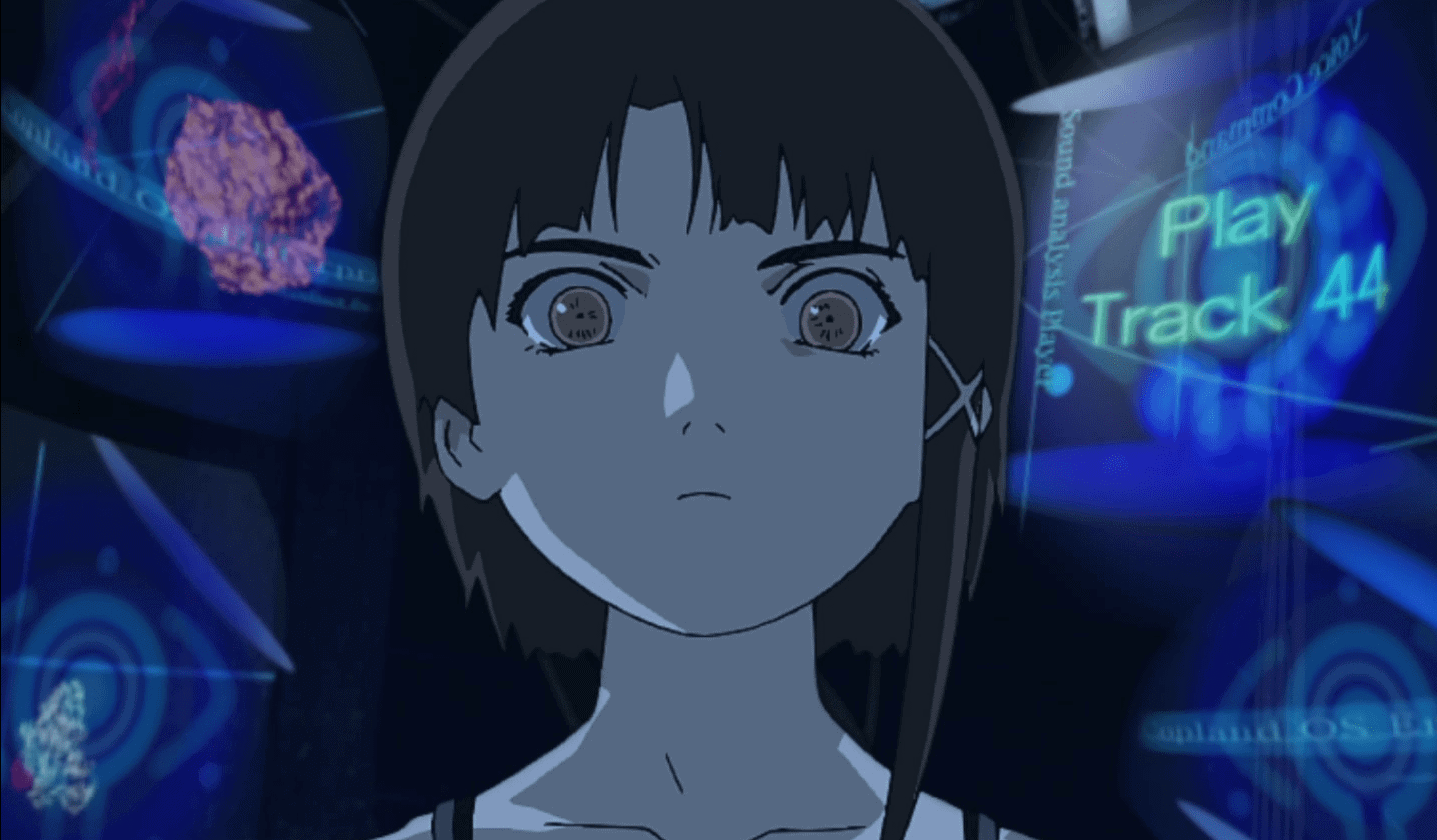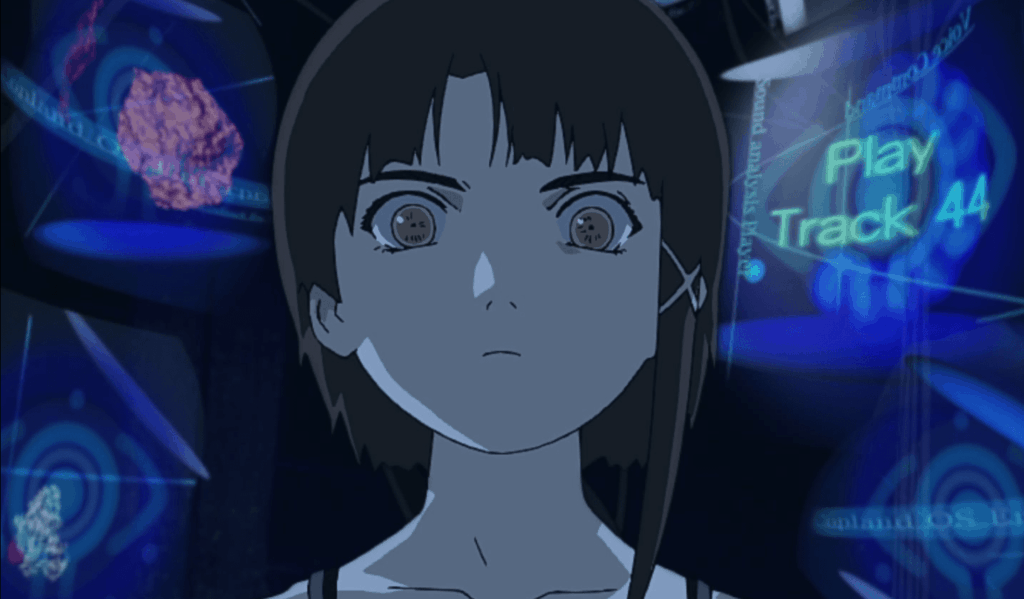 If you like complex thinking, you should watch this. Very psychological.
Genres: Dementia, Drama, Mystery, Psychological, Sci-Fi, Supernatural
Lain Iwakura, 14 years old. He must have been a normal girl except that he was introverted and not good at socializing. The appearance of a girl who looks exactly like her but has the opposite behavior. The mysterious events that occur around her are a sign that the boundary between the network world and the real world, which should have been separated, begins to collapse. A cultic psycho-horror that is drawn in and cannot be returned.
29 Death Parade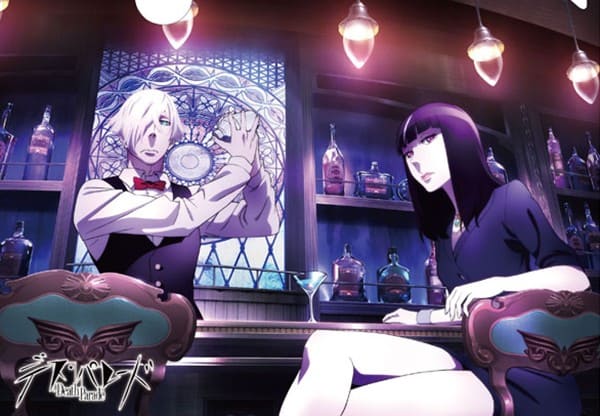 Life after death, or better say afterlife quite interesting. Death Parade result to have a darker atmosphere and tone. This last one instead has somewhat of a more "colorful" atmosphere, but series can still have lighter and funny moments here and then.
Genres: Game, Mystery, Psychological, Drama, Thriller
Whenever someone dies, they are sent to one of many mysterious bars run by bartenders serving as arbiters inside a tower in the afterlife. There, they must participate in Death Games with their souls on the line, the results of which reveal what secrets led them to their situation and what their fate will be afterwards, with the arbiters judging if their souls will either be sent for reincarnation or banished into the void. The series follows Decim, the lone bartender of the bar where people who died at the same time are sent to, known as the Quindecim bar. He begins to question his own attitude to judging these souls in a dispassionate way when he meets a black-haired woman who committed suicide and realizes that she is dead.
28 Aku no Hana (Flowers of Evil)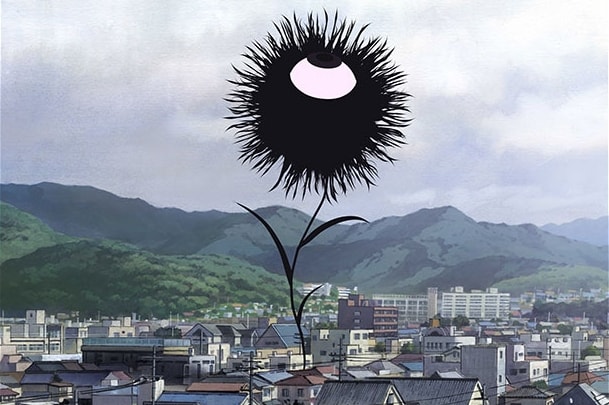 You wanted twisted depressed teenagers, desiring things they can't have, with a morbid idea of love, everything served in a peculiar art style? There you have.
Genres: Psychological, Drama, Romance, School, Shounen
Kusuga-kun steals a pair gym cloths of the girl he likes, the next day the girl that sits behind him reveals that she saw everything. Now if he don't form a "contract" with her she is going to tell.
27 Texhnolyze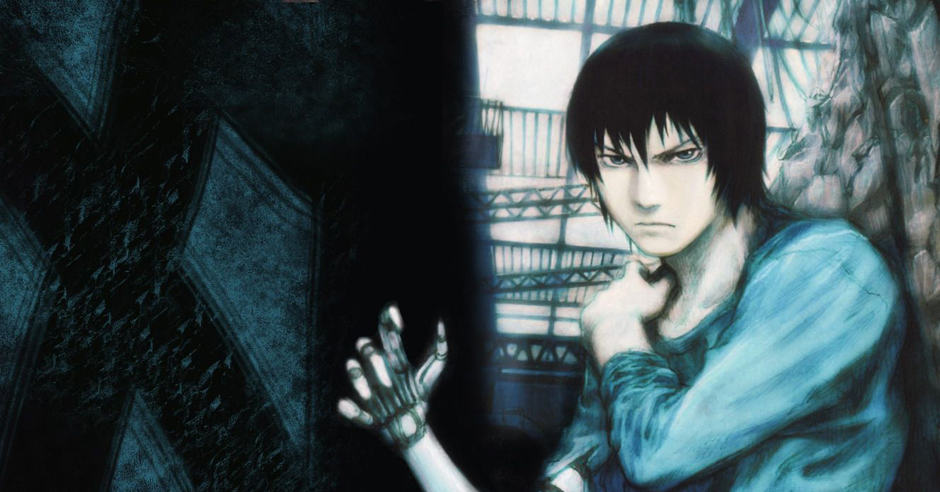 Texhnolyze is NOT a series for everyone. The pace is slow and punishing, and if your main squeeze is the straightforward action side of anime you will probably hate this. This slow and steady treatment of the story is more realistic and true-to-life.
Genres: Action, Sci-Fi, Psychological, Drama
In a man-made underground society, descendants of a banished generation vie for control of the crumbling city of Lux. Ichise, an orphan turned prize fighter, loses a leg and an arm to satisfy an enraged fight promoter. On the brink of death he is taken in by a young woman doctor and used as a guinea pig for the next evolution of Texhnolyze. With his new limbs, Ichise is taken under the wing of Oonishi, a powerful leader of Organ, an organization with some hold on Lux. As Ichise is drawn deeper into a war for territorial control of the city, he learns of his possible future from the young girl prophet Ran, who guides him from the shadows in his darkest times. With the explosion of the warfare, Ichise must uncover the truth about Lux and fight for his survival as he realizes his destiny.
26 Perfect Blue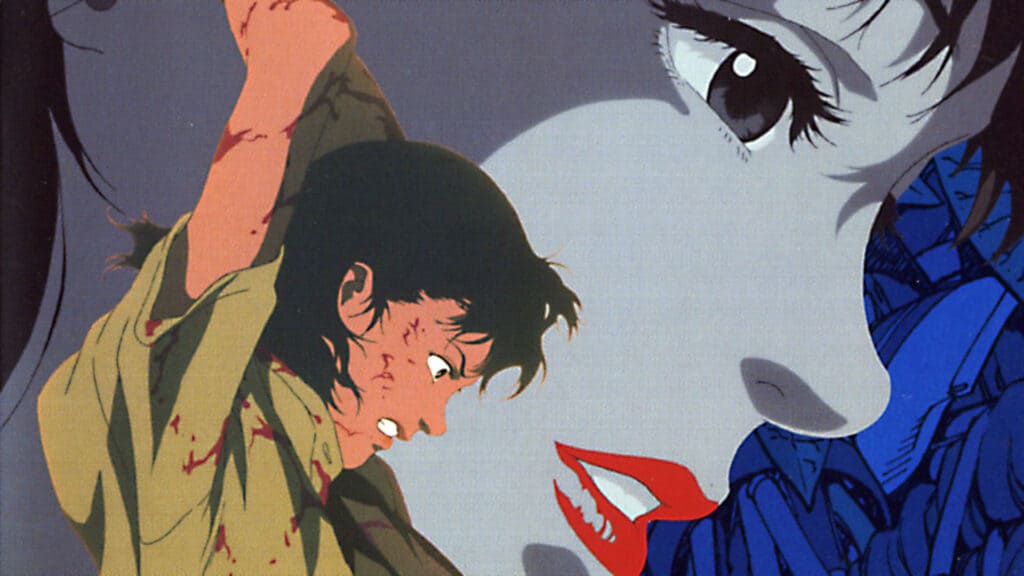 Psychological thriller movies Directed by Satoshi Kon. Blur the lines between fantasy and reality.
Genres: Dementia, Drama, Horror, Psychological
Mima, who left the idol group and started working as a new actress, can't hide her confusion in the radical gravure and TV drama work that goes against her intentions. However, murders targeting the people around her began to occur one after another.
25 Shiki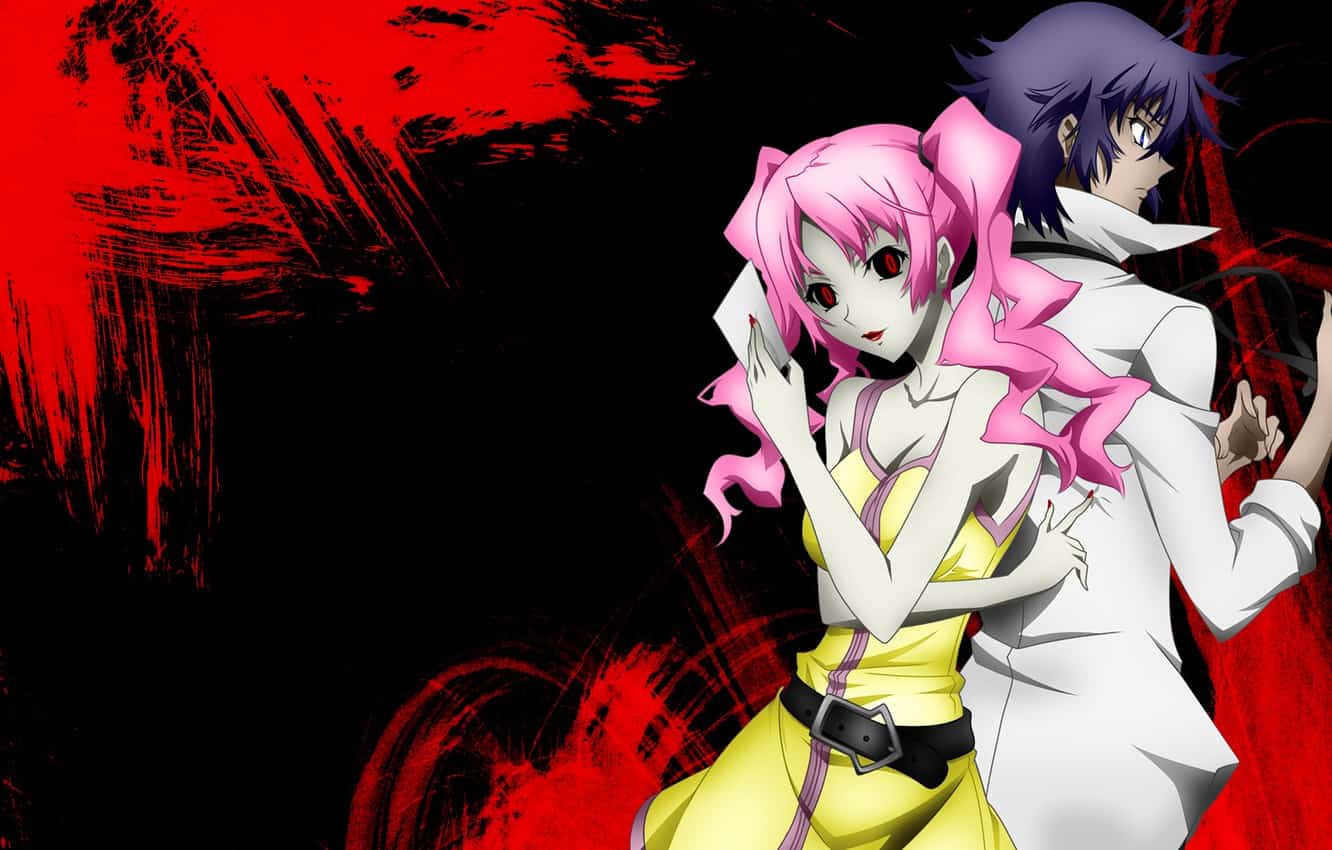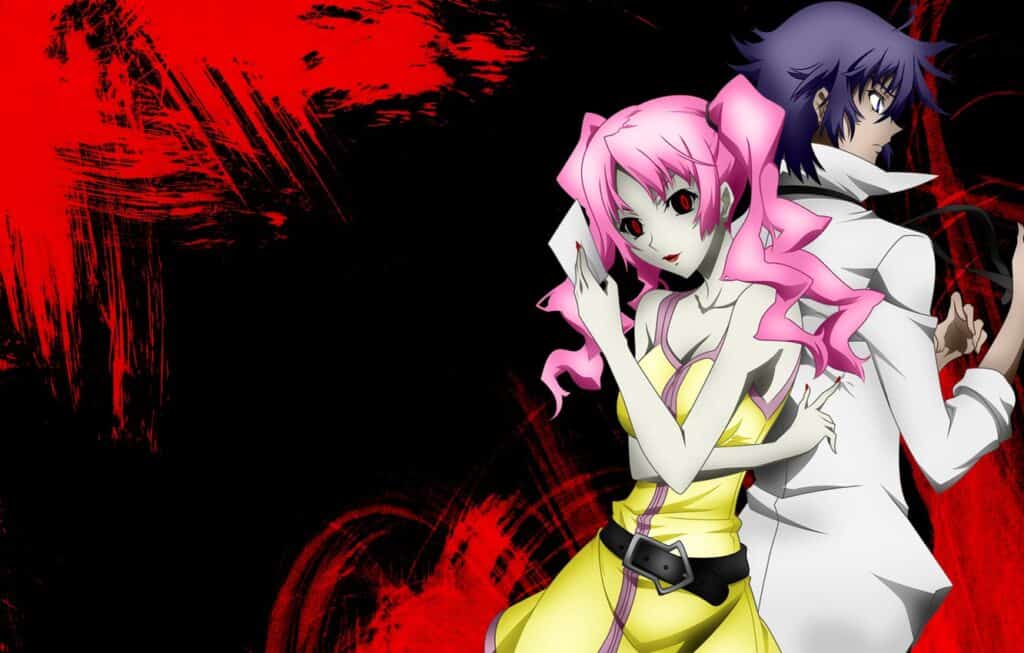 If you're looking for vampire genre with some darkness then this is for you.
Genres: Horror, Mystery, Supernatural, Thriller, Vampire
Sotoba is a small village with around 1300 inhabitants. It is not even connected to a single highway. In that isolated village, some old customs, such as the burial of the dead, are still practised. One day, the corpses of three people are found. Although Ozaki Toshio, the village's lone doctor, feels uncertain, he treats the deaths as normal occurrences. However, in the days following, the villagers die one after the other.
Is this mere coincidence, an epidemic, or something else entirely?
24 School Days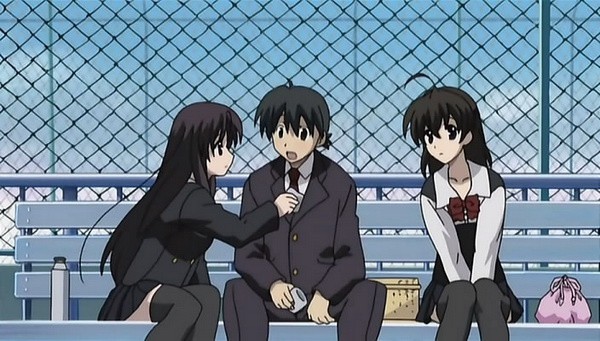 I don't think this one needs an introduction.
Genres: Harem, Drama, Romance, School
It was at the entrance ceremony of Sakakino Gakuen that "Makoto Ito" met "Kotonoha Katsura". The language is the class next to Makoto, who goes from the same line and takes the train at the same time every day to read a book. I'm curious, but I'm just looking at it from a distance … However, it was just that. The magic of a mobile phone… "Love will be fulfilled if no one finds out for 3 weeks waiting for a picture of a favorite person."
23 Monster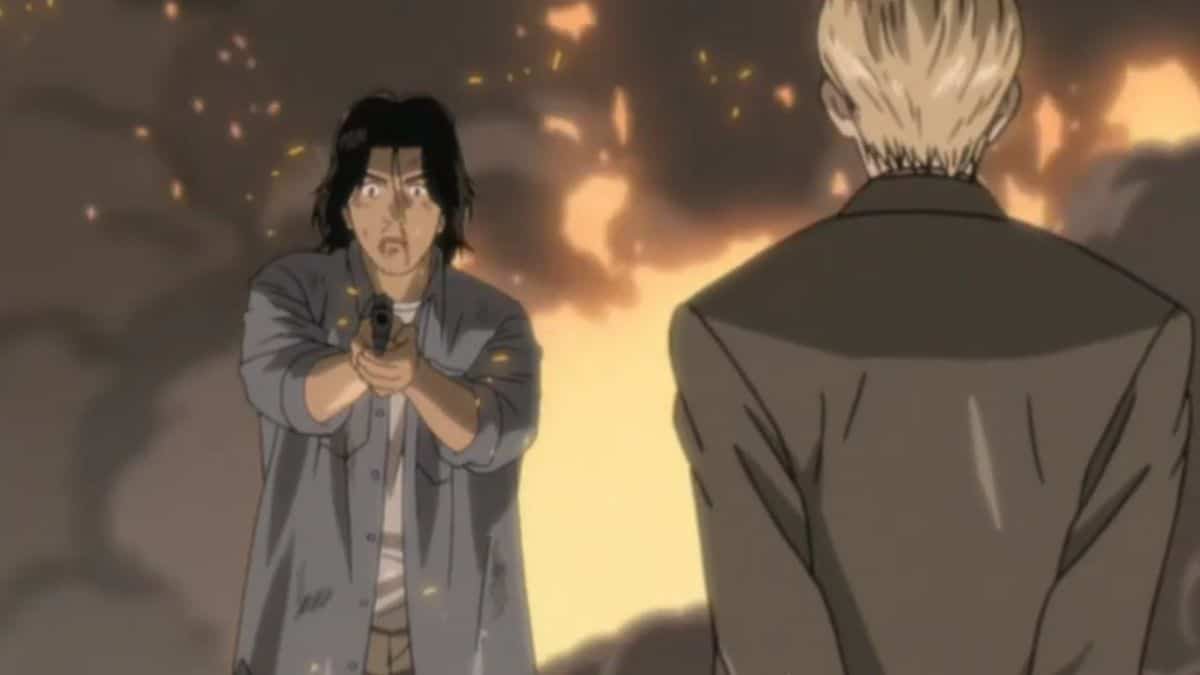 Monster is definitely a DARK anime, but you need a lot of patience watch this one because of it's mysteriousness.
Genres: Drama, Horror, Mystery, Police, Psychological, Seinen, Thriller
Kenzo Tenma, a Japanese genius neurosurgeon at the Eisler Memorial Hospital in Germany, has been engaged to the director's daughter Eva and has been sailing smoothly. One day, the twin brothers of an exile family from East Germany were shot in the head and carried. Immediately after, an order comes to give priority to the operation of the fallen mayor… He needs to pick which one he needs to treat, and what's the cost of it after that comes of it.
22 Berserk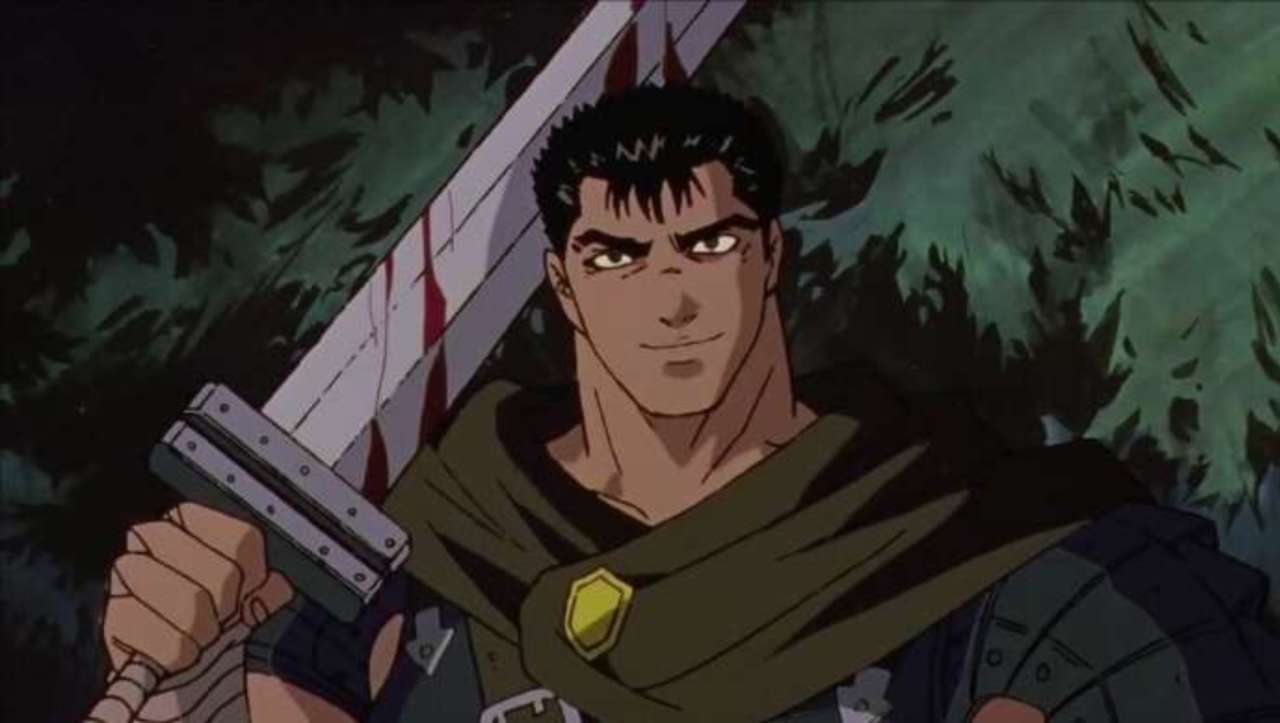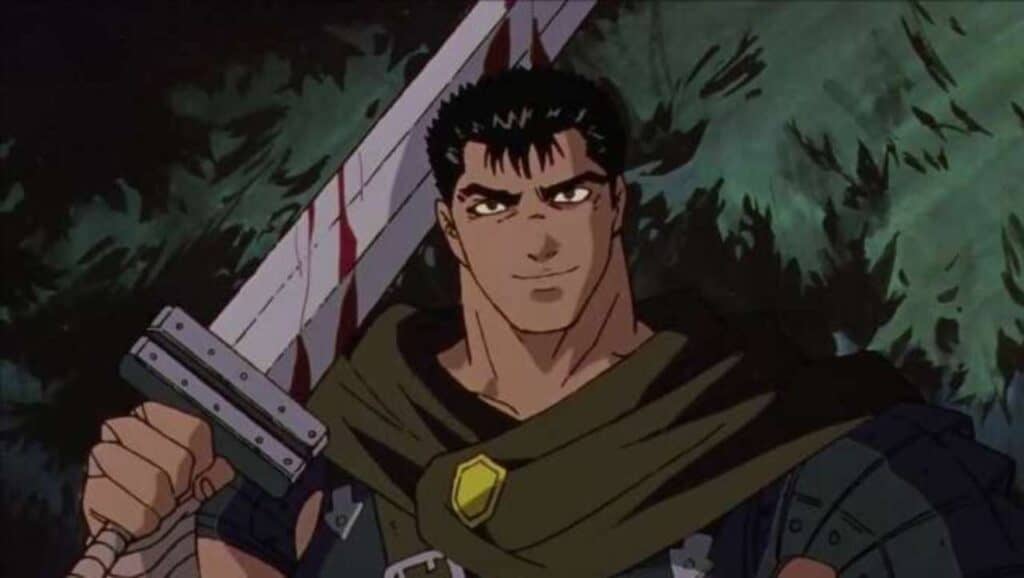 Historically dark anime, monsters and some twist to it.
Genres: Action, Adventure, Demons, Drama, Fantasy, Horror, Military, Romance, Seinen, Supernatural
Guts, known as the Black Swordsman, seeks sanctuary from the demonic forces attracted to him and his woman because of a demonic mark on their necks, and also vengeance against the man who branded him as an unholy sacrifice. Aided only by his titanic strength gained from a harsh childhood lived with mercenaries, a gigantic sword, and an iron prosthetic left hand, Guts must struggle against his bleak destiny, all the while fighting with a rage that might strip him of his humanity.
21 Claymore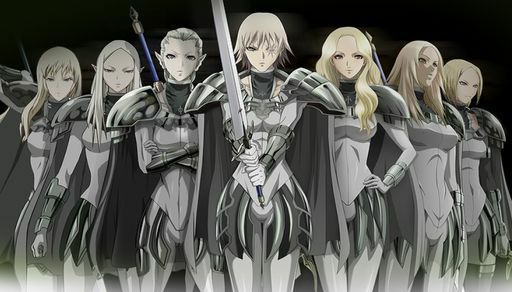 Super power girls fighting monsters, with an unexpected ending.
Genres: Action, Adventure, Super Power, Demons, Supernatural, Fantasy, Shounen
The show is set on a fictional medieval island where people are harassed by Yoma, humanoid shape-shifters that feed on people. A cryptic group, called The Organization, creates human-Yoma hybrid vehicles to kill Yoma for a fee. These female warriors wear uniforms that are armored.
20 Blood+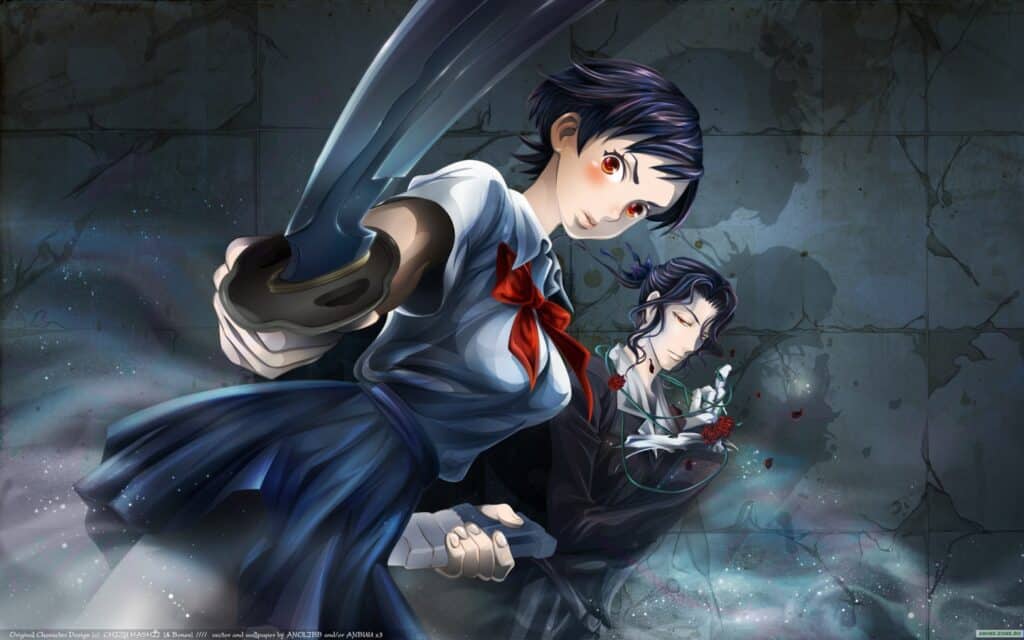 Blood+ is a show with very deep story lines and with a dark vibe.
Genres: Action, Military, Mystery, Horror, Supernatural, Drama, Vampire
Set several decades after the events in the popular Blood: The Last Vampire anime film, an amnesiac Saya Otonashi lives as a seemingly normal high school student with her adoptive family in Okinawa. Horrible nightmares are the only hints at the violent life she once led, but her past is about to catch up with her and awaken the merciless warrior within. Chiropterans–powerful shape-changing creatures who need and crave blood-threaten humanity once more, and a mysterious organization called the Red Shield needs Saya's deadly sword skills and mysterious powers to aid in the fight against these beasts. As her submerged abilities begin to reawaken and as she seeks to regain her memories, Chiropteran warriors are guided by a mysterious leader to threaten Saya and her loved ones.
19 School Live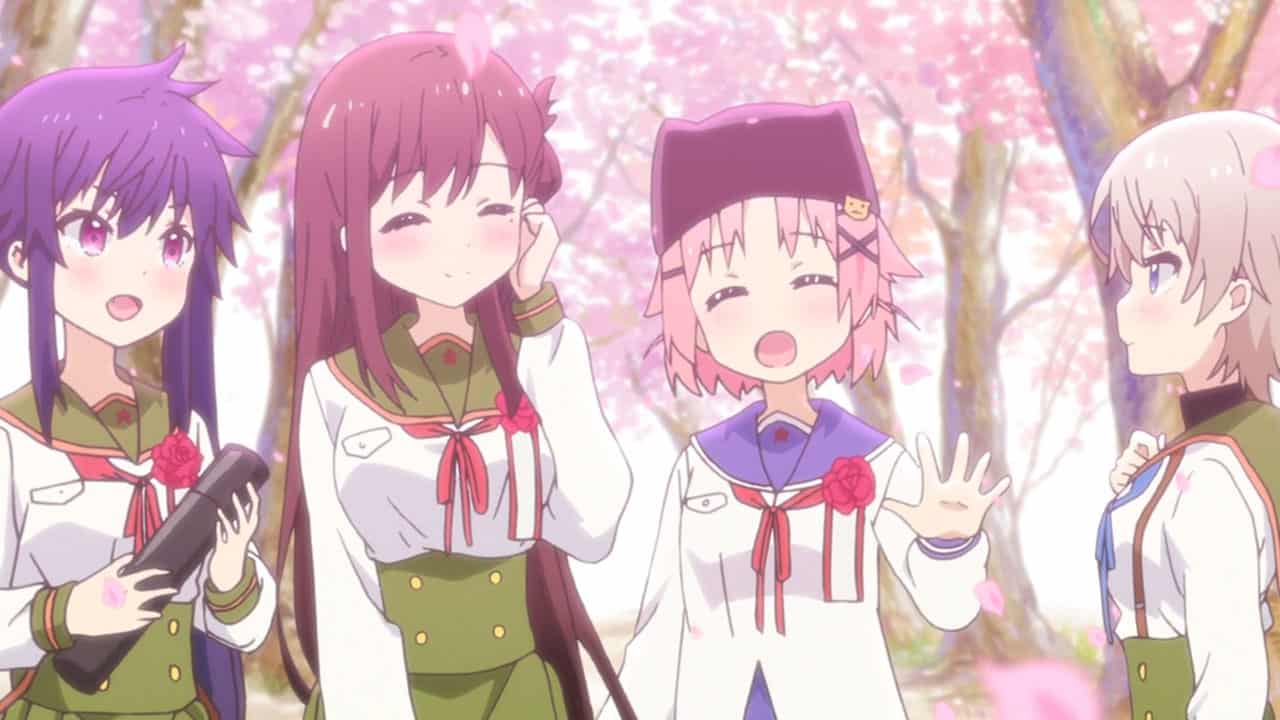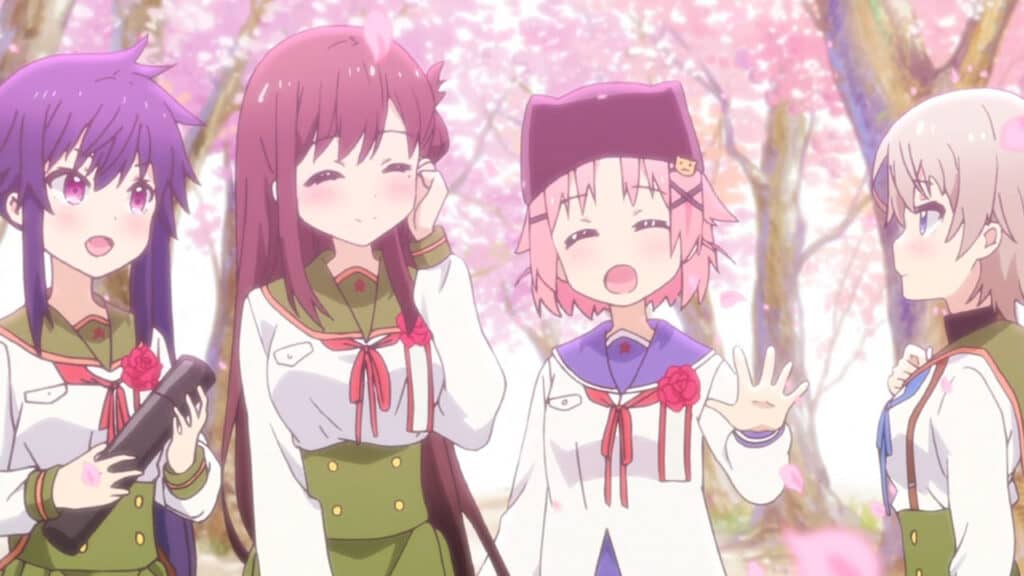 1st episode will threw all convention out the window, it created garner buzz within the anime community.
Genres: Slice of Life, Psychological, School, Horror, Mystery
Takeya Yuki is in love with the school. For her, it's a wonderful place, where she enjoys her school activities, especially the activities of her club: School Life Club. The club has Rii-chan as the president, Kurumi-chan as another member, and the teacher, Megu-nee, always there for them. Yes, she is in love with her school… on her mind. Because, for her, the reality of the school and their club's activities is way too hard to be perceived… From Batoto: Three high school girls and a teacher are camping at school. The First Article of the "School Life Club" Code reads: The School Life Club encourages a spirit of self-governing independence by camping at school, as well as socializing with various after-school clubs, which you can't enjoy from regular classes alone."
18 Elfen Lied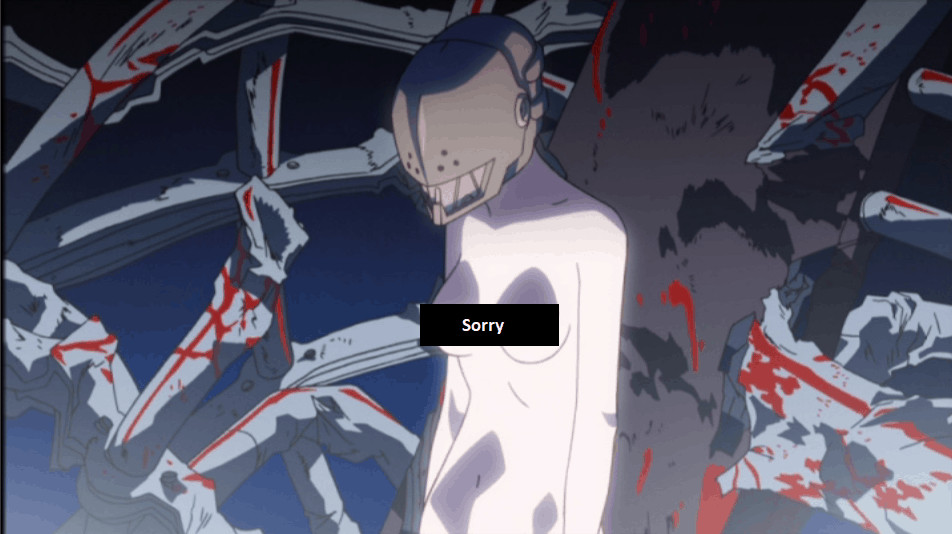 Infamous for its bloody mess of gore, cruelty and nudity.
Genres: Action, Horror, Psychological, Supernatural, Drama, Romance, Seinen
The story involves human mutations called "diclonii", who are born with horns on their heads and possess telekinetic powers, in the form of invisible "arms" called vectors. The power of these arms vary, but they can stop normal bullets and deflect some others. The number of them differs with each diclinous, as does their full range. The tendency for violence among diclonii is high, especially as they grow older. As children, their violence stems from a certain playfulness, unlike the absolute hatred of humans in their later years. Diclonii are rare, as they are the members of their species that are able to reproduce naturally. Silpelits are more common.
17 Fate/Zero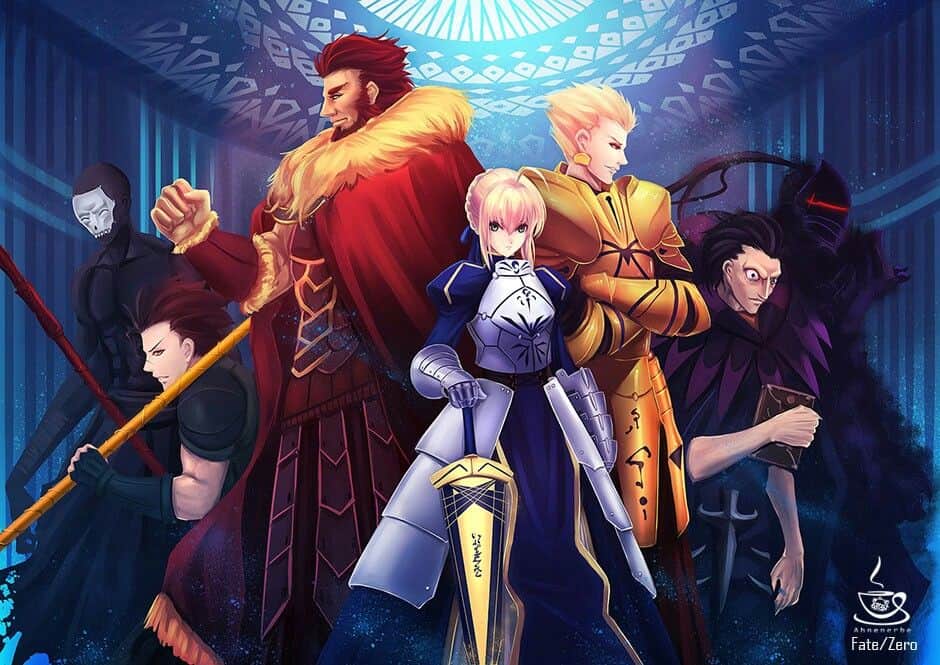 If you like Hunger Games type of anime with some darkness than you hit the jackpot.
Genres: Action, Supernatural, Magic, Fantasy
Studio: Ufotable (God Eater, Demon Slayer, Kara no Kyoukai)
In pursuit of the power of the "Holy Grail" that fulfills miracles, seven people magician masters seven Spirit Servant The ultimate duel drama that summons and fights until it becomes the last one. Thrice Mitabi, The struggle that was postponed to the conclusion is now cut off for the fourth time.
The magicians who entrust their wishes for victory to each of them and go to the battlefield called Fuyuki. However, there was a man who couldn't find any meaning in his battle alone. His name is-Kirei Kotomine.
16 God Eater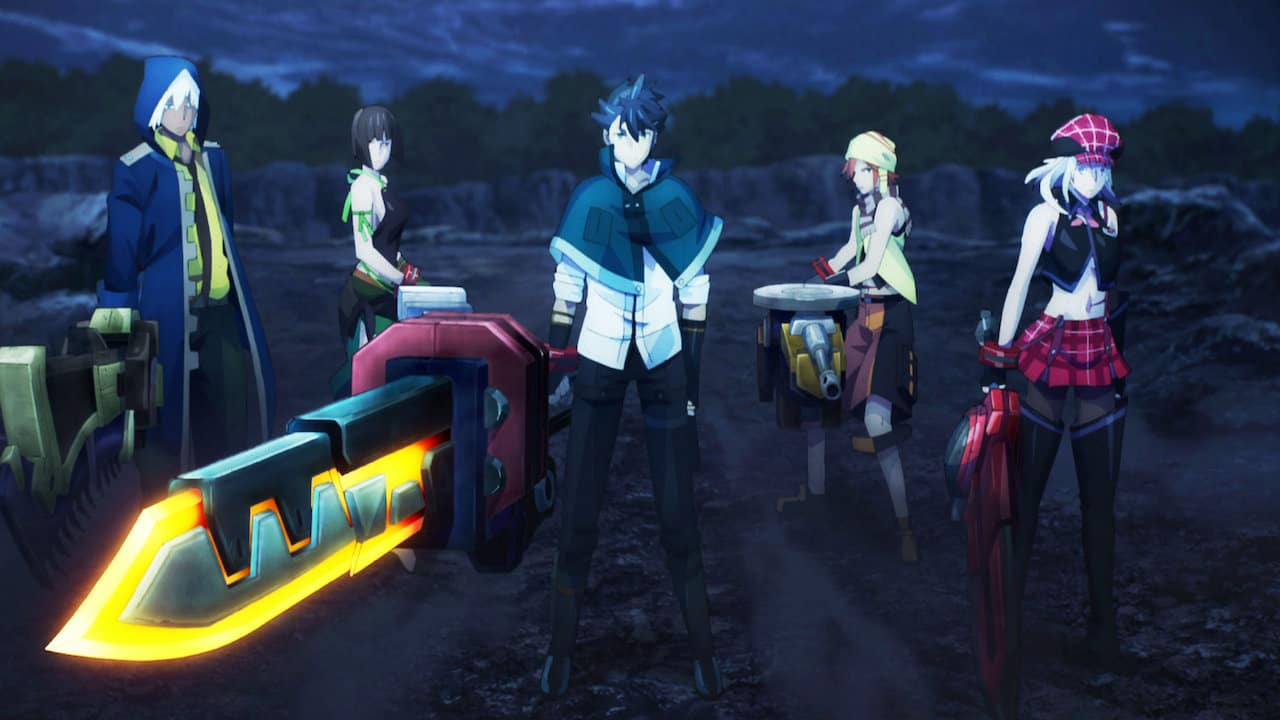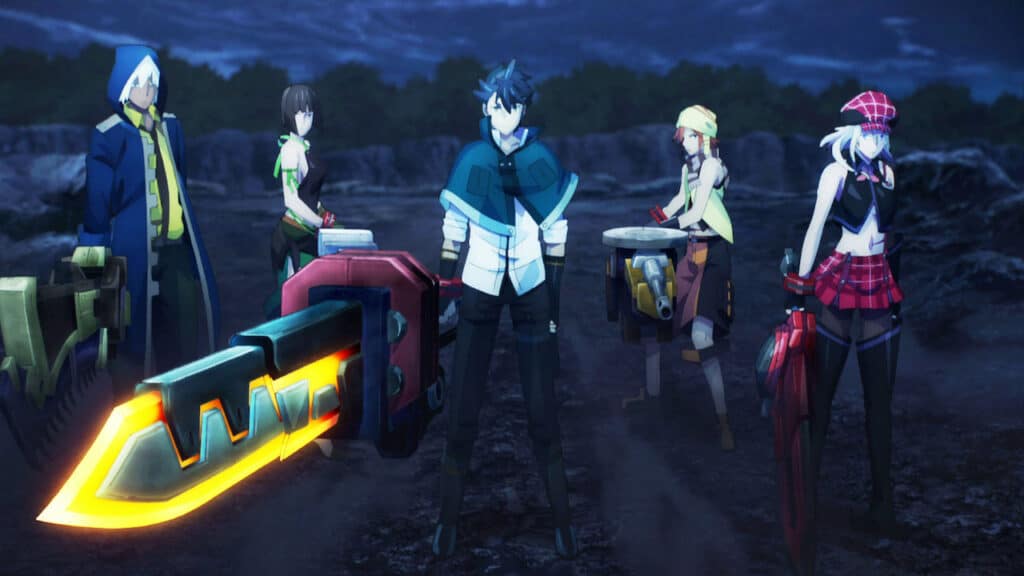 God Eater is a slow starter but goes 0-100 and pick up the phase real fast. As for story Humans with biological weapons fighting monsters.
Genres: Action, Fantasy, Military, Sci-Fi
Studio: Ufotable (Fate/Zero, Demon Slayer, Kara no Kyoukai)
In the early 2050s, the sudden appearance of an unknown life form, the "Oracle cell,"
began to "prey" on any object on Earth. One day, people called it "Aragami" in awe of its existence, which eats everything and undergoes various differentiation as a ferocious life form. Existing weapons had no effect before Aragami, urban civilization collapsed, and humankind was gradually deprived of its habitat.
A ray of light shines on such humankind. A biological weapon "God Eater" with embedded Oracle cells was developed, and a special unit to operate it, commonly known as "God Eater", was formed. In a world oppressed by the raging gods, the curtain of the "God-eating thing" will come tomorrow.
15 Parasyte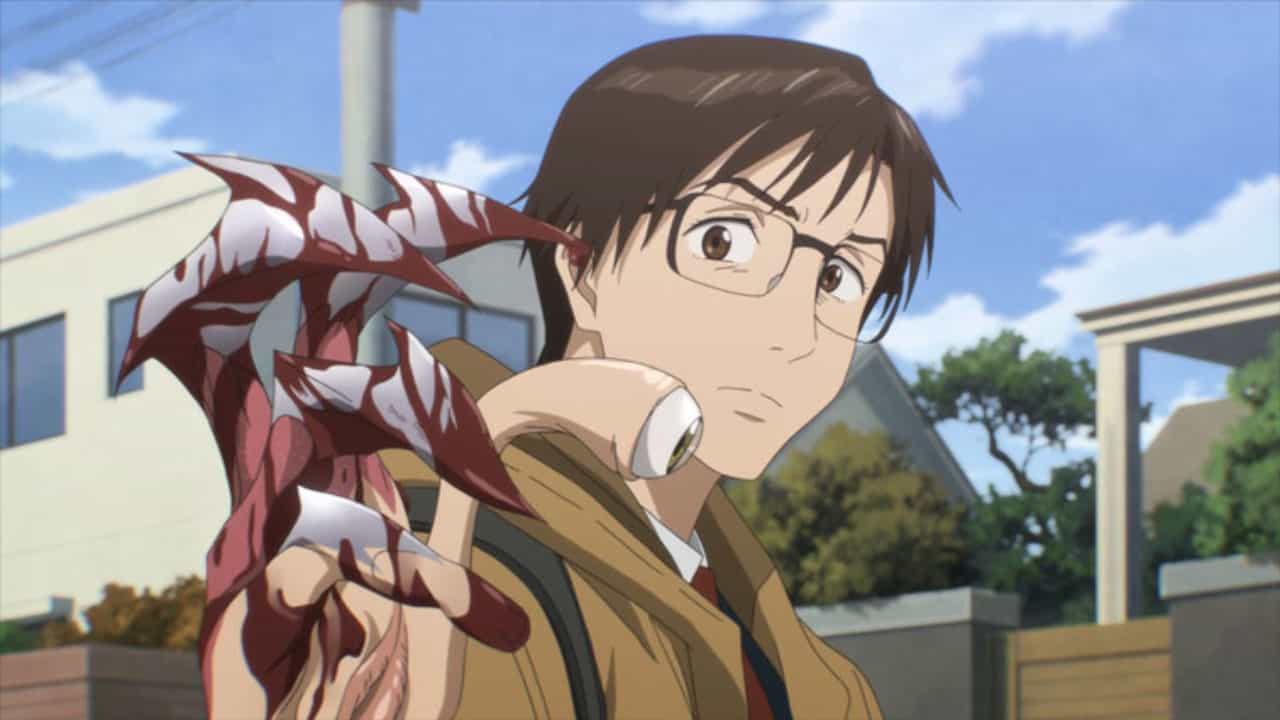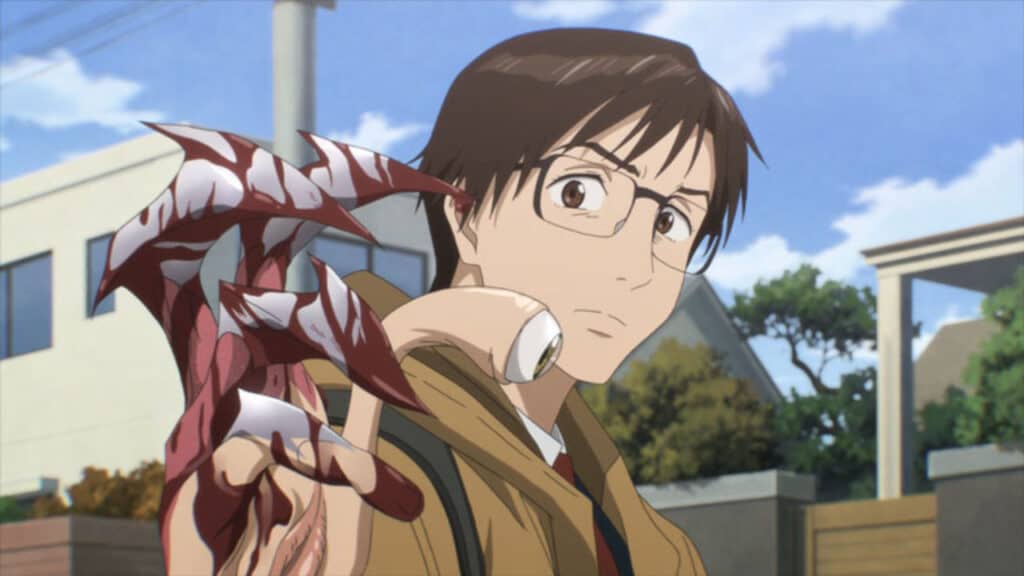 The series definitely doesn't stay true to the dark-premise of the manga, especially towards the end.
Genres: Action, Sci-Fi, Horror, Psychological, Drama, Seinen
Shinichi Izumi, an ordinary high school student, is attacked by a "Parasite" who suddenly arrives one day. Parasite parasitizes and assimilates Shinichi's right arm, although he can avoid parasitism on the brain with short hair. A strange symbiotic life between humans and Parasite, who calls himself "Migi" after his right hand, begins. Shinichi was worried because he couldn't tell the truth to the people around him, but eventually, Shinichi and Miggy began to feel something close to friendship.
14 Jormungand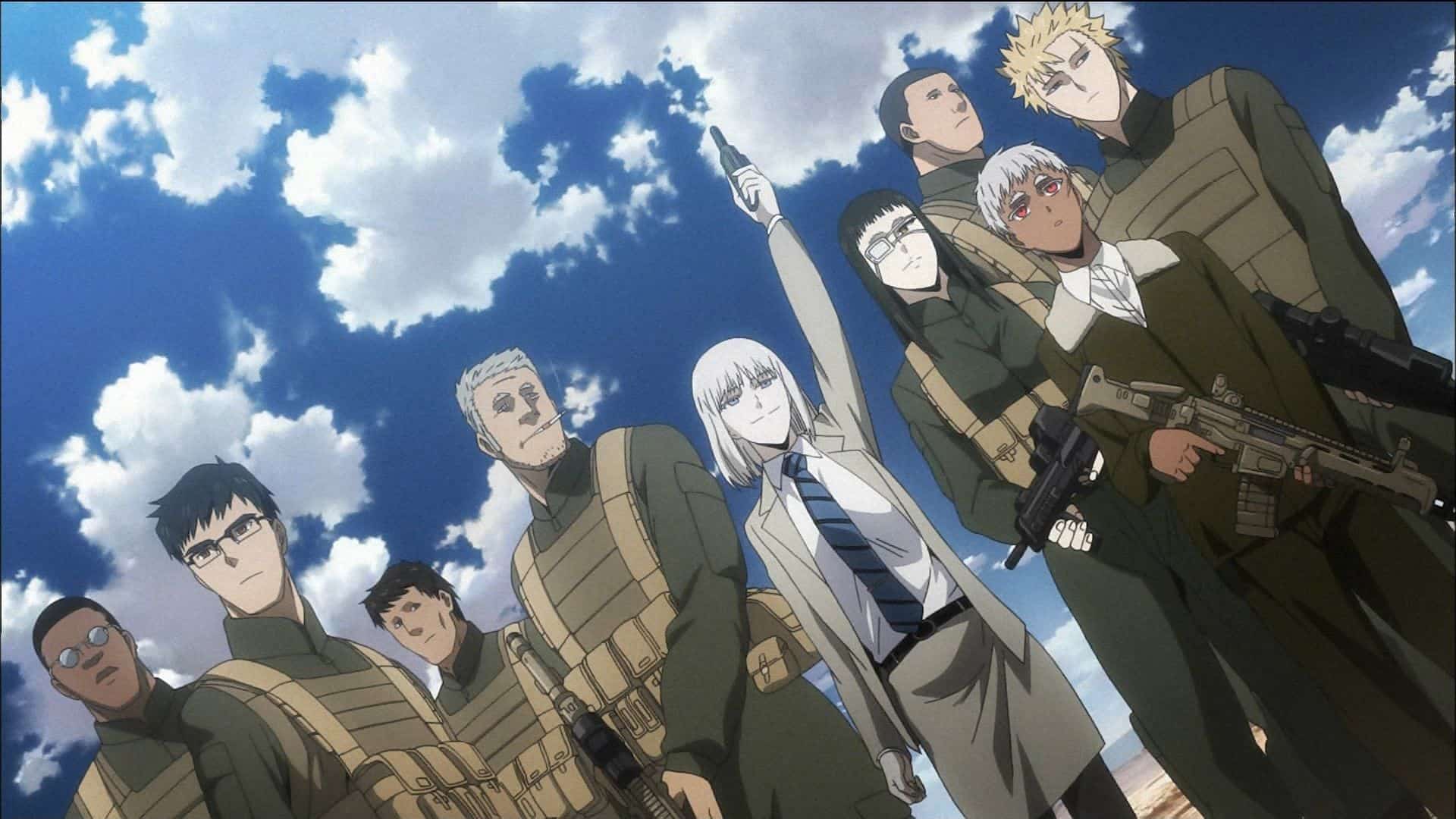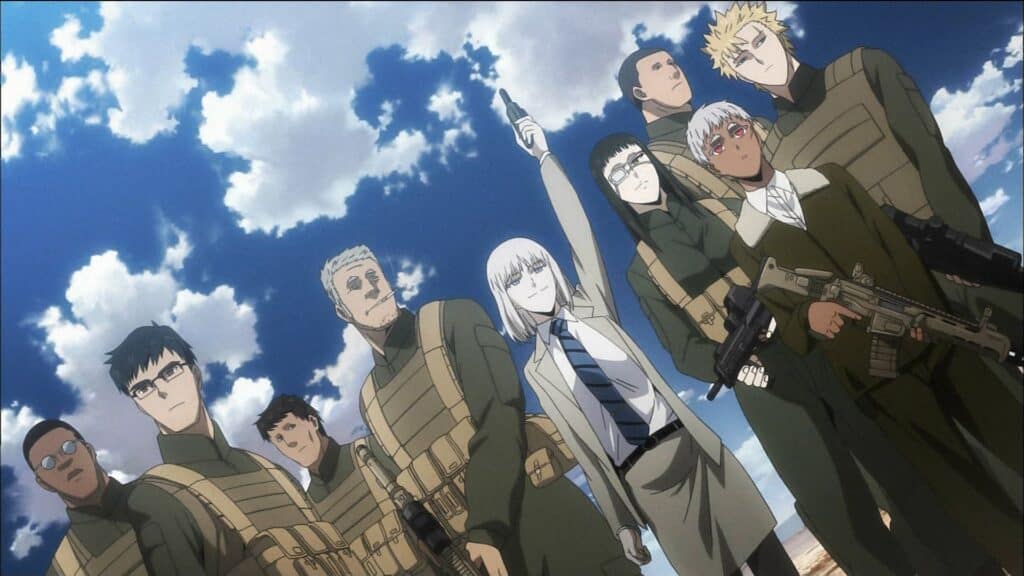 Guns, wars, arms dealers, child soldiers, and whatnot, For those who are into the fast action type, the type of series involving kickass music then this for you.
Genres: Action, Adventure, Seinen
Jonah is a child soldier, born amidst the chaotic conflicts that rage across West Asia, his family lost to a war fueled by weapons supplied by the so-called Merchants of Death international arms dealers. Despite Jonah's hatred of weapons and violence, he employs both extremely well in the service of high-flying arms dealer Koko Hekmatyar and her band of mercenaries. Their journey through the dark underbelly of the world's arms markets may lead only to damnation, but will Jonah one day make his way back to the light?
13 Hellsing Ultimate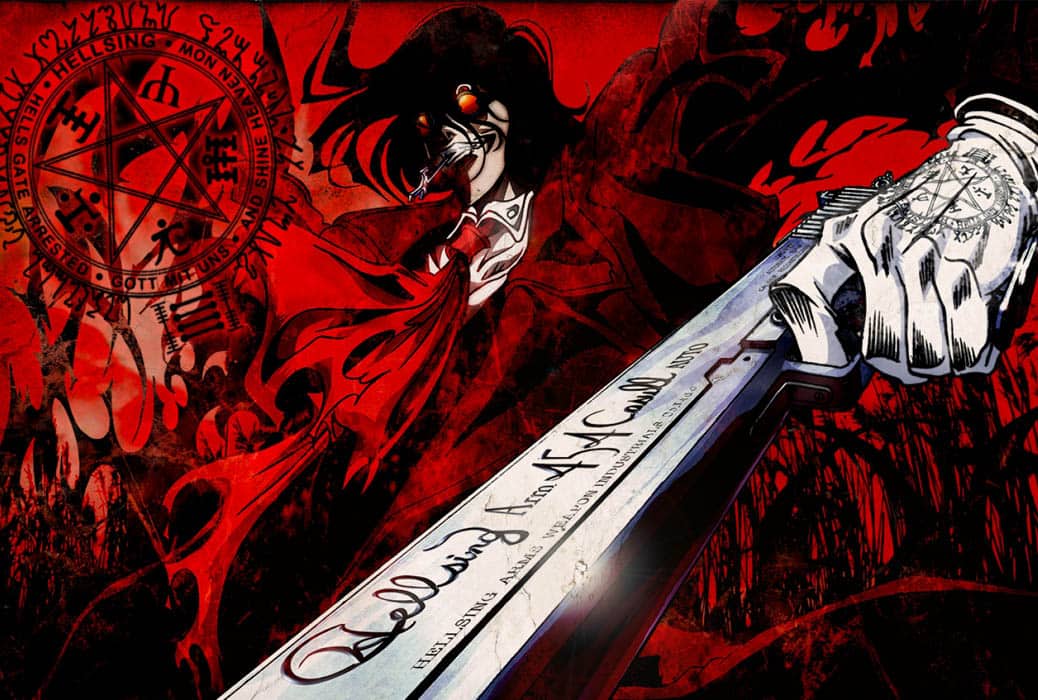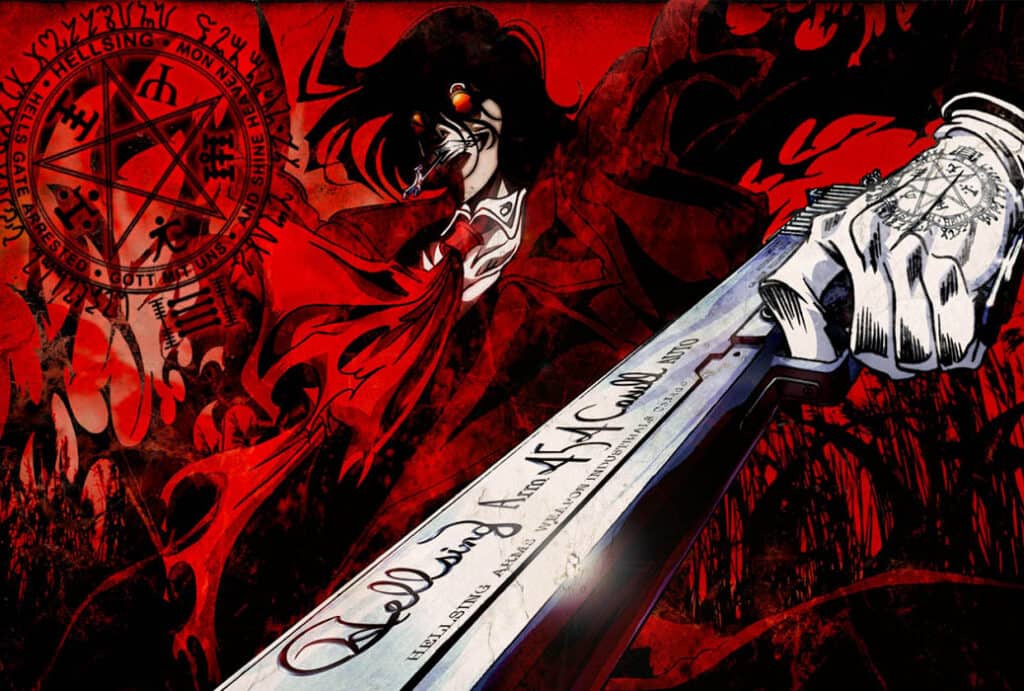 Don't mistake Hellsing for Hellsing Ultimate, they have a different ending. Hellsing Ultimate follows manga's ending while staying true to the story of the author.
Genres: Action, Military, Horror, Supernatural, Vampire, Seinen
Hellsing, a secret organization of the British government, have long been battling supernatural threats to keep the people safe from creatures of the night. The current leader, Integra Wingates Hellsing controls her own personal army to eliminate the undead beings, but even her highly trained soldiers pale in comparison to her most trusted vampire exterminator, a man by the name of Alucard, who is actually a powerful vampire himself.
12 Samurai Champloo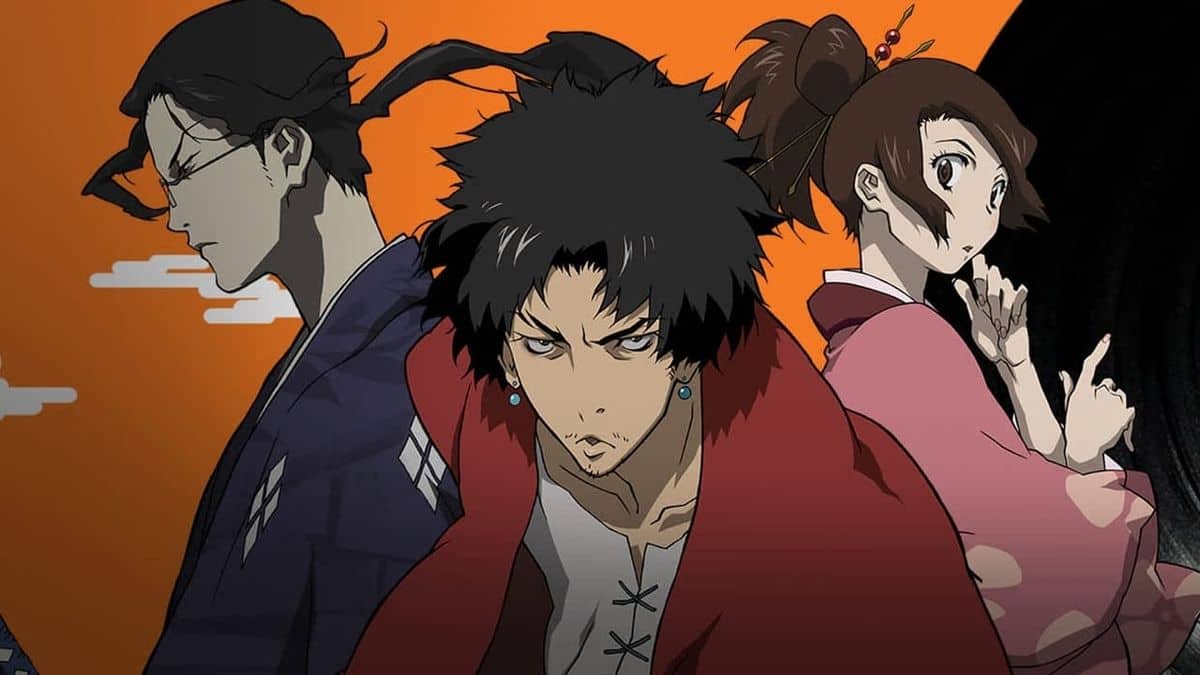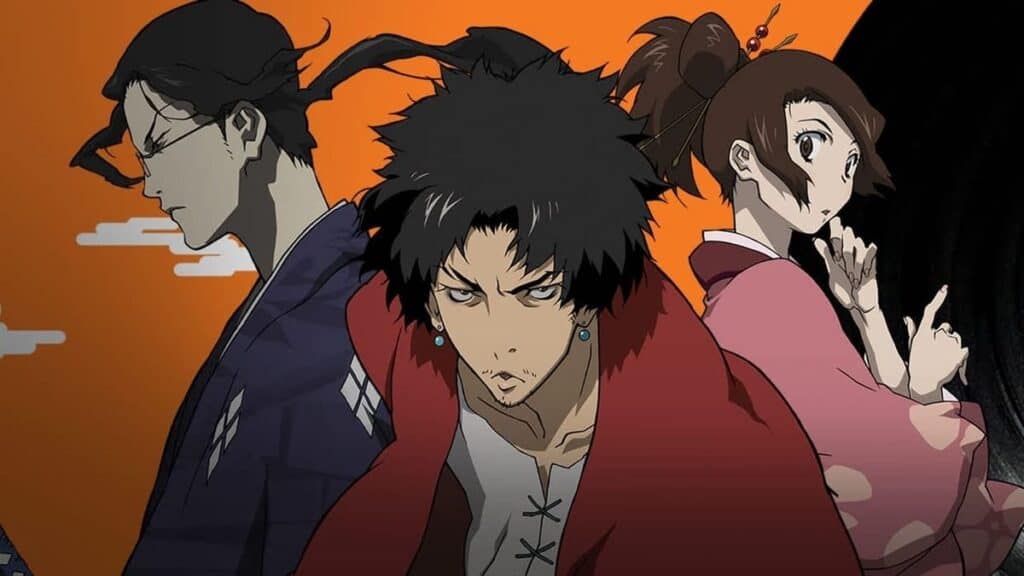 Very stylized action sequences and amazing music with a dark touch.
Genres: Action, Adventure, Comedy, Historical, Samurai, Shounen
Mugen is a rough-around-the-edges mercenary with a killer technique and nothing left to lose. Jin is a disciplined samurai who's as deadly as he is reserved. Fuu is a young waitress with a good heart and a resourcefulness that emerges when you least expect it. These three unlikely companions are about to begin a journey that will change all of their lives. It's a dangerous quest for a mysterious samurai that will see our squabbling group of heroes get into and out of trouble more times than they can count (which admittedly, isn't very high).
11 Mirai Nikki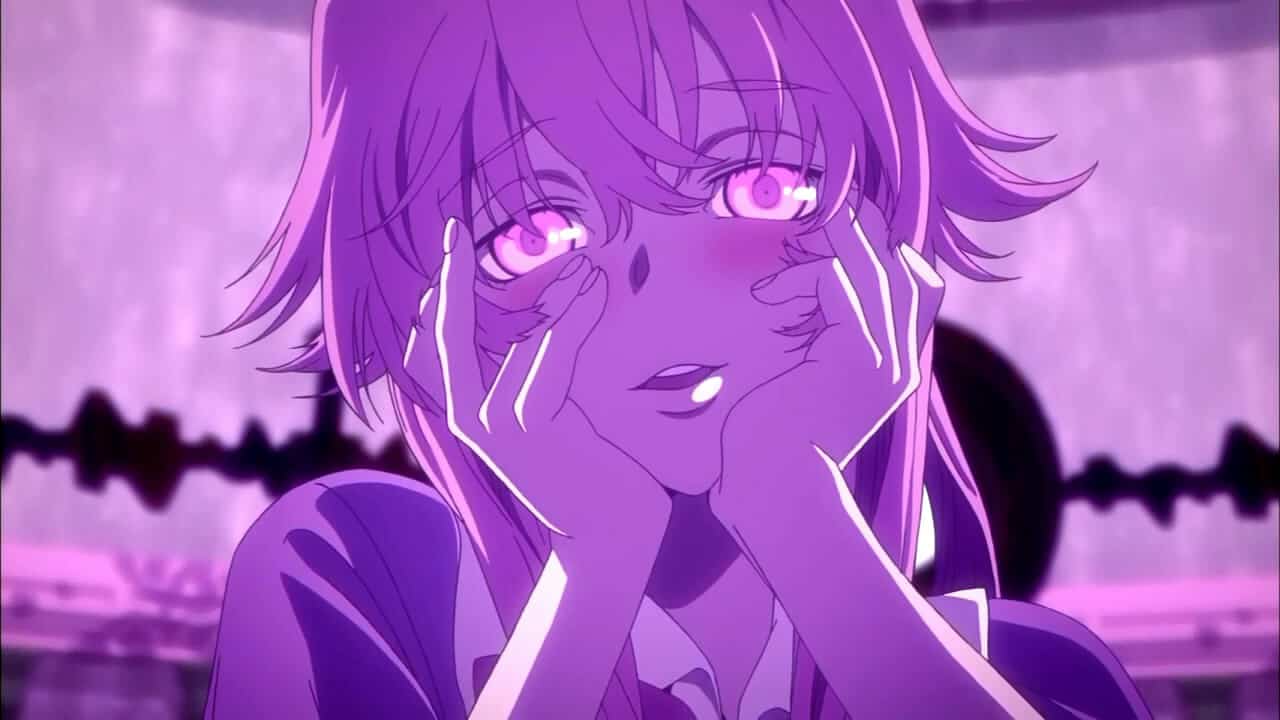 Another Survival games type anime but this one has more gore and darkness.
Genres: Action, Mystery, Psychological, Shounen, Supernatural, Thriller
A suspense action by Yukiteru Amano, a junior high school student who has been involved in a murder game between the owners of "Future Diary = Future Diary". The highlights are the introverted and cold growth of Yukiteru, the trend of Yuno Gasai, the strongest heroine who blindly loves Yukiteru, and the battle by 12 unique future diary owners.
10 Zankyou no Terror (Terror in Resonance)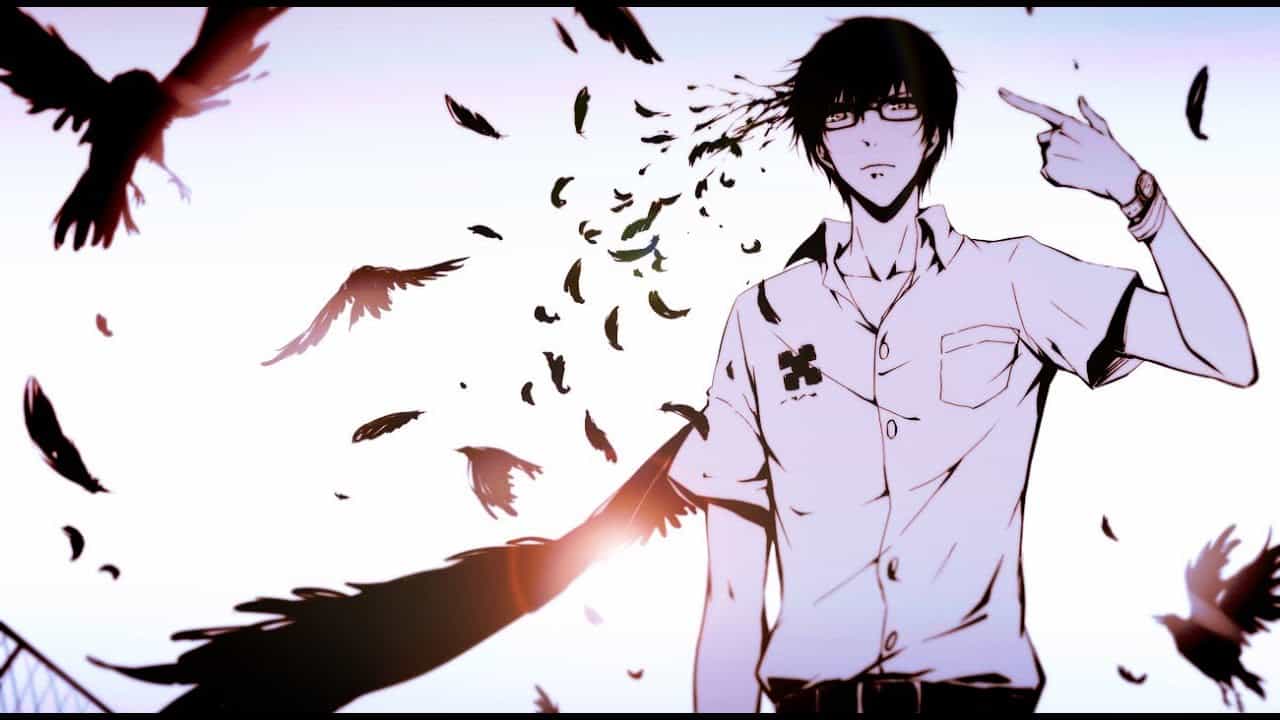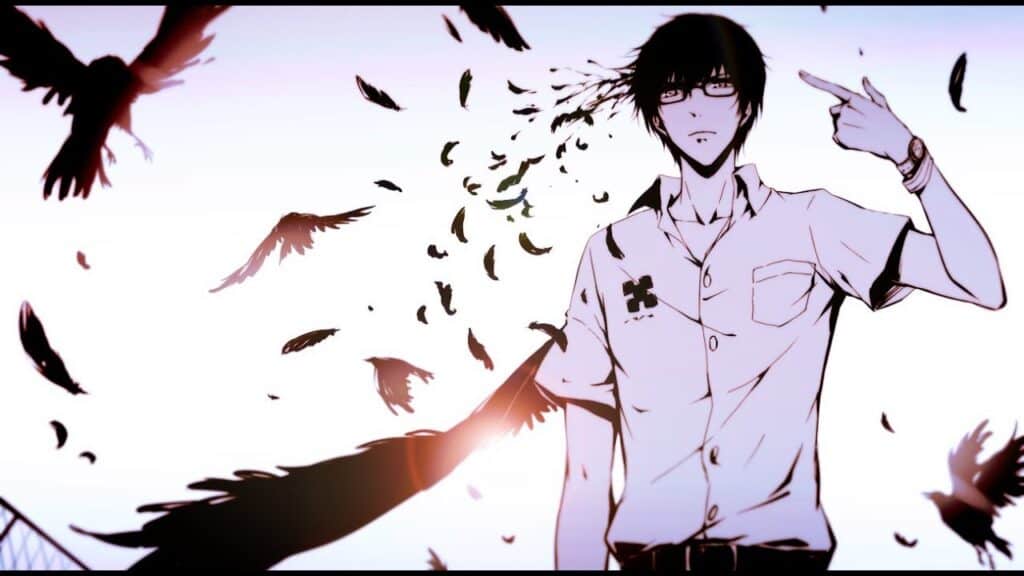 A true original dark anime, An anime about terrorism? Sounds thrilling alright, but which has much more deeper and darker story to it.
Genres: Mystery, Psychological, Thriller
Zankyou no Terror tells the story of Nine and Twelve, the two boys behind the masked figures of Sphinx. They should not exist, yet they stand strong in a world of deception and secrets while they make the city fall around them, all in the hopes of burying their own tragic truth.
9 Shingeki no Kyojin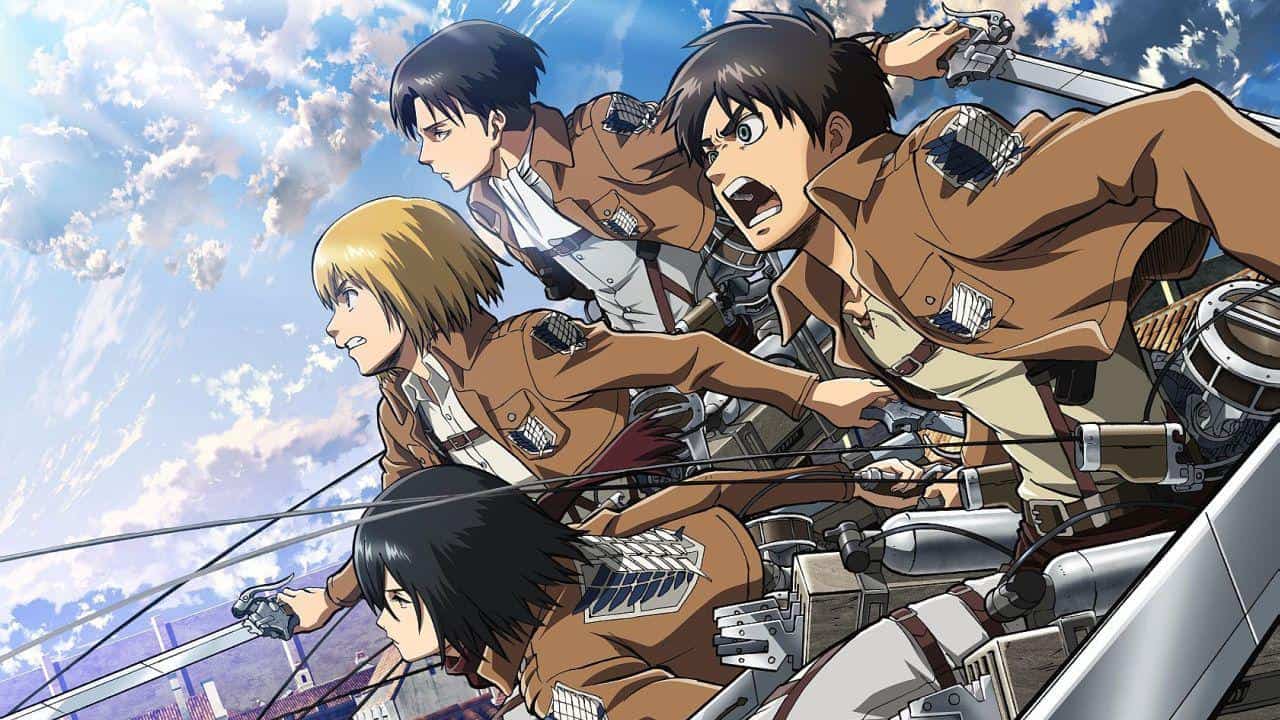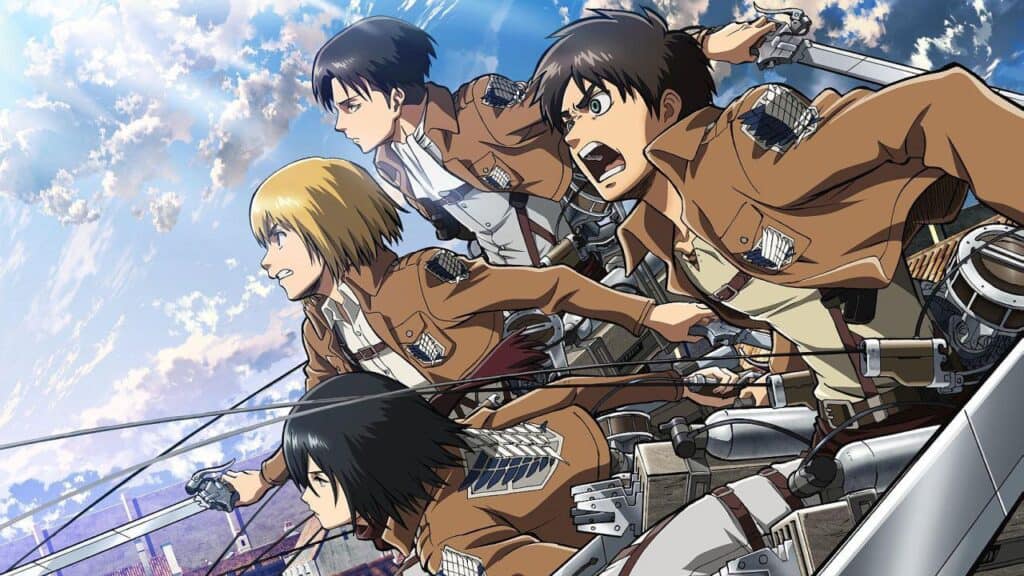 Why the 9th place when the anime is so popular, because most anime fans already watched it, or searching more anime like Attack on Titan, but bad luck it is one of kind.
Genres: Action, Military, Mystery, Super Power, Drama, Fantasy, Shounen
Several hundred years ago, humans were nearly exterminated by titans. Titans are typically several stories tall, seem to have no intelligence, devour human beings, and worst of all seem to do it for pleasure rather than as a food source. A small percentage of humanity survived by walling themselves in a city protected by extremely high walls, even taller than the biggest of giants. Flash forward to the present and the city has not seen a giant in over 100 years. Teenage boy Eren and his foster sister Mikasa witness something horrific as one of the city walls is damaged by a 60-meter giant causing a breach in the wall. As the smaller giants flood the city, the two kids watch in horror as Eren's mother is eaten alive. Unable to save her, Eren vows that he will wipe out every single giant and take revenge for all of mankind.
8 Btooom!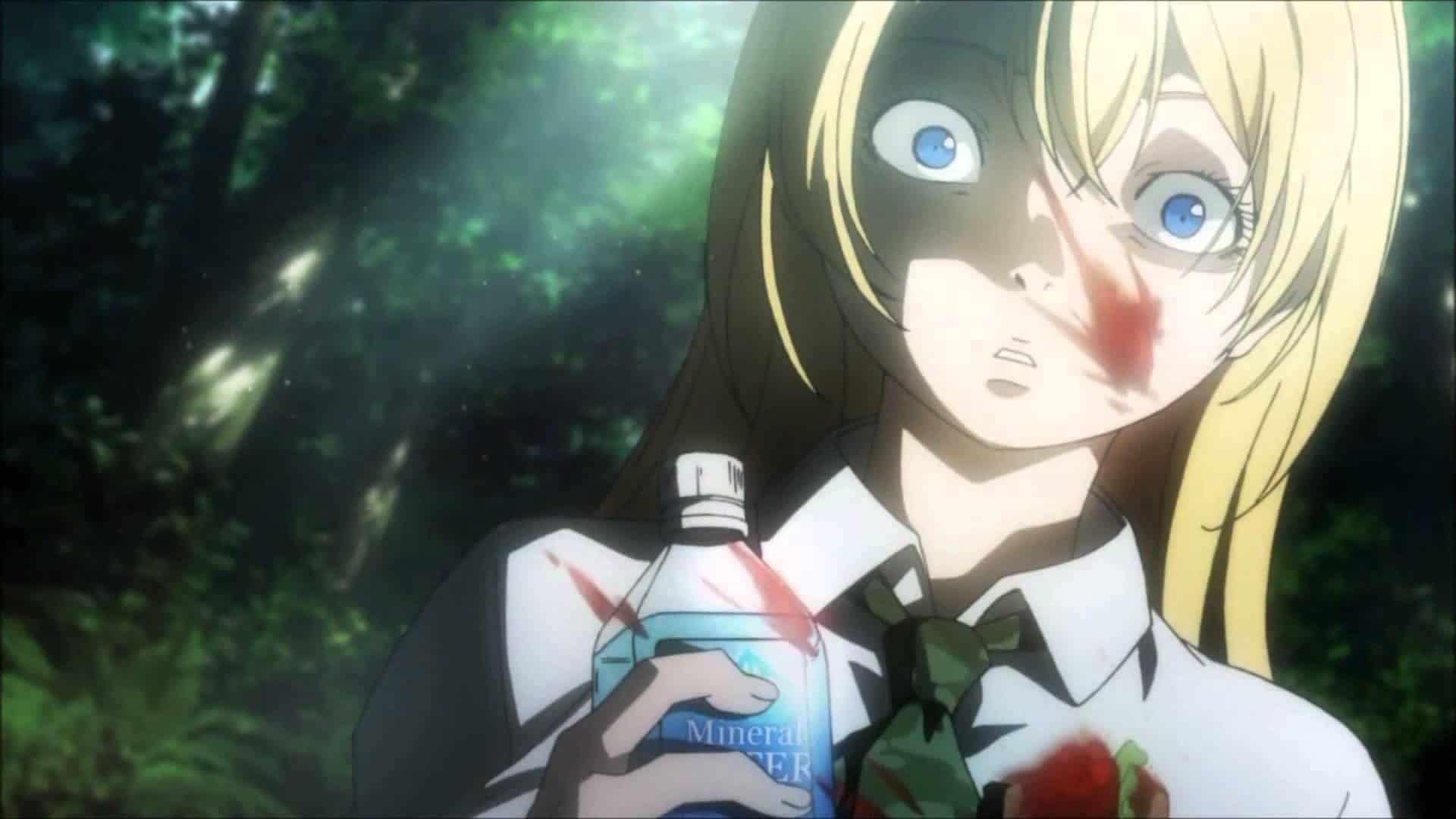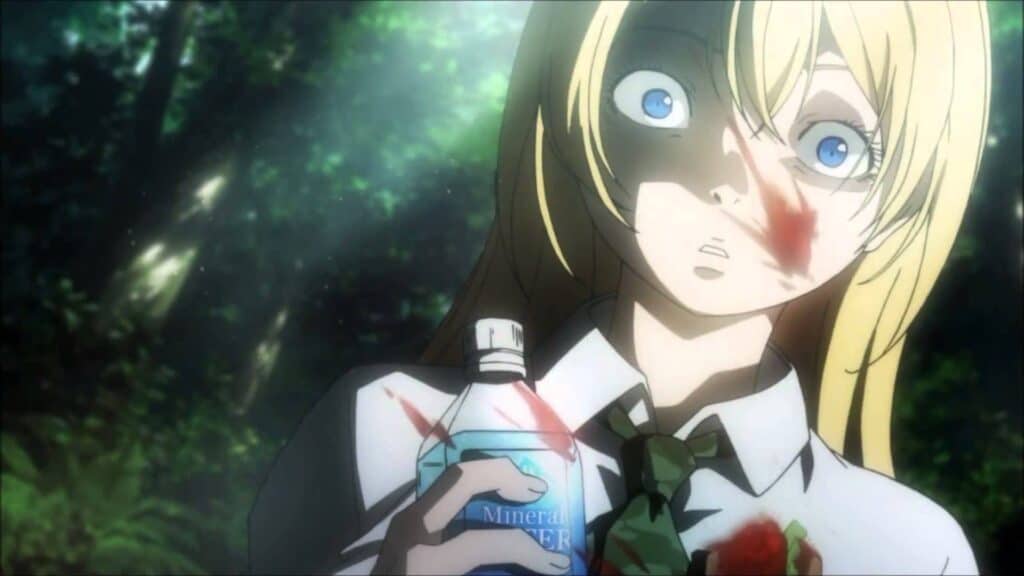 It's addicting anime once you start you won't be able to stop until you finish.
Genres: Action, Sci-Fi, Psychological, Seinen
There is no gun in the game's weapons, which have sold over 3 million units worldwide. Only a bomb called BIM. Find your opponent on the radar and use 8 types of BIM strategically to bomb your enemies. That's the point to win this game. Even at the age of 22, I couldn't get a job, and I just lived a life of dull days. That is the life of me, Ryuta Sakamoto. However, this [BTOOOM! ] In the world of internet games, I was stronger than anyone, respected more than anyone, and greater than anyone. But now, the game I'm playing isn't virtual. Reality (real) it. On an uninhabited island, he has BIM and is forced to murder without even knowing the meaning of fighting.
7 Death Note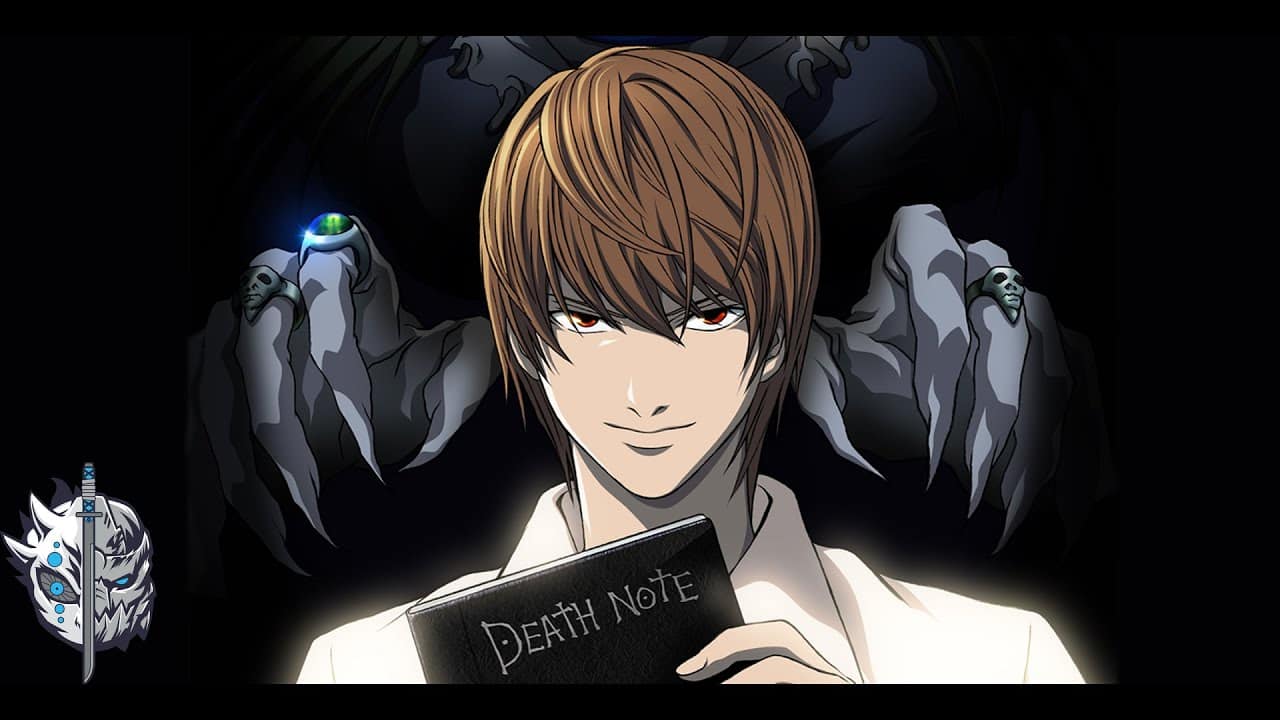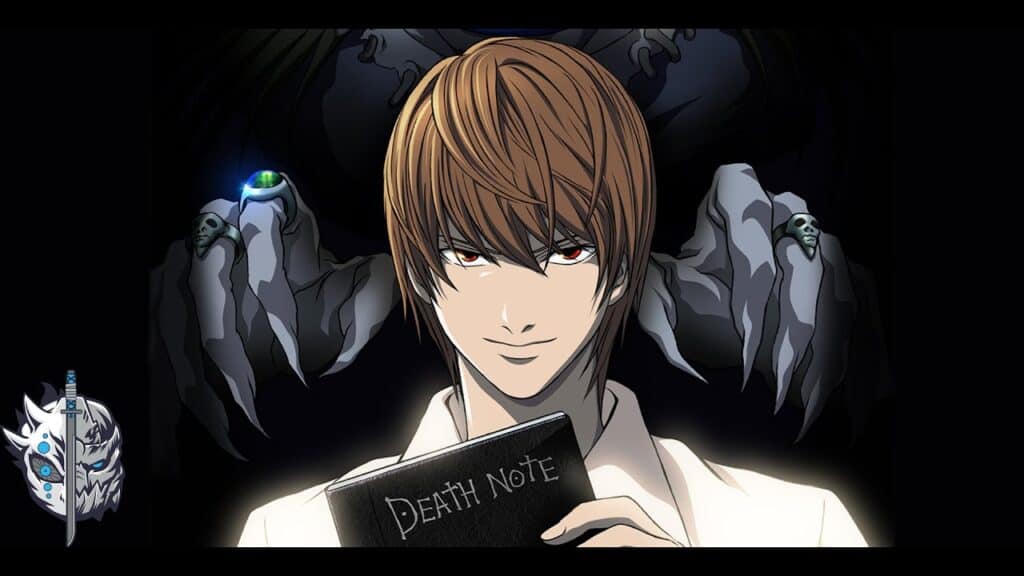 Introduction is only for the people who are new to anime, because everyone starts with One Piece, Naruto, and Dragon Ball. But this anime is for Mystery starters first choice.
Genres: Mystery, Police, Psychological, Supernatural, Thriller, Shounen
The terrifying "Death Note" dropped by the god of death, with the power that "the person whose name is written on the note will die". It all started when high school student Light Yagami, who had a genius brain and was bored, picked it up.
The month when the Death Note is used to impose death sanctions on criminals in the world one after another will be called "Kira".
6 Goblin Slayer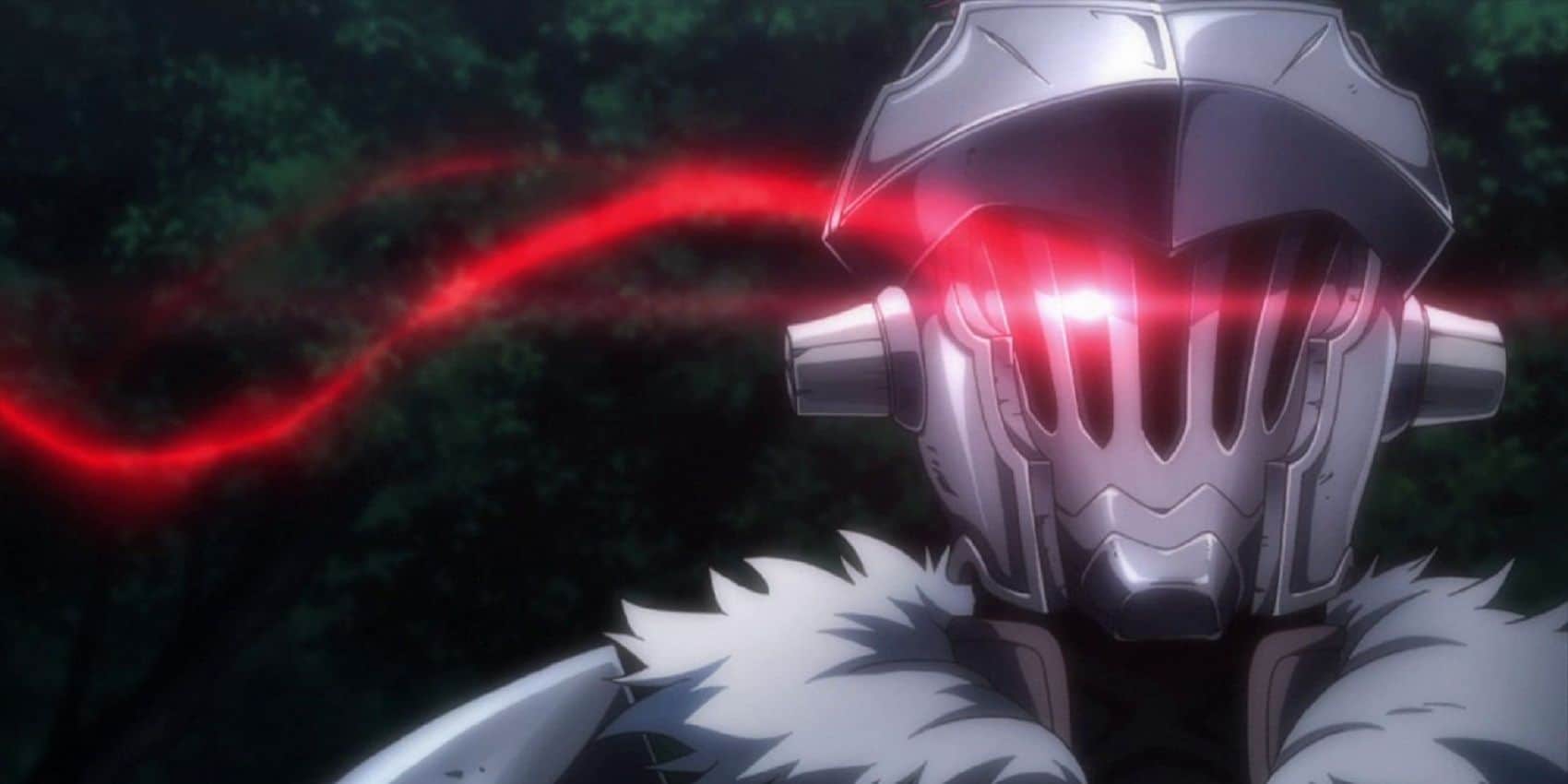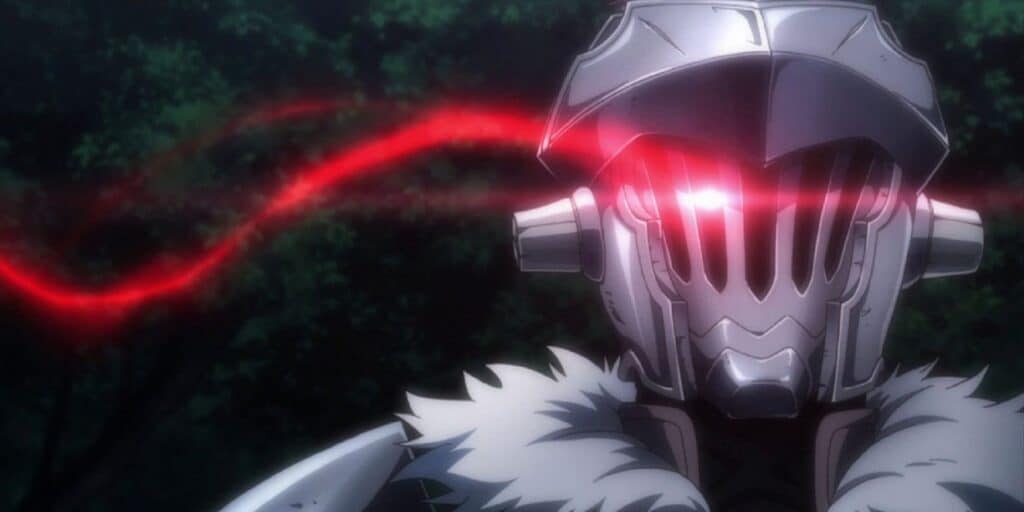 Unlike most fantasy anime, Goblin Slayer shows present realistic/raw thoughts and emotions of the characters who find themselves thrown into an unfamiliar fantasy setting. Also, possess darker themes and as such would more likely be appreciated by a more mature audience.
Genres: Action, Adventure, Fantasy
It is said that there is a rare existence in the remote guild that has climbed to the silver grade (third place in the hierarchy) just by subduing the goblins. A goddess who became an adventurer and was in a pinch at the party she formed for the first time. The one who helped it was a man called Goblin Slayer.
He does not choose the means and spares no effort to get rid of only the goblins. A goddess who is swayed by him, a receptionist who appreciates him, and a childhood friend who waits for him. After hearing his rumors, a girl from the forest (elf) appeared at the request.
5 NO. 6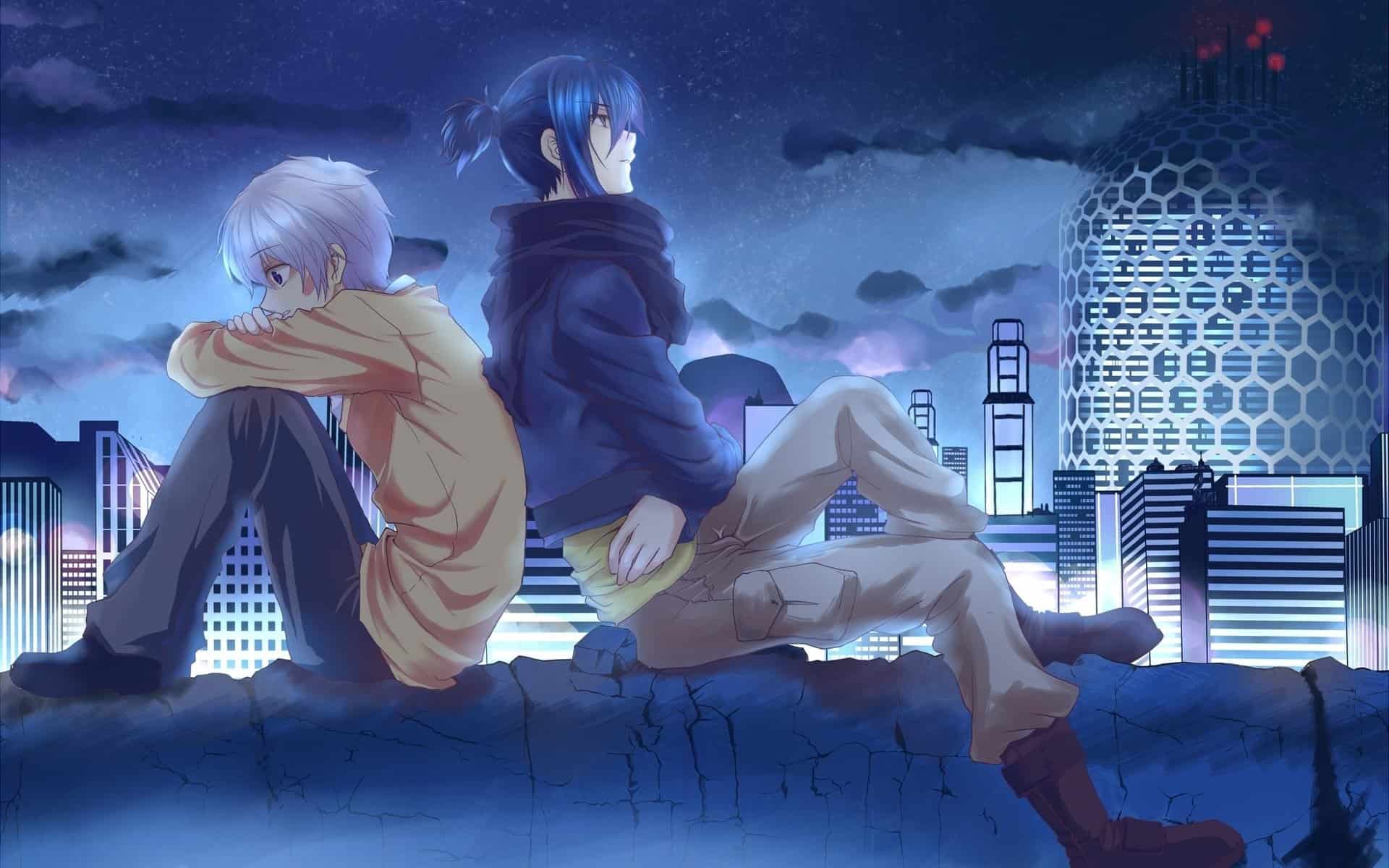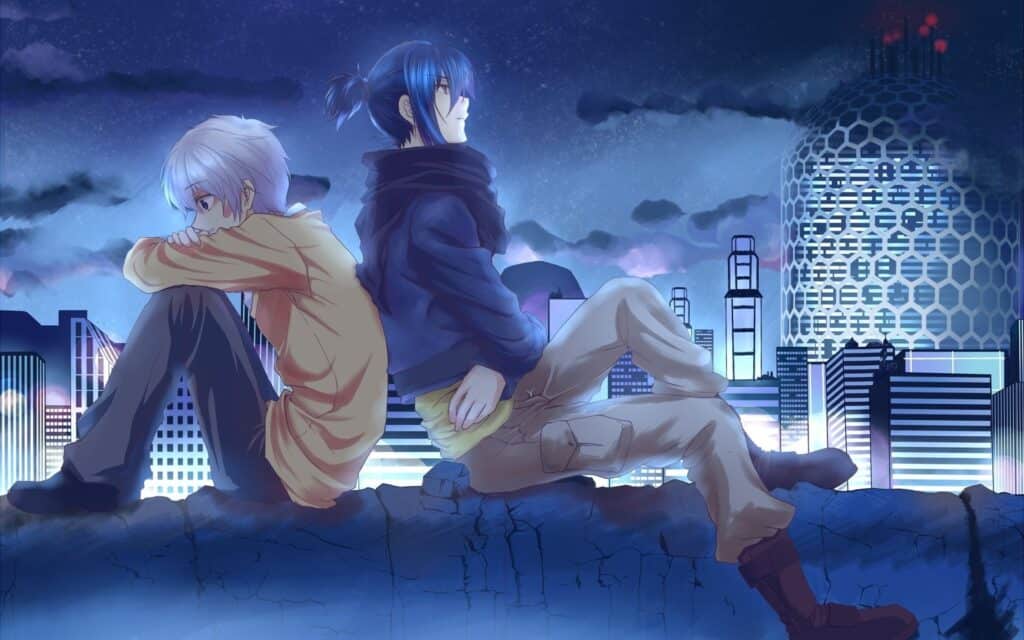 Anime that feature the dark side of society lots of action and lots of tragedy. Protagonists against the world kind of vibe.
Genres: Action, Sci-Fi, Mystery, Drama
Shien was born as an elite who promised everything. On his 12th birthday, he helps a boy who happens to roll into a room. The next day, the boy, who called himself a mouse, disappeared like a phantom.
However, the encounter remained in Shien's heart for a long time And four years later. Bizarre incidents that occur one after another around Shien's body a mysterious parasitoid wasp that ages the host's body at once, the existence of a correctional facility that is said to never go out, and the "holy city" that gradually becomes clear that true appearance of the story of the two, who are too intense for friendship and too painful for fate, begins quietly.
4 Psycho-Pass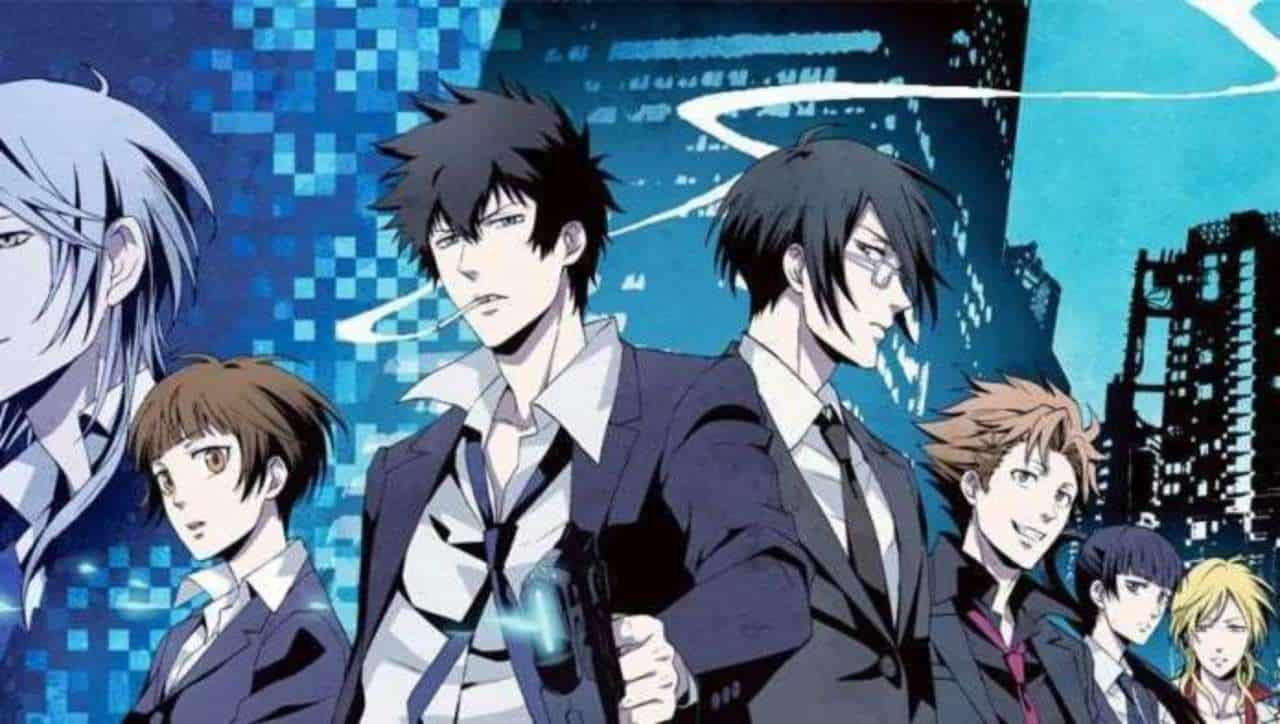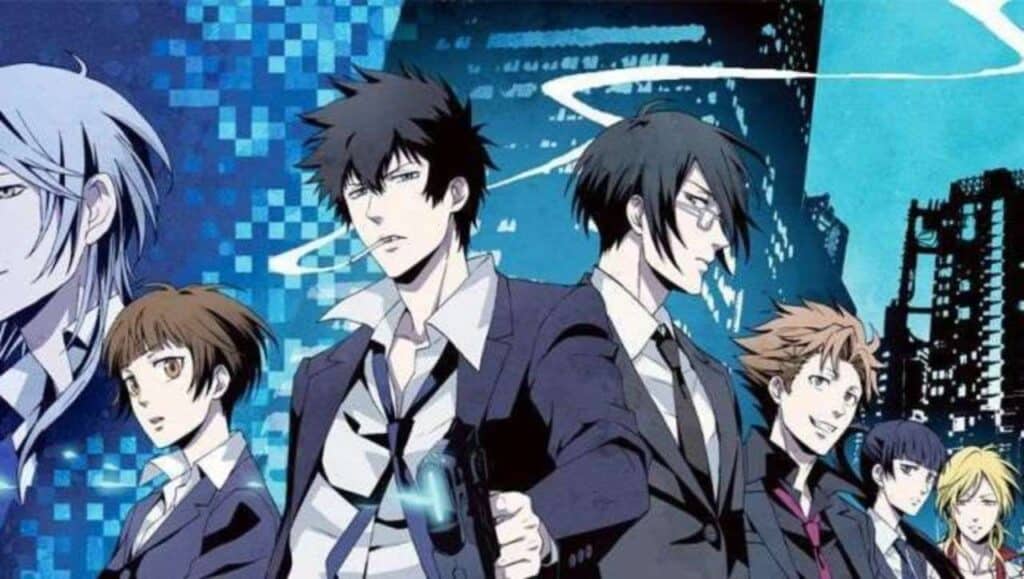 Crime mystery has to be a darkness in it.
Genres: Action, Sci-Fi, Police, Psychological
In the near future, the Sibyl System, a huge surveillance network that quantifies the soul, maintains the security of people. In a changing world, detectives with guns that measure crime-related numbers chase "potential offenders" before they commit a crime.
3 Corpse Party: Tortured Souls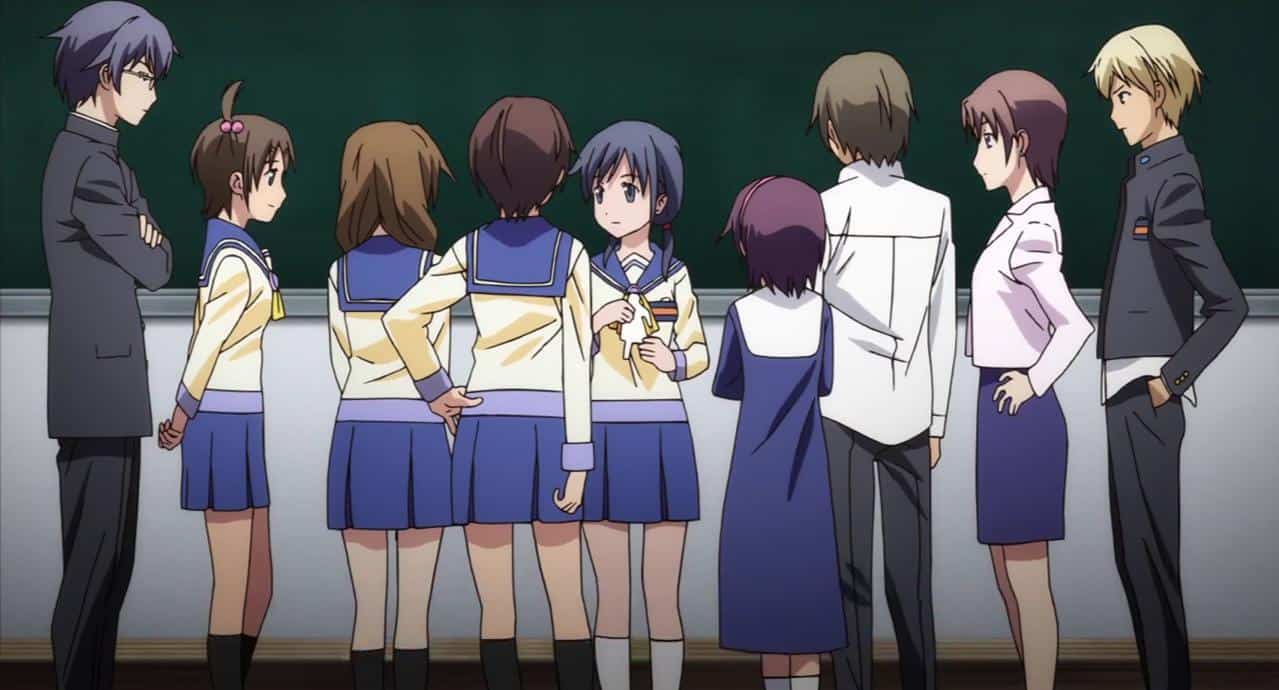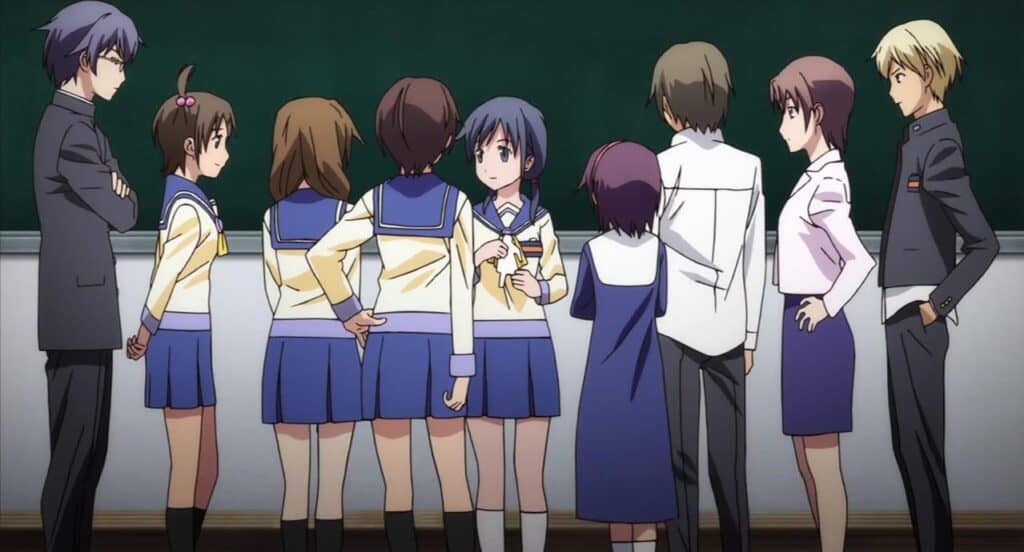 Students of a certain school are involved with something supernatural and they experience tragic deaths and accidents.
Genres: Mystery, Horror, Supernatural
One rainy night after a school festival, a group of students from Kisaragi Academy decide to perform the "Sachiko Ever After" charm, which will unite them forever as friends. Once the ritual is done, a sudden earthquake transports them to Heavenly Host, a torn down elementary school. Unbeknownst to Satoshi and his friends, however, is the horrific past behind it which culminated in its demolition. As they look for each other and try to escape from Heavenly Host, they soon find out their lives are at the mercy of those affected by that same bloodied past.
2 Higurashi no naku koro ni (When they Cry)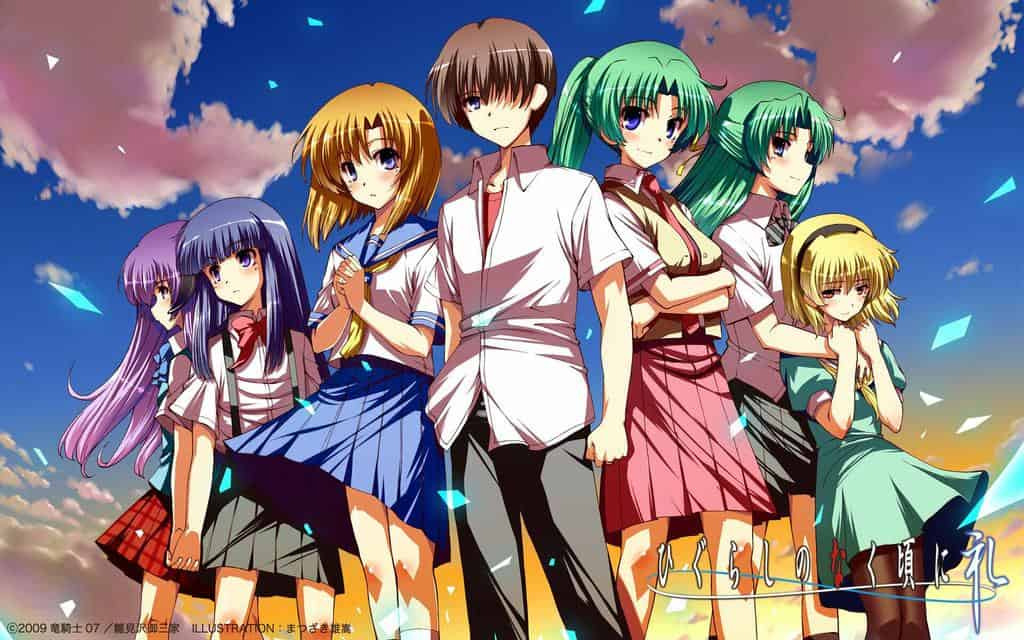 Higurashi and Shiki are similar to each other in that both take place in small villages where mysterious deaths occur. Higurashi, however, contains slapstick comedic scenes to a degree, which is kept to a minimum in Shiki.
Genres: Mystery, Dementia, Horror, Psychological, Supernatural, Thriller
Life couldn't be better for Keiichi Maebara. Sure, he's moved to a sleepy, little town where nothing happens and high school consists of a one-room schoolhouse but his new friends and fellow students are all cute girls! When he happens upon a story about a grisly local murder, however, his contentment turns to uneasiness as he finds himself drawn into a web of silent intrigue that involves his newfound friends…and threatens his very existence.
1 Yakusoku no Neverland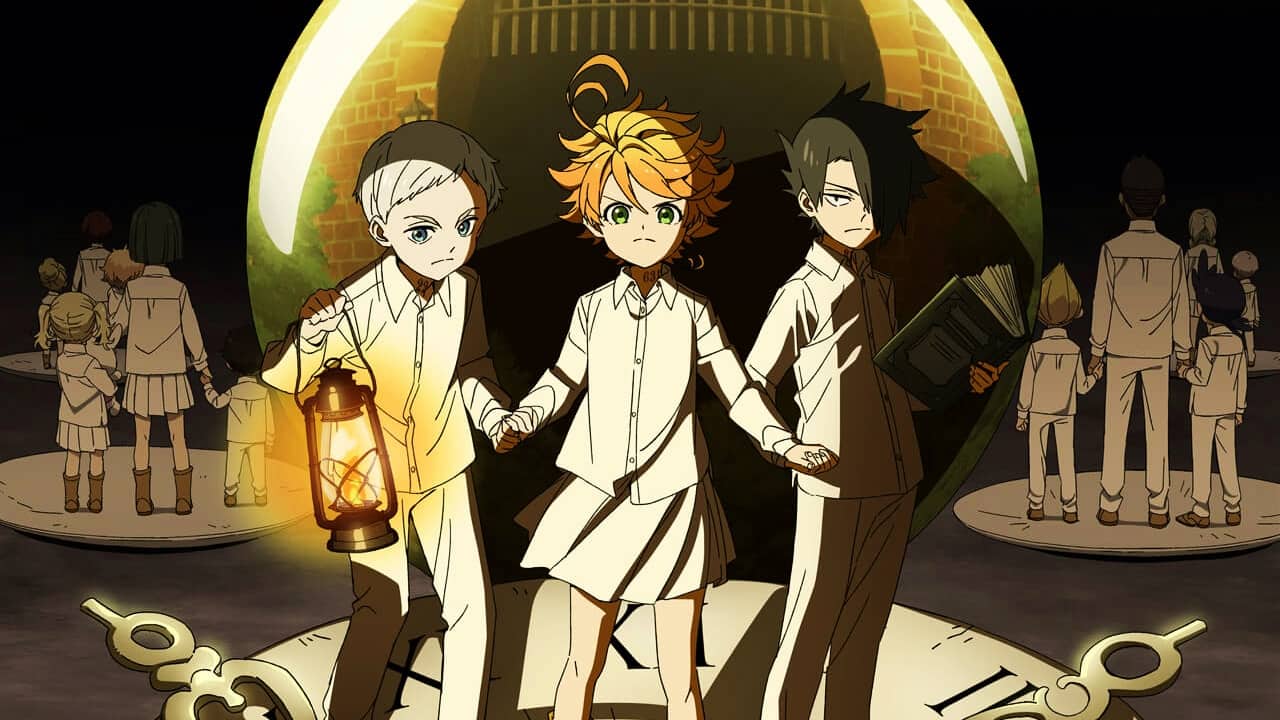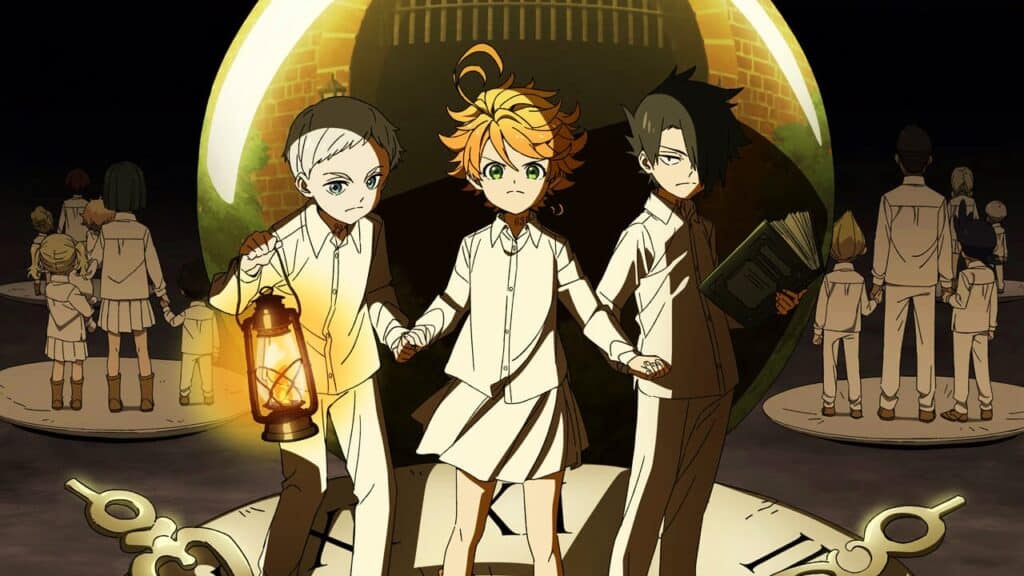 Thrills, Tension, and Great Characters. Great things can't be explained with words.
Genres: Sci-Fi, Mystery, Horror, Psychological, Thriller, Shounen
Emma, Norman and Ray are the brightest kids at the Grace Field House orphanage. And under the care of the woman they refer to as "Mom," all the kids have enjoyed a comfortable life. Good food, clean clothes and the perfect environment to learn what more could an orphan ask for? One day, though, Emma and Norman uncover the dark truth of the outside world they are forbidden from seeing.